Organized by the MIT Industrial Liaison Program (MIT ILP), the DisruptionBanking editorial team were able to attend The Global Opportunity Forum in London. The event was focussed on co-creating the future of workforce learning and speakers included representatives of large banks, government, and representatives of the MIT Sloan School of Management, amongst others. The event was hosted by BT at its HQ near Aldgate in London. And the view was splendid from the 15th floor overlooking the City.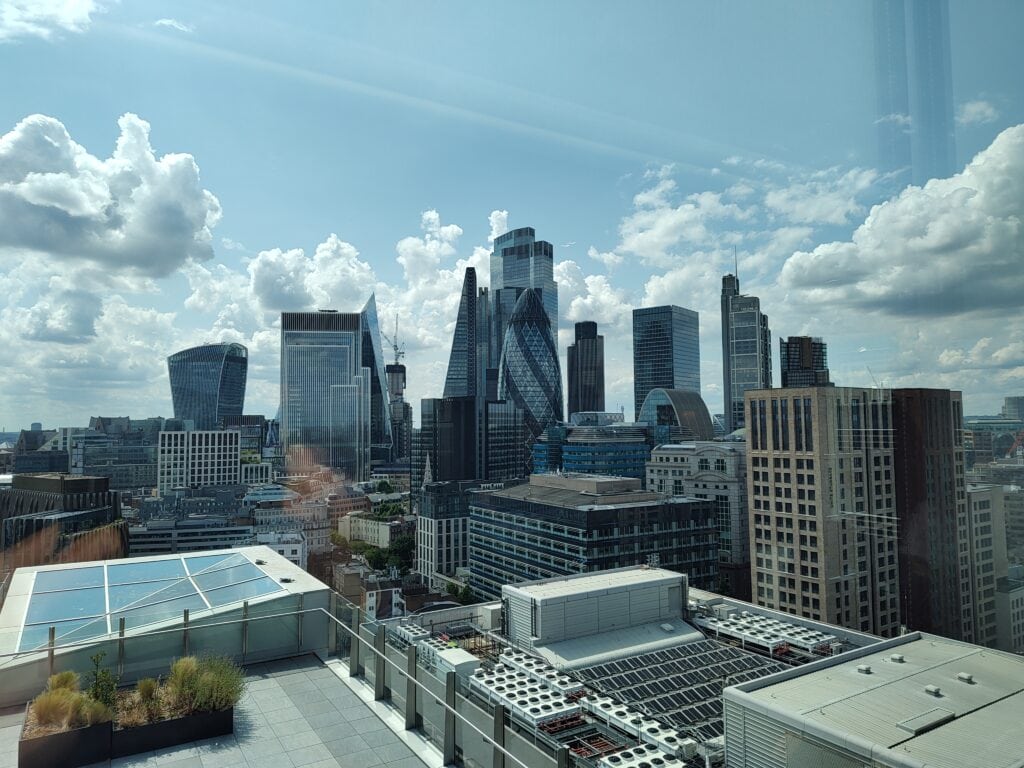 Kathleen D Kennedy, Executive Director of the MIT Center for Collective Intelligence and Senior Director of MIT Horizon, moderated the Developing Competencies for Advanced Technologies panel. Kathleen is a dynamic and influential person in technology today. Other panelists included Sarah Kandil, Digital Strategy Officer – Group Innovation Division, Societe Generale, Steven Crump, Business Development Manager, Defense, BT Group. And Steve Suarez, Advisor to The Global Opportunity Forum.
"Technology changes quickly, but organizations change much more slowly," was a phrase both on the event website and used in the closing remarks for the event by George Westerman, Senior Lecturer, MIT Sloan School of Management. It was an important sentiment, one which was discussed at the panel Kathleen moderated.
Developing Competencies for Advanced Technologies
Steve took one of the first questions. He explained how for him the innovation mindset was like a parachute, "if you're not open, it doesn't work." Steve added how people at all levels of an organization need to be curious and look at new technologies. They need to have an open mind to innovation and new technologies.
Sarah added how her background had been in coding. She explained how coming from an IT background it was a given that the job would change. "Whatever you learned today, you have to relearn again," Sarah highlighted. It precludes that those in data, tech or digital marketing roles are probably more able to be open to innovation.
Kathleen explained how at MIT Horizon they were building a library of case studies to help facilitate the training needs of the whole spectrum of employees. Not just those who work closely with digital solutions on a daily basis.
Steven added how he also felt that it was a willingness to take risks by employees that was equally important in having an innovation mindset. It's about stepping out of your comfort zone, he highlighted.
What about Quantum Computing?
Steve shared some of the reactions he had received when there was a big announcement about quantum supremacy in October 2019. At the time several people called him to ask him what this meant. Encryption is dead, they said. Quantum supremacy is here, Steve. What do we do???
Steve explained how working with people at board level is critical for companies' success. Generative AI is another technology that had a similar impact at board level. People want to know what it means. Many of them worry about FOMO.
"I think the education piece is key. You have to have it open and you have to have it available to everybody," Steve shared. "If you have closed innovation, or it's a special badge that says you're the only one to do innovation, you're not going to innovate at scale."
Design Thinking and Empathy
In order to be truly innovative, design thinking is a very useful tool. Steve shared how over 12,000 people have been trained in design thinking at HSBC. Many people within the organization benefitted from this opportunity, which helped them feel good about their jobs.
Coincidentally, you may want to type #HSBC_DT into LinkedIn, where you can see some of the testimonials.
"I think part of it (design thinking process) is great content. We have people that are amazing and can explain stories and understand how design thinking impacts people. Who can train people on how to have that innovation mindset," Steve explained. "When you have so many people speaking the same language, they start spreading it out."
"I'm a big believer in design thinking," Steve continued. "I think design thinking is mostly empathy." Steve shared how when he first started to immerse himself in design thinking he remembered coming back to work, and he went to his boss and he said, "I have the solution. The solution is empathy."
Design thinking helps you see the customers perspective. It teaches you those empathy skills, without calling it empathy.
Summary
There were many more topics discussed by the panellists, including Moore's Law. But most importantly there is a huge desire amongst senior stakeholders to help spread the word about embracing advanced technologies. Using empathy, design thinking, and helping people achieve an innovation mindset.
MIT is at the top of initiatives like upskilling and preparing organizations for the digital future. Sarah, Kathleen, Steven and Steve are just a few examples of the level of work that is going in at the board level to prepare the next generation of workers for the changes that will probably happen in the next few days….
Author: Andy Samu
See Also:
TechPassport's Layla White on why 'Reputation and Trust' are so important | Disruption Banking
TechPassport strengthens its board with banking veteran Steve Suarez | Disruption Banking