It's the height of the holiday season in London, the week before the Notting Hill Carnival and one of the most anticipated bank holiday weekends in the diary. The setting is London's Southbank. A part of town where art galleries, theatres, hip bars and coffee shops are in abundance.
After weeks of drought conditions across the whole of the country, rain had been coming down on and off for the previous 24 hours. There was even the odd puddle littering the small square that was in front of Ping Pong Southbank restaurant. Where our editorial team were due to meet with Layla White, Founder and CEO of TechPassport.
The restaurant was lively, vibrant, and full of people. There was just one thing missing. Bella the robot. Accompanied by her human co-worker, Bella was busy wandering around the floor of the restaurant helping remove plates and clear tables. BellaBot's ambitions to create smart catering through robotics was an apt pre-cursor for things to come.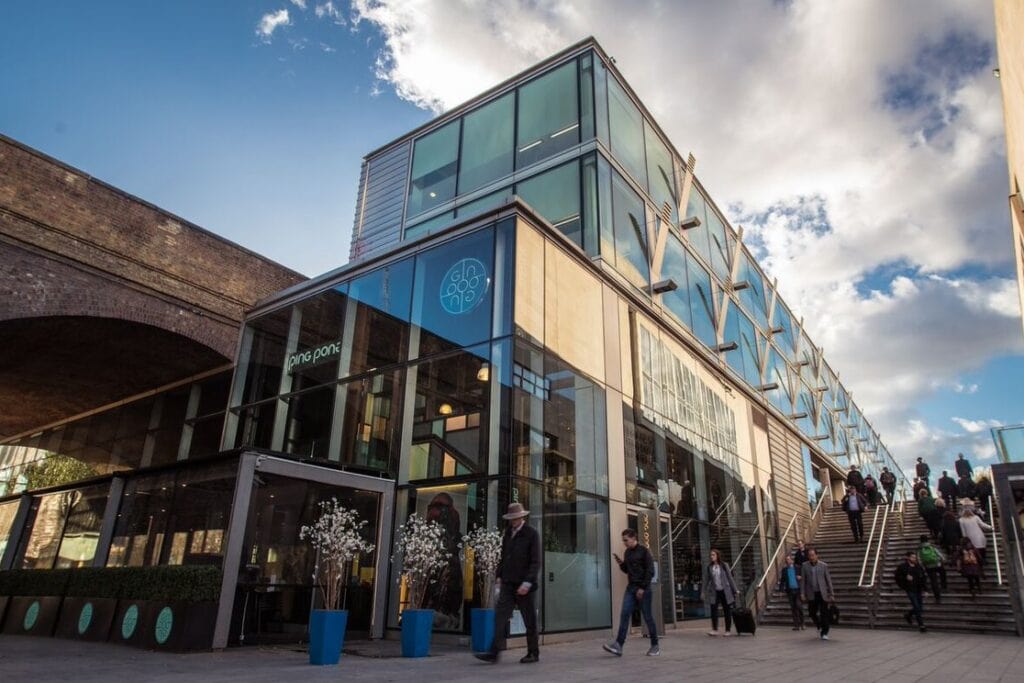 Layla is a popular figure amongst fintechs and banks alike. She is often seen at events conversing with influential stakeholders from startups and financial institutions. Which is exactly how we met her for the first time a few weeks ago, in the company of a banking veteran, Steve Suarez, Global Head of Innovation, Global Functions at HSBC. For the last three years Layla has been driving the message of TechPassport in the UK and across the world.
Hugs all round, Layla met our editorial team at the entrance to the restaurant in the company of another industry veteran, Oscar Brennan, a recent IBM Cloud alumnus. Oscar now leads DXC Technology's EMEA Financial Services team and the fintechs they work with. And, as it was a normal working Thursday, Oscar and Layla came in elegant business dress. As did our editorial team, fortunately.
We all sat down at a table for 6 to commence what we knew would be one of the more intriguing interviews ever completed by #DisruptionBanking. During the five and half years in which DisruptionBanking has been bringing you disruptive content we have seen many types of fintechs, and we have met many of their founders. However, as Steve Suarez joined a few minutes later, it was clear this was a different type of meeting. It wasn't just the venue either. Steve is a board advisor whilst Oscar is a non-executive director. Industry leaders who have given Layla's startup, and her message, their support.
The involvement of Steve and Oscar with TechPassport is a recent thing. Both have watched the fintech revolution unfold over the last decade. They have both played their part in that revolution. Their commitment to support TechPassport is testament to how they both believe that Layla has solved a huge challenge in the market. She has created the most scalable 'Fintech Marketplace' currently on the market.
The menus came and Oscar took the initiative. He ordered a particularly good South African Chenin Blanc. The 'Stormy Cape'. He also ensured we had something to nibble by arranging a full selection of the four starters that they offer at Ping Pong. Steve and Layla stuck to a small beer each, the Asahi.
Once the refreshments were on their way, the focus returned to Layla. Wearing an elegant dark dress and sitting opposite Steve and next to Oscar, the topic returned to her message. And how her story has culminated in the deployment of TechPassport, and the realization of her dream.
Brought up in Romford, Essex, Layla is the daughter of a Palestinian father and an Irish mother. She has several siblings. She has had a strong need to be independent from a young age. Layla did read Law at Reading University; however, she felt her strengths were better suited to a different career path.
Layla started to learn programming. While she was trying to find her place in the job market, Layla attended a large family reunion in Chicago. Her mother's family is from Country Clare in Ireland, and Layla has a lot of family all over the world. More importantly it was after this trip that Layla decided to look at a career in banking where she would be able to use her programming skills.
"I studied programming one day a week, VBA. And I had really good results," Layla explained. But she was also realistic about her prospects. Layla knew it would be hard to get a job in a bank. Lots of people had told her not to waste her time even thinking about it.
"My mother is very entrepreneurial," Layla shared. "She used to be involved in health food sales long before Holland & Barrett became a high street brand," Layla added. Family is very important to Layla. Both her own children and husband, as well as her siblings and parents. Her mother often worked 6 or 7 days a week to make sure that the children had as much as she could give them. Her mother was the one that had always pushed Layla to forge a career and become independent.
It was her father who made her take a GCSE in IT though. Something Layla remembered fondly.
With starters completed we reverted to the menu to see what else was on offer. After ordering vegetable spring rolls, some beans, chicken katsu rice bowls and a few dim sum selections, Layla continued her story. Sharing with us how she got her first break as an IT contractor for Deutsche Bank in London.
As a contractor her first desk was neither big nor in the glamorous part of the office. Layla explained how she worked that much harder because as a contractor she felt she had to prove herself. "I also learnt to listen," Layla emphasized how important this was for her as she was finding her feet in various contracting roles in London.
It was during her first engagement at Deutsche Bank that Layla continued to develop her career. She eventually became a Vendor Account lead within one of the departments. One of the reasons she made the transfer into procurement.
Layla shared how she has been very lucky with some of the mentors whom she has worked with over the years, with many of them holding senior positions. "I am a positive person," Layla told us. Her relationships with her various mentors are based on trust. Layla also respects how important reputation is for those she works with. As a working mother she has a lot of balls to juggle. Something that makes her achievements even more notable. Steve and Oscar both added how Layla's reputation is very good. And how she thoroughly deserves her reputation.
Layla shares this with her team too. She regularly explains to them how their reputation is very important.
Steve added how Layla is finding time to not only support her family and drive her business but to also learn new concepts about leadership and innovation. One of the books that Steve recommended to Layla was Reid Hoffman's 'Masters of Scale'. A book that she is already over halfway through at the time of our meeting.
Oscar shared how he had earlier been at TechPassport's offices with Layla before coming to the restaurant. Oscar explained how he met a member of the team there. "The employee in question was so engaged with her role and tasks that she didn't want to go home," Oscar elaborated. It was 7.30pm when we'd met, and the office is only a few stops away on the tube so you can imagine the context.
We asked Layla how she had met with Gemma Young, Chief Growth Officer at TechPassport. One of the many key members of the team at the startup, but in her own right also the Founder of Women of FinTech. Women of FinTech has a community of thousands and their events are often graced by industry leaders like Anne Boden of Starling Bank.
"I first saw Gemma when I attended one of her Women of FinTech events and Anne Boden was giving a talk. I was so impressed with Gemma and what she had built. As well as how she was able to engage with leaders like Anne Boden." Layla explained. It was just before Covid, and Gemma had only recently had a child. Gemma is one of those people who deliver the message about how working mothers can still achieve a lot. So, Layla approached Gemma and they spoke. A few weeks later they had a call. Layla asked Gemma if she wanted to get involved in TechPassport. Gemma was keen to get involved. And the rest is part of the history of TechPassport's success today.
It was starting to become very clear that Layla wasn't just any other founder of a startup. People from all areas of her life are impressed with the way she works and the way she is trying to spread her message.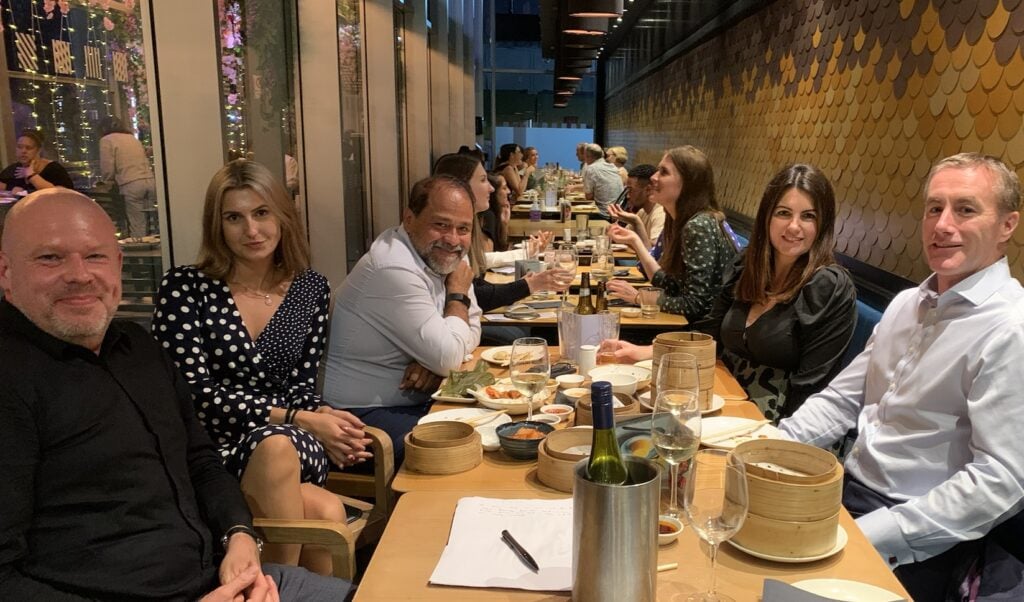 As the main courses were finishing, we took a moment to gauge the atmosphere around the table. Bella's friend helped take a few pictures of the evidence as well as the engagement of all of us around the table.
Whilst digesting the introduction to some of the key things that Layla has accomplished started to become clear. Especially her reputation amongst Tier 1 banks.
Layla pointed at the recent talk given by Megan Brewer, Head of the Innovation Office & Automation Center of Excellence at Morgan Stanley, at Fintech Week London. Something she had helped to organize by reaching out to Megan to come over from the U.S. to speak in London. Megan isn't the only banking executive that Layla has made the connection with. She is probably not a natural purchasing executive. Layla has a lot of entrepreneurialism that doesn't fit into a procurement environment.
Inadvertently though, Layla was in a role within the banks that was critical in the future success of banks and fintech collaboration. In a way she is also the ideal person to be creating a marketplace for banks and startups. For Fintechs this marketplace means rapid access to certified buyers. For banks this marketplace means rapid access to certified suppliers. TechPassport sits at the center of innovation, making it easier for both parties to connect at the right opportune time.
Especially with her reputation and the trust upon which she builds so much of what she does. Going forward banks and fintechs alike are going to have to overcome a huge number of obstacles to get through the next decade. And especially in todays market, startups need to know that there is a place that makes it clear on how to engage, what is needed and gives them visibility into when. Otherwise fintechs are just burning precious cash and often, this is what breaks a perfectly good product and ultimately, a fintech.
Layla shared how earlier this year she had been to the United States to meet with Steve and several other banking leaders.
Steve remembered their train journey from New York to Boston together. A journey that should only take a couple of hours but ended up taking five instead. They had taken the wrong, slower train. At the end of the journey the conversation was just as riveting as at the beginning. Steve was not the only banking professional who was impressed with Layla's vision and insight during her visit to the U.S.
TechPassport is working with the most innovative fintech solutions, representing the dynamic challenges that the financial industry faces in the future. Proactively working with banks, Layla is creating a natural magnet for fintechs to meet and collaborate with banks. A magnet that is also able to evolve based on changing market needs.
The challenges of being a Founder
2022 has been one of the busiest years for TechPassport so far. From New York to Amsterdam and back to London, Layla has already been to many of the leading fintech and banking events the three cities have to offer.
As a founder Layla's role also involves negotiating with Tier 1 banks. One of these banks, who also have an accelerator, hadn't been a particular target for Layla. She had submitted TechPassport to other accelerator programs in the past and found them time consuming and a bit of a lottery. Layla explained how they had decided not to apply for accelerators after the second unsuccessful attempt. However, this year in April another Tier 1 bank contacted her direct, asking her for a list of her competitors. A few months ago, Layla went to see the bank to answer some of the questions they had. Then things went quiet.
One day, out of the blue, a representative of the bank called Layla asking "how TechPassport is working with so many of the big banks?" After the call, TechPassport was added to the banks' accelerator program, without having to apply. It was a huge endorsement for the work that TechPassport are doing.
Steve and Oscar were not surprised that this should have happened. Whilst many other startup founders would still be finding their way. Layla has something more to offer. She understands the challenges of being a startup founder. She experiences the same challenges by attending events and looking for PR opportunities where she can. But she also understands what the banks themselves are looking for. A unique combination that she is putting to good use.
"Our clients are strong on innovation," Layla explained. "Our hope is to work with ALL participants in the financial world. TechPassport's ambition is to be THE platform for every software vendor to be listed. We hope to define a better way for financial institutions and startups to engage."
Layla is not just any startup founder. She is forging a path into an under-developed space. As the leaders in the space, many more challenges will need to be faced by her and her team. And Layla is always open to learn new things. To read about new things. Listen to her mentors who tell her about innovation. Speak to fintechs about disruption. Engage with banks about digital challenges. And involve her team in finding or building the solutions.
Bella the robot approached to clear our table. Bella's co-worker asked us if there was anything else we wanted to order. We glanced at the watch. It had been almost two and half hours and there was still so much more to talk about.
Once the plates were cleared, Steve stepped in to address one of these explosive new innovations. Web3 and the metaverse. Topics such as NFTs, layer 2 blockchains and increased cloud infrastructure challenges were thrown around the table.
Layla knows that the future is all about change. And while she is keen to be flexible and embrace change. Her final thoughts that she shared with us were about one of her mentors who had told her that she must become good at one thing. Really good at one thing. Before she could diversify and start to be good at anything else.
Startup founders are increasingly placing their trust in TechPassport because they know that they understand their challenges. Banks are doing the same. They are doing this because they trust the product. And they are doing this because they respect the reputation that has been built up by Layla. Banks need to engage with fintechs. Those that used to struggle to engage with fintechs have no excuse anymore. Where banks had to independently work out ways to work with fintechs in the past, today they have the perfect platform to get involved and to help make the industry better.
It's free to participate in Fintech's biggest marketplace. Sign up your startup or bank today before your competitors do.
Author: Andy Samu
#Tier1Banks #SoftwareVendors #TechPassport #Fintech #Banking #Marketplace #Platform #Innovation