#WeAreEvents is a new trend online that you may be interested to follow. Finding a good Conference to attend as a Quant is challenging at the best of times, without the added challenges posed by a global pandemic. And this years' Quant Conference, the 5th edition, is taking place virtually too.
In August we covered a story about the Rise of the Crypto Hedge Fund, and if you want to find out first hand more about how this all works, then this is exactly the type of event where this will be covered.
#DisruptionBanking spoke with Nikita Fadeev, Founder of The Quant Conference and Portfolio Manager at Fasanara Digital, about the changing quantitative landscape, the fight for talent and the rise of crypto amongst quants. Remember to sign up for The Quant Conference which takes place between the 4th and 6th of November while there is still time.
"Back in 2017 when I was studying Maths at University I got the quant finance fever. As a way to continue learning about this industry I thought it would be good to establish a research team focused on quant strategies. I tried to attend quant finance conferences to get further exposure too. It was hard to find an event which would be open for students or was affordable, so I thought about establishing one and that gave birth to The Quant Conference.
"Networking is an essential component of any conference, and quant conferences are no exception. In the past we hosted 4 events, 3 in London and 1 in New York, but I think virtual events will now be around for the foreseeable future. For now, we have to focus the most on the agenda and the quality of the technology that we offer our attendees.
"Our platform uses Artificial Intelligence to be able to understand which people you should be talking to, based on which session you should sign up for, what skill set you have and what are the people that you are connected with already.

"Morgan Stanley is our Platinum Sponsor and main partner of the conference. Essentially we are helping them to get access to top talent, because everyone is recruiting the same candidates and competition for data scientists is fierce. The Quant Conference strives to create a marketplace to connect industry practitioners, academia, students, investors, analysts and others.
"People are interested in networking, for instance C-level executives from hedge funds who are interested in knowing what the industry is up to and meet investors. For quants with more data science focus who work with machine learning there is also plenty on the agenda, and now we have day two of the event reserved for Crypto.
"Our event headlines include some recent developments in Machine Learning, Risk Management and Systematic Trading. Whilst we also welcome Aaron Brown who will be talking about risk management frameworks that are applicable during Covid. Then we will have a panel called Man vs. Machine and whether we are heading to augmented intelligence or not. And finally we will have Professor Alexander Lipton who will be talking about automated market makers, DeFi and Stable coins. There will be plenty of topics covering cutting edge research and some of the hottest topics in financial markets"
To hear more about the Event and Nikita, you can hear the video interview in the link to our YouTube channel below:
To meet with leaders and fellow quants from around the world, sign up today using the DB15 code here.
Author: Andy Samu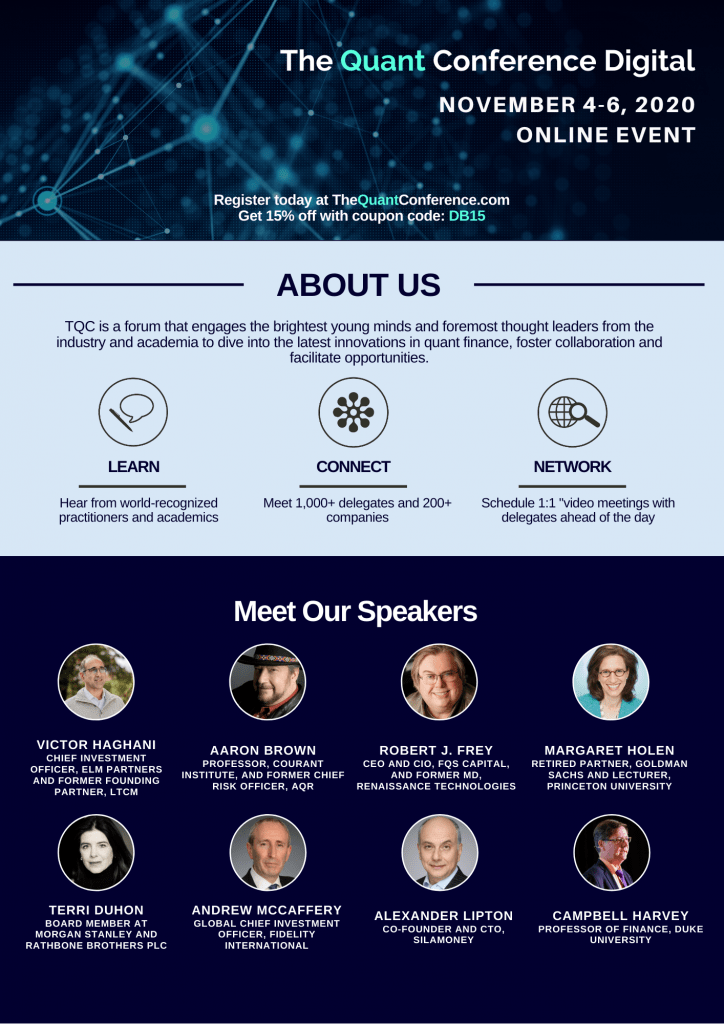 #Quantitative #TQC2020 #AlphaStrategies #Crypto #VirtualEvent #ArtificialIntelligence #Global #MorganStanley #riskmanagement #Covid #Trading #marketmakers #stablecoins #DeFi