With Inflation on the horizon, fiat currencies are forecasted to devalue, while Gold continues to be the safe option, the safe haven for those who are less trusting of traditional savings plans.
Used as a currency for millenia, Gold still maintains its purchasing power and it's proving to be a crisis-proof safe option, with its all-time highs being noted in 2008 and also during earlier recessions.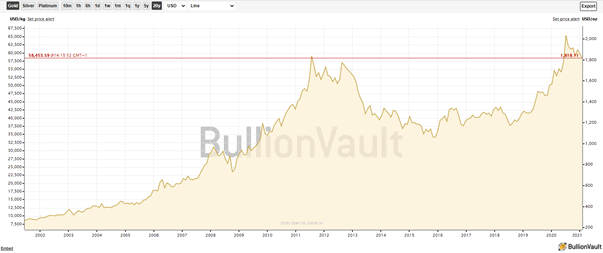 Recently some commentators have called Bitcoin the "New Gold", which makes you wonder if "New" in this instance means "Better" or "Different"?
With investors becoming more aware of possibilities to buy or trade Gold (which, in my opinion, is still somewhere between buying bullions of Gold or investing in ETFs or SGBs through banks or well-known brokers), some still assume that access to cryptocurrencies is easier…
Back in March 2020, Revolut introduced its customers to a brand-new service, letting them invest their money into two particular commodities – Silver and Gold. However, their service is still missing functionalities. For instance, digital transfers of Gold to someone. With it being easier to send crypto over precious metals, the challenger bank might be popularizing the idea that crypto is more user-friendly.
For some, then, it might be a surprise that there is a challenger on the market that already lets you spend, buy, sell, exchange, and even transfer Gold:
GLINT
If you purchase Gold, it's unlikely that you'll get to touch the physical Gold you bought, as its' often hidden in top-secret vaults.
It's the opposite of, for instance, Gold-backed crypto, ETFs, or even Gold you lend from Banks. Gold bought through Glint is physical bullion stored by Brinks in Switzerland, owned by you. This is another difference between Glint and Revolut, you have no legal claim on the gold you invest through Revolut.


I started using Glint in March 2020, with an initial investment of around 3000 EUR at the start. Since then I had a chance to use all of the features offered by the Glint App, and decided to share my experience with others.
Always when opening an account at a "challenger bank" or any other kind of payment services provider, the first thing I check is if the company is authorized and regulated by the FCA in the UK.
Glint passed my first test.
Opening an account is an easy procedure, you initiate the process by downloading the app (App Store or Google Play). The next steps include choosing your country, your email verification, and identification check which includes taking a photo of your ID of choice (for example ID card or passport). Information provided by you is then verified in the Glint app. In my case (opening the account as a Polish citizen) it took a couple of hours for my account to be ready to use, and when it was completed my card was delivered to my address.
THE APP
Before you buy your first few grams of Gold, you need to top up your account. You have a choice here between a money transfer from your bank or a card payment. I have to admit that every time I'm topping up my account I use the second option which makes the money appear in your account immediately.
Your account can be linked to GBP, EUR, USD, and of course Gold (which I consider quite exciting as you can even pay with your card for your everyday shopping in a local store that accepts MasterCard).
After topping up, even before your card arrives, you can already exchange money between available currencies. Any transaction costs you 0.5%, without any further hidden costs, making Glint one of the cheapest ways to invest in Gold.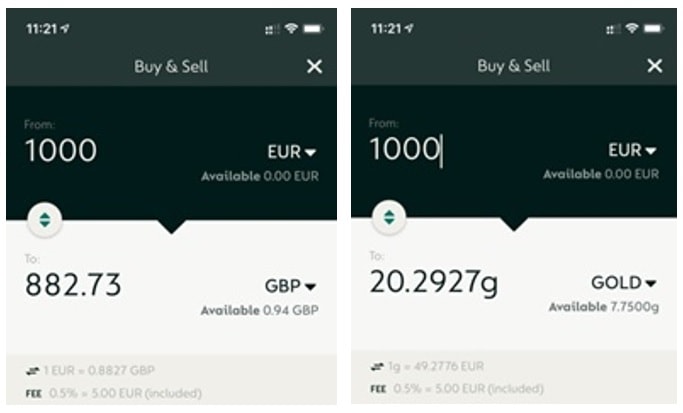 If you want to withdraw your money from the bank, the withdrawals are only allowed to the account you have used to top up your Glint account from, however, this was never a problem for me.
In the App you can easily temporarily freeze your card, cancel a lost or stolen card or check the PIN number in case you forget it (which for me turned out to be a really useful option).
Glint It!
I had been waiting for the Glint Team to make Gold transfers possible between two different accounts. In September 2020 the wait was over, with the introduction of a new service called "Glint It!" which allows you to make instant and fully secure payments.
It turned out that some of my friends were also using Glint. It's easy to check as every person from your contacts whose email address is assigned to a Glint account, is marked with a green letter "G". And, an email address is enough to make a transfer or receive Gold or other currencies in the app, with the added benefit of allowing a personalized message for your transaction.
The technology behind "Glint It!", is built on an in-house platform, and not on a 3rd party system like most other apps that area available..
Transactions are truly easy to make (and free!) and the funds are transferred immediately to the recipients' account.
CARD
My Glint Mastercard arrived earlier than 14 days from opening the account.
The whole unpacking experience is engaging and I can say that the Glint card looks very "attractive". The gold-coloured sides of the card were noticed multiple times by my friends when I was paying in front of them.
I started using the card after activating it in the app. The first transaction I made was a classical one (with inserting the card) and later on, I tried a contactless payment. Both times, I didn't experience any issues with my transactions.
ATM withdrawal with the limit of £300 costs you £1.50. Some ATMs charge additional fees for using the card in a currency that differs from the local one. But even in Poland, I've still managed to find Banks that are not charging me for withdrawing money with my card.
In the last 10 months, I have used my card multiple times including paying for goods at shops, making online payments, adding it as a preferred card for my Uber account, paying for plane and train tickets as well as withdrawing money from ATMs in Poland and the UK.
In December last year, Glint also became a "Principal Member" as part of their co-operation with Mastercard, which means that Glint can now work directly with the global pay-tech giant and have control of issuing its card. They can also now issue cards on behalf of other fintechs and corporations too. It's good news for clients too as if my card is blocked, for example, I am still able to use my account and make transactions in the app.
Before this, Glint, like many fintechs, was using Wirecard as a payment processor for European transactions until Wirecard became embroiled in a financial scandal. This led the FCA to temporarily suspend Wirecard's UK activities and the firm has now become insolvent. For many fintechs, this suspension meant that there was some disruption to service and, unfortunately, it was no different for Glint as even my account was frozen for a short period.
Glint was quick to reassure its' customers by sending an email assuring that none of our money was stored with Wirecard so there was no risk of losing our funds.
My card became active again after a few days and I didn't experience any further problems.
The partnership with Mastercard means that Glint is now fully in control of its operation and regulation so clients won't face any inconvenience as a result of the activities of a third-party such as Wirecard.
CUSTOMER SERVICE
When my card was blocked I was advised by the app to contact the Customer Service team. I managed to get an answer without any delay just before 6 PM. I was asked several questions that allowed Glint to confirm that I'm the owner of the account. After checking my account history, it turned out that accidentally I wanted to pay (twice!) in EUR while my card was linked to GBP. The following day I received an email with the issue explained once again and a request to confirm receipt of the email to unlock my card. I didn't exactly check how long it took Glint to unlock it but I can say that same evening I could use the card again.
OVERALL EXPERIENCE
The App and the card are really straight-forward and easy to use, and make a good impression on people new to this type of technology.
It's also worth mentioning that the Glint Team have worked hard on the whole user experience, starting at the very beginning, with unpacking the card. The website is filled with information about Gold and the investment landscape, and is a good guide for many first-time Gold investors out there.
There is very transparent information available about fees & limits, there is clear email communication, and good customer service, which allows me to enjoy using Glint on a daily basis whilst also making it a safe place to keep my savings in Gold.
Pros
– Glint it! making it possible to transfer Gold to your friends
– Possibility to use the card to pay with physical Gold
– Low fees compared to other platforms offering Gold
– easy to open and available for everyone all over the World
– user-friendly app
– nice design of app
Cons
– in Poland, a couple of my transactions were rejected when my card was linked to EUR instead of GBP – it would be nice to see a wallet cascade system that takes funds from another wallet when the one your card is linked to has insufficient funds

Author: Klaudia Archimowicz
Whilst we strongly believe that gold is the fairest and most reliable currency on the planet, we obviously need to point out that it isn't 100% risk free. Whilst we have seen a steady increase over time, the value of gold can fall, which means the purchasing power of the customer can also fall.
#GlintIt #Gold #P2P #App #Challenger #ProductReview #GlintPay