In 2018 #DisruptionBanking interviewed the founders of Glint, the Challenger Bank who are instigating a Gold revival. Back then they were pioneering how to turn Gold into a payment method. Today they have proved the concept and are ready to expand their product further in their goal of 'democratizing' Gold.
Many of our readers remember stories about queues outside Northern Rock, about how the savings of thousands of people in Cyprus were seized and more dreadful stories in the aftermath of the collapse of Lehman Brothers in 2008. If you wanted a reminder, have a look at what one of the UK's previous Chancellor's thinks about the subject:
Alastair Darling was not the only person who was profoundly affected by the queues of people lining up outside Northern Rock. Originally from Sunderland, Jason Cozens, CEO and Founder of Glint, was hugely inspired by seeing how people's confidence in money could be shattered so easily.
Starting his career as a qualified architect who worked in e-commerce, Jason was a digital product specialist who was inspired to find a better risk-free way to own money. His vision was a new type of payment platform where bank runs wouldn't wipe out your savings and where you don't have to worry about massive inflation.
"Monzo, Revolut and Starling all use the multi-currency platform of Global Processing Services (GPS) who offer a multi-currency wallet for their clients to use. Nobody has Gold on their platform though, so while the early challenger banks could focus on marketing once their apps were up and running, we had to build a brand new multi-currency wallet where people could buy, sell and spend Gold." Cozens shared with #Disruptionbanking
"Most of what we were doing for the first few years was to build the core multi-currency functionality which allows anything to be used as money and in our case this was Gold. Then integrating it with Mastercard and more recently creating the P2P platform as well. So now the foundations have all been completed we can get on with the rest of the business."
Some of the areas where other challenger banks are ahead is the development of the app itself. With many challengers already offering charts, affiliate marketing and other interactive activities to users. Glint has 138,000 users, and they are not the average Revolut users, they are people who are educated about what Gold can do and what Gold stands for, and Glint are ready now.
"Bigger companies have tried and failed to do what we have done, and the challenge was too big for earlier firms. And, yes, there may has been some volatility in the price of Gold during 2020, but nothing on the levels of what we are seeing on the stock markets. The huge amounts of cash being pumped into markets by central banks will eventually affect the value of our currencies and that is the moment when Gold again will prove its value.
"For instance in August, Gold shot up above 2000 USD per ounce (an all-time high), but then it dropped on the news of the Cure for Covid. Either way Gold is up from the 1200 USD per ounce it was worth in 2018 and it continues to be the safe haven currency of choice for many people.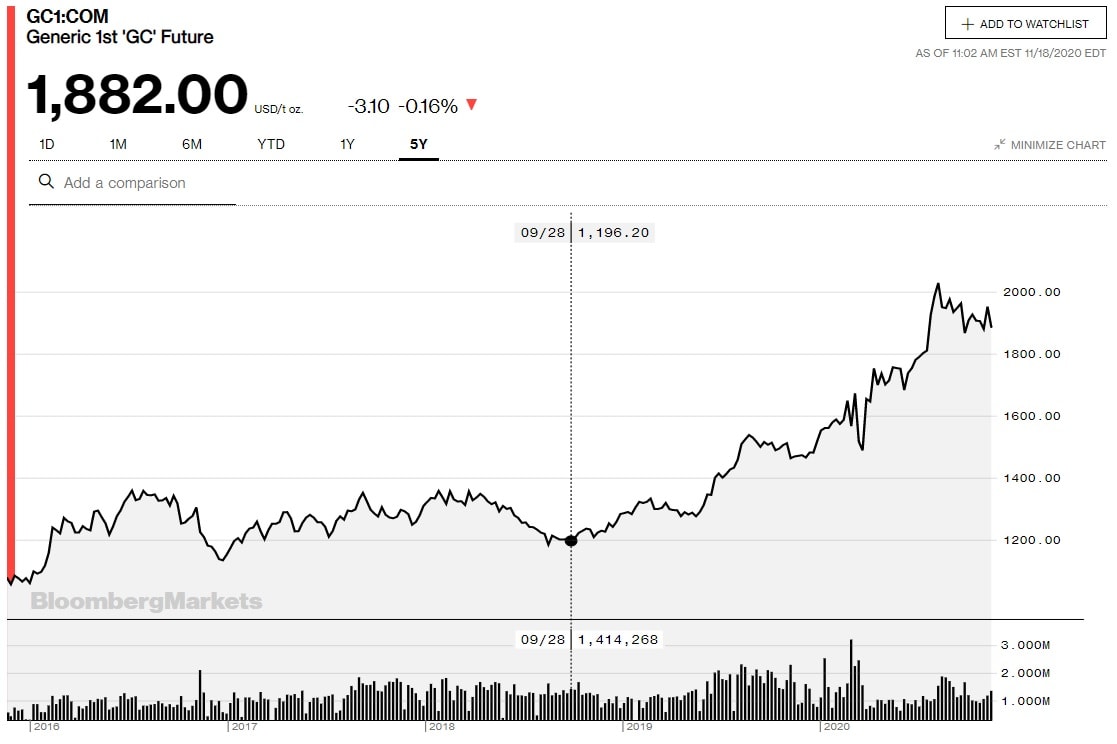 "The British pound has lost 85% of its' value in my lifetime. And one of the things that I learnt after the financial crisis of 2008 was that Gold was the ultimate store of value, but it was not easy to use for payments."
"Only this week we have signed up our first corporate client in Perspective Investments who will be using our platform. Wealth management is an area we are considering developing, however investors in this area can be less open to the innovation of a product like ours. For now". Cozens continues.
Arno Kitts, Founder & CEO at Perspective Investments, adds: "With governments and central banks creating money to cover fiscal deficits, and with inflation higher than interest rates, the case for gold continues to strengthen. We are holding much of our capital and reserves in physical gold via our new Glint accounts. Also, we are offering our staff globally to be paid in Gold if they would prefer this."
One of the unique things about Glint is that users often put thousands of pounds, euros, dollars and other currencies on to the app when they first start to use it. This means that Glint will have a far higher amount of assets under management than many of the other challenger banks out there.
"We even have a few users who have put in over a million dollars each" Cozens adds.
And Glint are moving forward with their expansion, strengthening their position in the market by consolidating their US base in Boulder, Colorado.
"We looked at Boulder in Colorado, as there is a great Tech community there. The top talent in the States are looking at this place more and more, mainly because of the better quality of life that it offers people. A lot of people are leaving California, not just because of the prices, but also because the traditional tech hubs are losing their attractiveness as innovation hubs.
"The ability to create, growth hack, generate startup ideas is what you need for innovation. This type of competency rarely sits in expensive corporate cities, but is found in smaller less populous or less popular locations.
"We are growing our presence in South East Asia too and are already on the ground in Japan with other markets firmly on our radar."
Glint have secured an additional £2.5m in funding to scale up growth just this week, half of which has come from the UK government's Future Fund. With over £24m since the company launched further funding is still required to secure the vision that Jason and the other co-founders have for the company.
"We see the product going forward not just as a preserve for the wealthy, but as a wider tool for everybody. Glint is for using Money and this means you want the ability to spend. Gold is for storing your value, it can't be corrupted like Fiat currencies. It can't drop to 0 dollars, it can't disappear. Investments can disappear, Gold can't.


"We're democratizing Gold. We want you to invest, but we also want you to spend using our app. We have users who are philosophically inclined to Gold. Other users who want to transfer gold to their home countries like India and China.
"In 2021 we are looking at releasing an all Gold debit card whilst continuing to develop the functionality of the App itself." Cozens summarizes.
With the impending doom and gloom that many in the markets are already forecasting, Glint offers a Gleam of hope that there are better ways to preserve your wealth and manage your finances. If you were worried about inflation in 2021, then Glint may well be the answer.
#Boulder #Gold #ChallengerBank #P2P #Democratizing #Glint #GlintPay #Innovation
Author: Andy Samu