According to PivotalPath, in 2022 so far global macro funds have had the best returns amongst the top performers of the hedge fund industry. In other news fund managers are being tempted back to crude oil futures by the tightening supply outlook. At the beginning of 2022 quantitative strategies were earmarked to continue performing well, especially if they are momentum-based. Strategies that encompass both the best current strategy as well as looking at opportunities in price momentum are some of the most attractive today.
However, many hedge funds have also posted losses in 2022. Institutional Investor reported earlier this year that half of all U.S. allocators planned to increase their investments in hedge funds in 2022. Equity and event-driven strategies lost 12.3% and 8% respectively just to highlight how hard the year has been so far. However, they need to be cautious when choosing the right hedge fund to invest with.
Most of the recent news highlights challenges that U.S. based hedge funds are facing. Indeed, $54 trillion assets under management are managed by firms in the U.S. According to Statista though, Europe made up more than 25% of assets under management globally in 2021. The next highest percentage after the U.S.
Since 2001 the amount of assets managed has almost quadrupled globally, as it has in Europe. But since 2020 alone there has been an increase of more than fifteen percent, which has raised global assets under management to almost 110 trillion dollars by the end of 2021.
Europe, where the popularity of hedge funds is arguably much lower than in the U.S., continues to be the second most important market in the world. And one of the most important markets in Europe today is Germany. Which is the focus of our story.
The Asset Management Industry in Germany
Surprisingly, the asset management sector in Germany is only the third largest in the European Union. With €2,385 billion assets under management in 2021, the largest country in Europe comes in behind Luxembourg and Ireland respectively.
We spoke to Benjamin Ege, the CEO of AQE Capital to find out more about one of the few hedge funds to be based out of Berlin.
"We just look at price data," Benjamin explained, "It is similar to global macro because when you look into price data, you can look into equity price data, futures price data, or option price data. And even if it's not price data per se, like interest rates, the dates themselves also act like data. Using this data is how we create our strategy, which is a combination of momentum and trend following."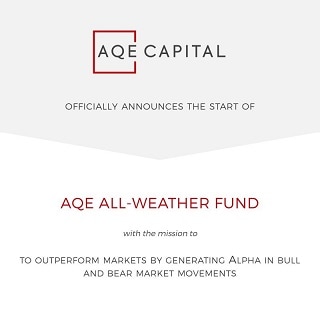 "Equity and futures have been liquid, a speciality of these markets, which is where we focus our trading." Benjamin continued.
The All-Weather Fund focusing on Long and Short
AQE Capital offers an "All-Weather Fund" to investors. The fund follows a long and short Momentum and Trend-Following strategy. The strategies' mission is to generate alpha during bull & bear markets whilst significantly outperforming the market in the long run
"It took a long time to develop our strategies," Benjamin elaborated, "It's not only entirely automated and quantitative when making an investment decision in particular, but it's also automated in terms of opening and closing positions."
Algorithmic trading has been with us since the 1970s and needs a highly sophisticated approach to markets. Instructions for trading are pre-programmed and often use a rules-based approach.
In order to make a strategy work efficiently, you often need access to data. Using APIs to access and integrate this data is essential.
Surprisingly though, not all hedge funds use APIs yet. And not all data providers to the financial services industry have up-to-date APIs. Something that Benjamin explained affected AQE Capital's ability to create a perfect, robust infrastructure that is needed to have your algorithms working optimally.
The problem with slippage
Benjamin highlighted how the strategy that AQE Capital uses is based on the opening and closing data of individual exchanges. Something that doesn't need the number of actions and data that intraday trading uses. Meaning the firms reliance on data is much lower than you would think.
"The reason for investing the way we do is that the beginning of the day is the only time we can actually get a guaranteed price." Benjamin went on to share how there is a small window before trading starts on exchanges where the opening price is determined in a pre-auction, There is no bid and ask with the opening price. This allows the fund to minimize 'slippage' within the strategy.
The problem is more profound than at first it might appear. Benjamin offered the example of slippage in intraday trading. He used an example of trading a particular currency like U.S. dollars where you might see a signal at 3.35 and 20 seconds. The chances of actually making the trade at that exact time are zero due to all the work involved in making the trade.
Which is why "we want to minimize slippage however possible. That's why we only look at the opening data," he explained.

Finding Alpha using the Algorithm
The "All-weather fund" operates as an Alternative Investment Fund (AIF). It invests in US equities, and US and European Futures, all highly liquid and traded at the exchanges (no OTC).
The team behind AQE Capital have all worked in asset management and investment banking in the past. But the CIO, André Nütz, has over 28 years' experience in derivatives-based investment strategies and risk controlling. Benjamin shared how it was André who came to the realisation that a simple quantitative strategy always worked better than his allocated strategies. So, he concluded that the computer will always be better than him.
Trading can be a rollercoaster. Using a quantitative strategy is the best way to avoid the emotional turmoil that comes with it. This is one of the reasons that Benjamin and André wanted to rely on a system, and started developing the strategy together with AQE Capital's quant Julien who by education is a trained theoretical physicist.
Due to the flexibility of AQE Capitals funds, Benjamin believes that the firm can look at anything that trades in the future. However, for now, Benjamin believes that the algorithm is performing well.
"It took two years to develop the entire strategy. Initially we thought that the more data we can gather and test, the better we can develop the strategy and the algorithm. This type of approach works for a lot of different strategies, but not for us," explained Benjamin.
"It's just simple and good the way the algorithm functions," he added. "And it makes us a decent amount of alpha too."
Trend-following, which AQE Capital uses for futures trading, exploits momentum anomaly. It measures the trend of an asset with respect to its own performance. It buys assets that have been going up and sells assets that are going down. Benjamin explained how this differs to other strategies which may react to a sudden jump in price. The algorithm will exclude this type of movement, he shared. Moments should not be confused with momentum, he argued.
"We have back tested our strategy by 20 years, and it shows a 19% return annually," Benjamin highlighted.
The trouble with ESG
We recently covered a story about the challenges that asset managers face when it comes to ESG ratings. How there are multiple standards and suppliers. And how there are also blind spots where ESG isn't even rated. Last week also saw further discussions about sustainability and ESG ratings at the COP 27 in Egypt.
Benjamin explained how ESG was a good thing for society, but how a unified standard is needed. Although AQE Capital could apply ESG ratings on the equity side to claim that it is an ESG proven fund. Benjamin shared why the company wasn't doing this.
"We don't use ESG ratings because there isn't enough data to back test them properly. And finally, we have a theory which is unproven so far, but is based on how momentum works," he elaborated. "Usually, momentum lies with the companies that are heavily invested and sought after in the market, and these tend to be the companies with strong ESG ratings"
Going forward, Benjamin believes that momentum will cancel out poor ESG ratings. Leading to an optimum ESG rating for the fund. Without the need for any potential greenwashing.
Especially as ESG ratings are only available for equities now. And because there is the big elephant in the room. 'How do you give a currency an ESG rating?'
Hedge funds are changing. The strategies they use are becoming more sophisticated. And the technologies available are improving the way that strategies can be automated.
The market share of the asset management industry in Europe is still the second largest in the world. With a recession looming forward-thinking funds that link to liquidity like AQE Capital does, will be a viable option for family offices and institutional investors.
Perhaps you need to consider AQE Capital for your portfolio too.
Author: Andy Samu