When you first see the pedal taverns carrying revellers up and down Lower Broadway, you might be forgiven in thinking you are in a 'party town.' But Nashville is changing. Today, there is some serious innovation also going on in the city.
Most of the performers in the many bars dotting the Music City are extremely well accomplished at what they do. Professionals of the highest calibre who gather crowds day in day out. However, today a new type of professional is starting to grace middle Tennessee. Tech professionals and savvy bankers are appearing more and more frequently in the city.
Only a few weeks ago we covered a story about how Nashville is more than just a Music City. In the story, we mentioned how UBS had found a home in the city, and how companies like Oracle and Amazon were also looking to grow teams in the city. But we didn't mention a firm that many consider to be the best employer in Nashville: AllianceBernstein, or AB.
When our publication planned a trip to the U.S. earlier in 2022, it was assumed that the end of September / beginning of October would be a slightly cooler time of year. Not so. In temperatures above 35 degrees the air conditioning within AB's corporate headquarters on Commerce Street was a welcome relief. Plenty of people still walk around in full suits in the city, even when it's hot. It's hot quite a lot though in the summer months, so it does take some getting used to.
Why AllianceBernstein Chose Nashville
The Queen's funeral had just taken place the day of our meeting, back in London. In tribute, most of the U.S. flags flew at half-mast across the country, including Tennessee. The outburst of emotion at the passing of one of the greatest monarchs in British history hadn't gone unnoticed even in the American South. And the welcome I received AB was also second to none.
Our editorial team had come to the Music City to find out why AB had relocated its headquarters there.
Since moving to Tennessee, the asset management and research firm has been working hard at filling the space in its state-of-the-art office. One of the leaders spurring this growth is Karl Sprules, Global Head of Technology & Operations, who was also one of the first employees to represent AB in Tennessee. Karl started by sharing some of the challenges the firm is facing, as well as the need to continue to be an innovator within a highly sophisticated industry sector.
One matter Karl highlighted was how AB was not just 'nearshoring' to Nashville. Something that Amazon, Oracle or UBS have done when considering Nashville. Together, they all form part of a large tech community in Middle Tennessee, and it is not the same as in larger cities. In New York, Karl noted, one can be somewhat 'anonymous' when it comes to the local ecosystem. Not so in Nashville, where AB has regular contact with senior leaders from the most important stakeholders in the technology ecosystem.
When considering where to locate the new corporate HQ, one of the priorities for AB was to be an employer of choice within that city. The firm went through a list of potential locations, and one of the many reasons that Nashville was chosen is because it had a strong pipeline of .NET professionals. Not quite as many as states such as Colorado (according to LinkedIn), but still more than most.
One of the good things about Nashville, Karl explained, was that there is really a lot of big companies in the city. Especially in the healthcare sector, but not only.
"We've used a lot of Microsoft technologies over the years, and we use Azure (Microsoft Cloud)," Karl explained. "A lot of our in-house development is completed in .Net," Karl elaborated. He highlighted how Microsoft SQL formed one of the pillars of the infrastructure at AB.
Navigating the turbulence caused by COVID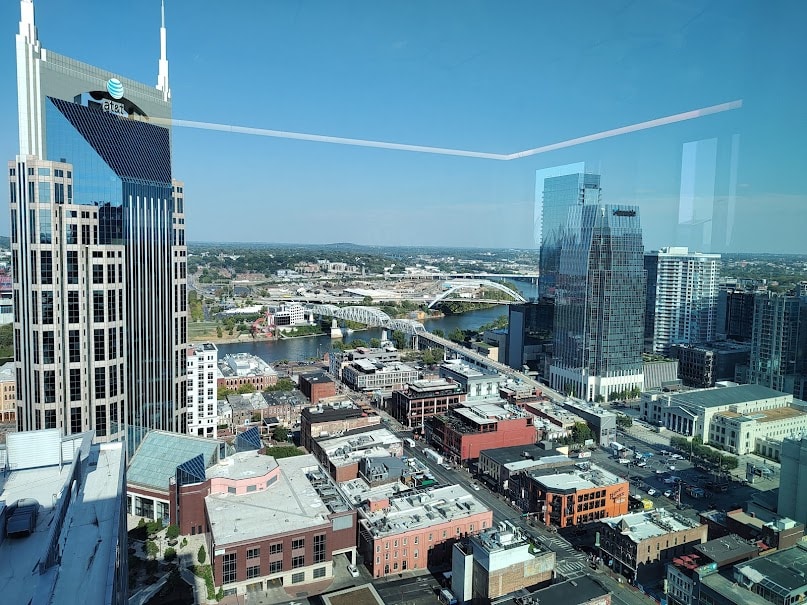 Karl shared how the firm has been returning to the office in a hybrid model as of February this year, working three days from the office and two days from home to give people flexibility. Karl has also noted how many firms have offered work from home in perpetuity. He thinks this demand from employees is also changing. People are happy to work from home, of course, but are also starting to see the need to interact with others within an office environment.
AB has implemented an apprenticeship culture for junior associates to come in and be mentored by different employees already within the company. This process is much easier when people are based in the office. The firm is showing a commitment to the local community and to young talents based in Tennessee.
The other thing that is important about Nashville is how the Fixed Income Leaders Summit took place in the Music City this year. AB's President and CEO Seth Bernstein led the event's opening remarks, which is a must-attend event for anyone in the buy-side in the U.S. Karl explained how there were more events planned for next year focusing on topics such as financial technology.
How AB is Embracing Blockchain Solutions
AB is a cloud native business. The current infrastructure focuses on Microsoft products. That's not to say that AWS's cloud solution is not relevant. Some of the acquisitions that AB has completed operate on AWS, which has led to the rest of the organization learning and understanding AWS, too. Karl enforced how there was no preference as to which cloud provider was used. The number of systems on which AB operates means you need to be aware and knowledgeable about all options in the market, but the predominant cloud solution remains Azure.
Our discussions quickly moved on to blockchain where AB has recently been active:
Karl explained how within AB there were employee groups that had been operating around innovation for several years. First called AB Labs, then renamed to H-Labs. When the initial disruption around topics like bitcoin and blockchain started, one of the reasons that AB considered ledger technology was "to remove friction within the business," Karl explained.
Like any large firm within the asset management space, there are lots of points of friction as AB plugs into the broader financial Services ecosystem. Initially, AB is exploring transfer agent services through their new collaboration with Allfunds. Karl explained further how in 2021, more than 100 colleagues from a whole host of departments met to plan out how best to include ledger technology within AB.
It was clear to Karl after considering the challenge, that at every point of friction there was someone being paid. Karl believes in the opportunities that blockchain offers companies like AB. However, he is also aware of the fact that the wider banking sector is taking far longer to accept blockchain than people had initially thought. From fund registration to share registration, Karl sees how much disruption can be caused by blockchain, and how much friction can be removed.
On the topic of cryptocurrencies, Karl shared how much things had changed in the last five years. Today, customers of AB are more and more interested in how they can include crypto into their portfolios. Which has led the teams at AB to explore more opportunities in the space. Although regulatory pressures mean that the actual trading of cryptocurrencies is still something on the radar rather than in process.
Driving Innovation within AllianceBernstein
Karl explained more about how the group of stakeholders within H-Labs come together to help drive innovation. "People from across the entire business are involved," Karl explained. "Anyone can get involved," including fixed, equity and multi asset teams, product management teams, traders, developers, everybody. H-Labs start with a topic from the advisory board – in this example were distributed ledgers and crypto currencies. The interested employees then come together for a three-month sprint with the first month focused on knowledge gathering, the second on ideation and the third on prototyping. The goal of the lab is to look for ways to utilize the topic at hand within the business.
This is how the decision came about to work with Allfunds, Karl explained. Working with a digital transfer agent is a fantastic learning experience and offers a glimpse into alternative models for record keeping, subscription and redemption. The added benefit of exposing the technology teams within AB to the Ethereum chain is also going to give more benefits in the future.
During the implementation stage of the project, Karl explained how the development on the Ethereum chain remains on the side of Allfunds. But he doesn't sound like someone you would have spoken to at an Asset Management firm a few years ago. There is a keen understanding of how blockchain solutions can truly transform a financial institution.
The business of investment management at AB
Innovation is clearly important for AB. But there is also a need to continue to innovate in their more traditional technology stacks. So, Karl explained a little about how the portfolio management system works at AB.
"Applying corporate actions, updating all transactions overnight, bringing positions up to date, applying pricing, and then sending that to the front office on a region-by-region basis. This is what our main accounting platform or EPA does," Karl explained.
"EPA was traditionally used in our retail and institutional investor business, however, we recently spent three years building a version for our Wealth Management business, adding tax management and asset allocation features."

Integrating the best solutions available to leverage innovation
We next discussed how order management and building portfolios for individual investors was currently driven within AB. "At the core of this lies order management," Karl explained. "Order routing, desk structures and compliance. We typically purchase asset specific order management tools and then layer on proprietary portfolio optimization and execution tools where we believe we can add real business value. The optimization tools for portfolio construction can efficiently combine risk and edge models, and the execution tools use a variety of techniques to source liquidity."
Four years ago, AB's multi-asset business also went through a revamp. Looking to replicate the return streams of hedge funds more closely, the firm went for something that was completely bespoke to that team.
"When you think about creating fast moving order management workflows you need to understand all the implications of your decisions in real time," Karl enforced. "To do that, you need a really good system that incorporates much of the back-office processing into the front end." It doesn't mean that this one system is enough to run the multi-asset business, though. There are other systems for visualizations, sourcing data, back testing models, storing data and then there is the accounting and trading platform itself.
Fixed Income Munis, a very U.S. product
Municipal bonds are very popular in the U.S., due to their effective tax treatment.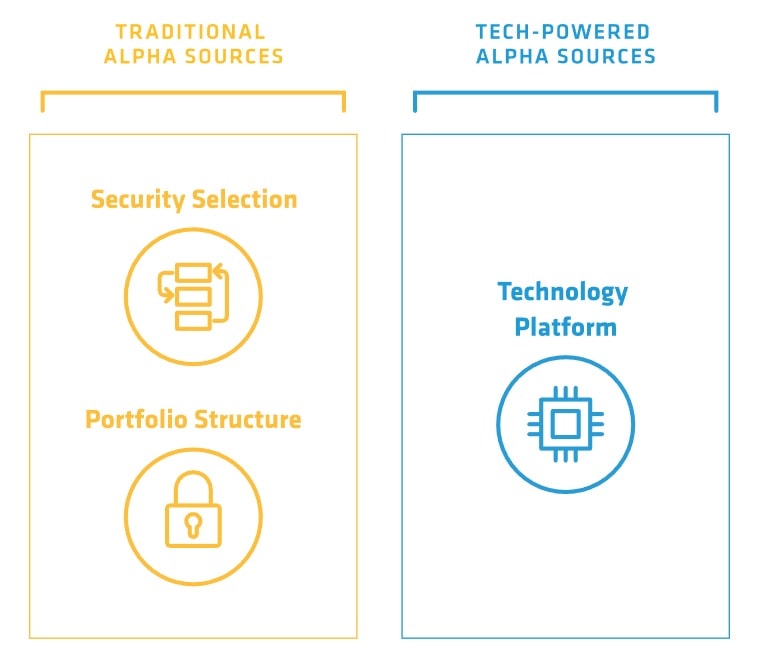 "That's why in our wealth management business for high-net-worth individuals, munis can be a very efficient way of investing," Karl shared.
The Muni market has upwards of 50,000 issuers which makes for a much larger investable universe when compared to equities, Karl elaborated. "That's a large number of issuers across the U.S. building anything from a highway to a school.
"The separately managed Muni market is getting bigger," Karl shared. "And other wealth management companies want to offer those in separately managed form too."
How Abbie gives AB an edge
The discussions moved on to a new system that AB has created to help with separately managed accounts. ALFA, or Automated Liquidity and Filtering Analytics, goes out to market to find liquidity in the Muni market, Karl explained. As it is not a predominantly electronic market, Karl shared how "you must grab liquidity from lots of different places, aggregate it up and then provide that to the trading teams."
Initially ALFA was just a liquidity sourcing tool. Then, once the system started working, the team at AB realized they could use an optimizer to say, "This is what's available in the market. How can we best use that to meet the needs of our clients?"
ALFA itself plugs into AbbieOptimizer. Abbie is the name that the fixed income team uses for all their technology, like AbbieOptimizer. "We take the liquidity we have available from ALFA, and we use that to optimize our portfolios. And what we found when we rolled that out is that we have more capacity in ALFA than we could use ourselves, and so, we make that available in SMA account form to other managers."
Partnerships in the investment management space
Karl pointed to a recent story about AB collaborating with Vestmark. The wealth management firm leveraged AbbieOptimizer to bring a new Custom Municipal SMA Solutions platform to market.
"Asset allocation in conjunction with tax management" is how best to think of the strategy, Karl concluded. He shared how it's important to consider where you are getting your Alpha (strategy) from. "Are you getting it from stock selection? Are you getting it from asset allocation? Or are you getting it from tax or reduced fees? But the answer is that you should be getting it from all those places."
It's hard in financial services to find a firm that is purely in just one business. Just like AB tries to diversify, Karl explained, so does everybody else. Other firms in the space have businesses that compete with AB on the asset management side, whilst also buying technology from each other. BlackRock and their Aladdin system is just one example of this, Charles River and State Street is another.
AB partners with many of the largest service providers in the asset management business and many companies in the wealth space, too. The future is about collaboration. For AB, that collaboration means partnering with companies in Nashville to make Tennessee a destination for technology and financial services talent.
Author: Andy Samu
#WealthManager #EquityPortfolio #Liquidity #Alpha #ALFA #Abbie