As well as battling a war for national survival, Ukraine is in the throes of a grim economic crisis. The war has displaced millions and damaged billions of dollars' worth of vital infrastructure. The vast majority of businesses aren't fully operational. It's currently impossible for Ukraine to access capital on international financial markets. Meanwhile, soaring energy prices means Russia is receiving approximately $1 billion dollars a day from the Western world: money which is directly funding its war against the Ukrainian people. As Oleg Ustenko, Economic Advisor to President Volodymyr Zelensky, told DisruptionBanking, Ukraine's economy has suffered a "huge decline." But what can Western governments and financial institutions do to help?
The Damage Done
Following Russia's invasion of Ukraine in February, business activity has dried up significantly. According to Ustenko, as "the Russians were bombing and sending their missiles everywhere it was possible to send them," around 80% of business are no longer fully operational. Around 50% have been destroyed outright, with the remainder operating at a much-reduced capacity. Inevitably, this will hit Ukraine's GDP, which will almost halve this year from its pre-war high of $200 billion. As we also discussed with Alexander Rodnyansky, another Economic Advisor to President Zelensky, this is causing significant budgetary repercussions, with Ukraine running a deficit that's unsustainable. Ustenko noted that before the war Ukraine had a deficit of around $7 billion dollars a year – and now has $1-5 billion dollars every single month.
Partly because of this deficit, Ukraine is also having to confront "monetary challenges," largely related to its foreign exchange reserves. Before the war, Ustenko said Ukraine had around $29.5 billion in reserves, but a significant amount of this has already been spent on the war-effort. Another cause for concern is the stark depreciation of the Ukrainian Hryvnia (UAH). At the start of the war, the Hryvnia was trading at between 26-27 UAH to the dollar. Intense pressure on foreign exchange markets following the war means, in Ustenko's words, "we are now in a situation where we have two exchange rates […] one is the official one used by the National Bank for our exports. There's also another exchange rate, the market exchange rate, where UAH trades 20% higher." This disparity "definitely suggests other problems might appear" further down the line.
Ukraine is also having to adjust to the economic realities of a new labour market. In Ustenko's words, "we have already experience significant outflows of labour from the country." Around five million refugees have left the country. A further seven million people have lost their homes and are internally displaced within Ukraine. "It's a huge number," Ustenko said. "And [it means] people aren't able to make money, since businesses are not working in a normal way." He suggested that a universal basic income of around $50 a month could be a way for the government to put money directly in its citizens' pockets.
As the war drags on, Ustenko is concerned that "the winter is coming […] and we have hundreds of thousands of people who just don't have roofs over their heads." He is currently working on plans to build temporary housing and keep these people warm during the cold Ukrainian winter – plans that will cost an additional $5 billion. All of these plans will require significant levels of foreign aid if they're to be enacted successfully.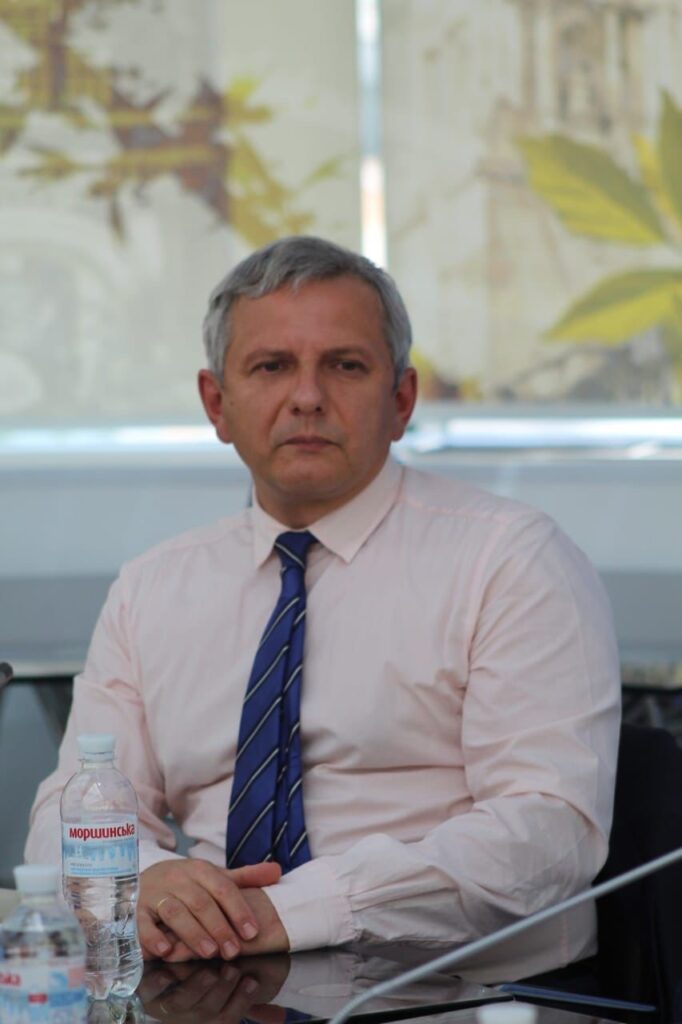 Russia's games
The difficulty for Ukraine is not only that their economic problems are so serious, but that their enemy is in a much strong position economically. Despite their economy being sanctioned to an unprecedented level, rising prices on energy markets means the Kremlin's coffers remain healthy. In Ustenko's view, "Russia is playing two games." The "first and most painful game is that they're killing our people," Ustenko said. But Ustenko also believes that Russia is playing another "game" on international markets. Particularly in terms of energy, "they have been trying to weaponise the energy sector for two decades."
Ustenko regrets the extent to which certain European countries, perhaps most notably Germany, have become dependent on Russian oil gas. He views it as "completely unacceptable" that these countries are funding the Russian war effort to the tune of $1 billion per day through oil and gas revenues. While the United States has announced a full embargo of Russian energy exports, this is only due to take effect at the beginning of December, which means that Russia will still receive around $200 billion in the meantime. "You can imagine how many weapons, how much ammunition they can buy with this money – how much damage in Ukraine they can do," Ustenko said.
While Ustenko would ideally like to see a flat-out ban of Russian oil and gas exports, he argued that the West should be looking at other ways to limit the amount of money they send to the Kremlin through energy markets. Ustenko welcomes suggestions made by Secretary Yellen that countries should move to impose a price cap of Russian energy, thereby minimising revenues for Russia as much as possible. He also thinks that expelling Russia from OPEC+, and other global institutions like the World Bank, would help isolate the country politically as well as give existing members more scope to shape policy that helps Ukraine.
Indeed, Ustenko also said that "you have to make sure that you are increasing the supply of oil to international markets," and therefore also welcomes President Biden's upcoming trip to Saudi Arabia. Biden is expected to incentivise the Saudis to increase oil supply, and therefore help ease prices for consumers worldwide – and, indirectly, reduce Russian profits. Several African countries, as well as some in Latin America, are also expected to begin supplying more oil for this reason. President Zelensky previously called for such action when addressing global business leaders in Doha:
Perhaps even more concerningly, Ustenko also believes that Putin is deliberately playing games on grain markets, waging what he called "the Food World War" – with potentially catastrophic results. In 2021, Ukraine accounted for around 10% of global wheat exports. But because of the destruction of war, and partly because Russia is deliberating targeting the country's grain stores, "yields are going to be significantly lower." Ustenko predicts that "instead of supplying around 80 million tonnes of grain to international markets, as we did last year, we will produce a maximum of 60 million tonnes." Ustenko added that at least 20 million tonnes will need to be kept for domestic consumption, with the remainder being exported – if Ukraine can secure access to the Black Sea routes to which Russia is trying to block access.
Ustenko believes Russia is "playing the game of international hunger." If Ukraine isn't able to supply its grain to international markets, he predicts that "between 100 to 300 million people are going to die because they won't have access to food." Yet another reason why, in his view, "the war has to be stopped as soon as possible."
Rebuilding Ukraine
These economic issues aren't just a problem for the war effort: they could impact Ukraine's ability to rebuild itself when the war is over. Ustenko is particularly concerned that the high burden of debt which Ukraine is being forced to assume at the moment could present problems – particularly if they end up defaulting. He told DisruptionBanking that the "assumption" at the start of the war was that it would be "pretty short," so the government took steps to continue servicing the country's debts. As the war drags on, however, he believes it's "kind of unfair" that, "we are receiving budgetary support from our allies, but using this money to service international debts that are in private hands." Ustenko wants to see a restructuring of Ukraine's debts to put the economy on as strong a footing as possible throughout the war and after.
In terms of rebuilding Ukraine, Ustenko accepts the task will be steep. He estimates that the cost of the war has already reached $650 billion for Ukraine, a figure that will only grow as the war continues. This also doesn't include "indirect losses," such as investment projects that didn't happen, or GDP losses. The total price of the war so far could "easily be $1 trillion."
To rebuild the country, then, Ukraine will need a lot of cash. While international aid will clearly play a role, Ustenko wants to see reparations. "We have $350 billion in frozen assets from the Russian Central Bank," Ustenko said. "Every single possible step should be taken to make this available [for Ukraine] as soon as possible." A further $150 billion belonging to "the Russian nomenklatura" has similarly been frozen, which Ustenko thinks "should also be reserved for Ukraine."
This cash, if and when it comes, will only be the start. Ukraine still must surmount enormous economic challenges if it is to navigate the war successfully – all the more so because of how relatively strong Russia remains. Stifling Russia's ability to "play games" on international markets, and minimising the amount of cash it receives as much as possible, will be crucial if Ukraine is to be victorious.
Author: Harry Clynch