A few weeks ago at Fintech Week London, the UK's Open Banking credentials weren't the only thing being discussed. Consumers were also a focal point for most of the speakers ─ the majority of whom currently use Google's Android or Apple's iOS.
Or at least, so we thought.
In May 2019 when Trump announced what is now commonly known as the 'Huawei ban', he inadvertently triggered a shockwave throughout the tech world. Huawei was then the second largest smartphone manufacturer globally, and was completely dependent on apps from Google, aka Google Mobile Services.
The ban has affected Huawei, which, even with a strong home market, dropped out of the Top 5 original equipment manufacturers (OEMs) in 2021. Huawei still uses Android though, just not Google apps or the Play Store, but another form of Android. Quite similar to the one most of us are used to.
And, in China, Huawei is the dominant mobile phone player on the market, just like QR codes are the dominant payment method there.
Michael Lowers, Director at Huawei Consumer Business Group, introduced the current banking and FinTech apps listed in AppGallery. These included FinTechs like Starling and sync. as well as banks like Santander and BBVA. More are onboarding, he shared.
What seemed like a showcase for the strength and successes of the UK's Open Banking system, soon dwindled into insignificance when hearing about how far China's payment systems have developed so far.
The FinTech landscape in China
Whilst Huawei may dominate the handset market in China, Tech Giants WeChat and Alipay dominate the payments space. At the beginning of 2020, Ant Groups' Alipay had over 55% of the market, leaving WeChat (or WeChat Pay and QQ Wallet) with 38%. That was before the ill-fated IPO of Ant Group in late 2020, when talk of the Digital Yuan increased substantially.
In April this year, the People's Bank of China (PBOC) stated that the e-CNY won't compete with AliPay or WeChat Pay. Huawei has also watched this space with interest, and Michael shared with us some of his insights about China.
"As a result of China's globally leading mobile market, the response to digital change in the financial services sector has meant a quicker pick-up and success of FinTechs in the region. China's FinTech sector is driving innovation, which in turn is leading to better technology and enhanced consumer experiences."
One of the areas that China excels at is 'alternative lending', in 2020 China accounted for 86% of the global market. Michael believes that this has helped China offer smaller FinTech players the chance to compete, increasing innovation: "Historically, China has demonstrated fertile ground for a FinTech revolution – it boasts a growing and underserved SME market alongside escalating e-commerce growth. Combine this with a timely explosion in online and mobile popularity (we're talking about 1.3 billion mobile internet users), and it's clear why the Chinese market has spearheaded the boom."
With an eye on the changing regulatory landscape both in China and globally, Huawei is focusing on helping others to innovate and grow. Their focus is the development of AppGallery, as an alternative to Google's Android or Apple's iOS. An alternative that hasn't been a viable option for Europeans till now.
Consumer choice in Europe
Europe has long been an attractive place for Chinese firms looking to invest and acquire. Until recently China's policy of 'buy it is quicker than building it' was quite well known, today things are changing. Whilst many of us in the UK are particularly proud of our brand of 'Open Banking', China has already raced ahead. Not only when it comes to the Digital Yuan, but also in its embracing of all things digital. Maybe the investment opportunities in Europe are not as highly sought after as they once were too?
"In Europe, FinTech development can be seen as slower than other markets." Michael explains. "There are a couple of reasons behind this, from consumers' trust in traditional financial systems to relatively low interest rates driving Alternative Lending. But this all means that mobile banking and technology still feels relatively new in Europe compared to China. As technology such as QR codes have accelerated in their use as a result of the pandemic, it's possible that Europe will catch up with the rest of the world in this sector in the coming years. Initiatives like AppGallery will have an impact on how things evolve too."
With the abundance of technology being produced and marketed in Europe, it's a wonder how few consumers question the dominance of brands such as Google and Apple (in mobile) and VISA and Mastercard (in payments). One such moment was earlier in 2021 when VISA's planned acquisition of Plaid fell through. Many observers believed the acquisition may have affected consumer choice 'negatively' in the long run.
Huawei's approach is different. Michael shares how beyond partnering with local and global FinTech's around the world, "Huawei is also hoping to drive positive change in the financial services space more broadly. By encouraging competition and challenging traditional financial institutions, AppGallery hopes to drive financial health by bringing a wider choice of digital services to users, so that they can choose which works best for them."
The alternative in Europe: AppGallery
Huawei launched AppGallery to the rest of the world in 2018. And, by the end of 2018, they were already announcing further exciting initiatives:
Whilst the popularity of AppGallery was still growing, we met with Ricky Lee, the Founder of sync., in August last year. Ricky explained how: "if you have a good product, users will come", whilst hinting at big announcements to come in Quarter 3, 2020. Today, sync. are just one of the FinTechs listed on AppGallery.
"Europe is one example where AppGallery has grown considerably since its global launch three years ago. AppGallery is now the world's third largest app marketplace with 540 million monthly active users (MAUs), growing in Europe by 61.5% year-on-year to more than 42 million users." Michael shared.
One of the reasons that sync., amongst others, got involved with AppGallery, Michael explains further, was how "Banking and FinTech app developers can trust that they're tapping into a truly global audience from launch."
And, before you shrug off the above numbers, consider that there is also still a digital array of possibilities through any internet browser within the Huawei App. At the same time, 40 million+ users in Europe are being ignored by the U.S. Tech giants as a potential target audience. There are many others who will consider adding to the opportunities offered to both these consumers, and the developers working on individual Apps for them.
Why are consumers choosing AppGallery?
During the pandemic there has been a lot more digital transformation than the world has ever seen. There has been a lot of discussion about both the finances of countries around the world, as well as individual investors. Consumers are becoming more concerned about their financial health, and many banks across the world have also been focusing on this. Spurred on by the UN's Sustainable Development Goals (SDGs), the focus for many has changed. In some cases, dramatically.
Michael explained how: "We have seen an increasing number of FinTechs join AppGallery over the last 12 months. With the acceleration of digitization, it's more important than ever to be wherever your customers' needs are. FinTechs seems to get that well."
"In the financial services sector in particular, AppGallery will seek to play a role in driving financial health, by creating competition."
One of the reasons that AppGallery has done so well, Michael suggests, is due to: "how well it combines HUAWEI Mobile Services (HMS) fully open Chip-Device-Cloud capabilities and harnesses Huawei devices' software and hardware capabilities to facilitate innovative app development."
Michael continues by explaining how "The AppGallery team maintains an unwavering commitment to developers through strong collaborative partnerships, enhanced development tools, local support, and an ever-expanding ecosystem and user-base."
"Including AppGallery's extra rich array of DevOps resources such as AppGallery Connect, HUAWEI Analytics, HMS Core Kits, and more…" Michael concluded.
A recent meetup for app developers, explained more about the "serverless" cloud features that AppGallery Connect offers:
"AppGallery Connect, in particular, offers unique full spectrum support to global developers," Michael elaborates. "From ideation, development, distribution, operation and data analytics. It provides 53 services in the Chinese market and 27 services in overseas markets to help developers increase operational efficiency. These resources, coupled with access to Go Global Service Engine through the HMS Go Global Ecosystem Alliance, helps developers to reach new markets."
And Huawei's plans don't stop there. Just this January Bluecode announced its' partnership with HuaweiPay in Switzerland:
With more partnerships planned for H2 2021, Michael assures us that "AppGallery has seen huge progress in a short space of time, through a dedication to its partners and committed global audience. And, it continues to showcase its potential to new partners."
Perhaps it's time the wider market embraced the opportunities that increased consumer choice can offer. Perhaps there's a reason why over 2.7 million developers worldwide are involved with building Apps for AppGallery. Perhaps it's time that you found out more?
Huawei is definitely here to stay, and its focus is on Financial Health and FinTech.

AppGallery at Money2020 Amsterdam
If you'd like to hear more about Huawei's plans, Siri Borsum, Global VP, Finance Vertical Eco-Development & Partnerships, Huawei Consumer Business Group will be speaking about "How can we discover unexpected partnerships?" at Money2020 in Amsterdam on September 21 – 23, 2021. Sign up for a ticket today.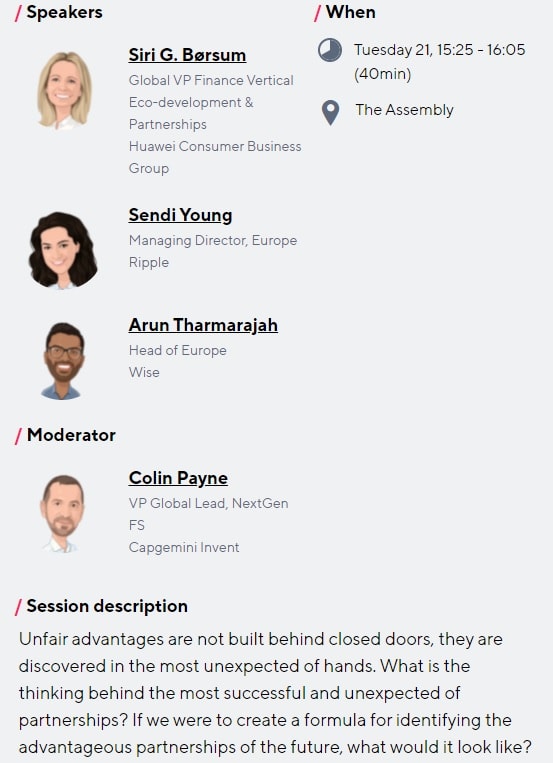 For instructions on how to use AppGallery, Vodafone have a concise overview of the way the system works.
Author: Andy Samu
#AppGallery #HMS #HuaweiMobileServices #Consumer #OpenBanking #Digital #FinancialHealth #FinTech #China #Europe #Sync. #Money2020 #HuaweiAppGallery