The Walt Disney Company (NYSE: DIS) is one of the world's leading entertainment companies, with a diverse portfolio of businesses that include media networks, direct-to-consumer services, studio entertainment, theme parks, and resorts, among other offerings. Disney's media and entertainment empire includes assets such as sports broadcaster ESPN, subscription streaming services Hulu and Disney+, and television network ABC.
Disney's commercial performance in recent years has remained resilient, despite the challenges posed by the COVID-19 pandemic to its core theme park business and changing consumer preferences that have led to intense competition in the streaming and broadcasting space.
Disney reported revenues of $82.72 billion for the year ended October 2022 vs $67.41 billion in 2021, $65.28 billion in 2020 and $69.60 billion in 2019, a pre-pandemic year. This topline growth has, however, done little to impact the company's bottom line or support its share price, which has faltered in recent years, resulting in losses of as much as 27% in the past 5 years vs the S&P 500's 57% return over this period

One of the possible reasons why investors are bearish on Disney is its thinning margins. Because of rapidly rising costs, the company has been unable to transform the strong topline growth in recent years into improved profitability.
Rising Costs
Disney's annual costs have increased significantly in recent years from $42.06 billion in the fiscal year ended October 2019 to $54.40 billion in October 2022, its earnings reports show. Similarly, its annual operating costs, which consists of selling, general, and administrative costs as well as provisions for depreciation, have ballooned from $15.56 billion in October 2019 to $21.48 billion in October 2022.
The rapidly rising costs at Disney have squeezed margins, resulting in a consistent decline in the company's net income in recent years. Despite Disney's net income in October 2022 recovering to a profit of $3.14 billion, from a profit of $1.99 billion in 2021 and loss of $2.86 billion in the pandemic year of 2020, the company is still a pale shadow of its former self. Historical earnings data shows that the company posted a net income of $11.05 billion in September 2019, $12.59 billion in 2018 and $8.98 billion in 2017.
This huge slump in earnings briefly explains why Disney's stock has been a poor investment choice in recent years. Although stock prices may fluctuate in the short term due to various factors, in the long run, they are largely determined by a company's earnings. When earnings decline, share prices usually follow. "Over time, earnings determine a stock's value," notes Joel Tillinghast, the famed vice president and portfolio manager for Fidelity Investments, the largest mutual fund company in the US.
The key reason why costs at Disney have risen faster than revenues – in the process squeezing margins and weighing on the share price – is the company's big investments in streaming and theme parks. Amid competition from streaming stalwarts such as Netflix (NASDAQ: NFLX), Disney has significantly increased its spending on content in recent years.
"Disney's spending has been significantly higher historically, often double or nearly triple that of Netflix," notes global research firm Statista, adding that: "Disney's content spending in 2022 was estimated to be 33 billion U.S. dollars, an eight billion dollar increase, while that of Netflix was projected to be 17 billion, the same as its content spending in the previous year."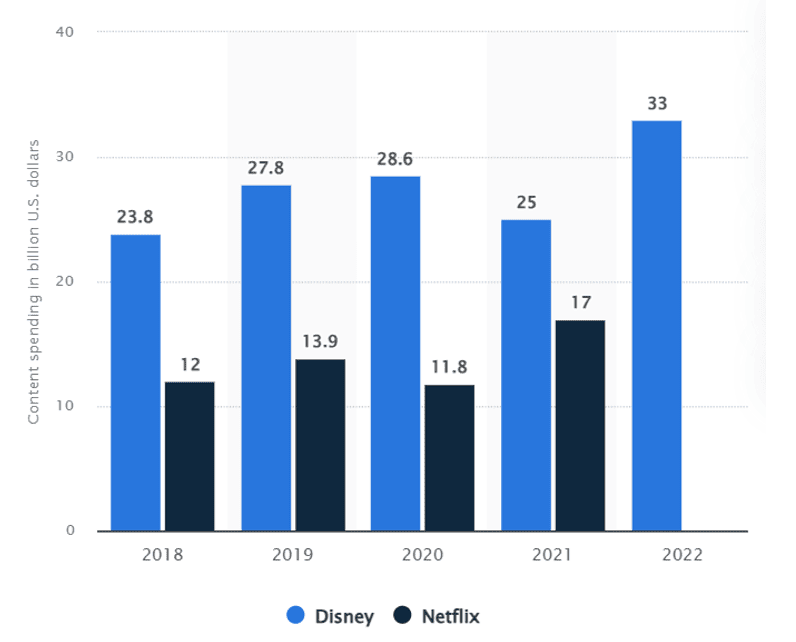 In addition to spending heavily on content, Disney has dedicated a great deal of resources towards its theme parks. The company in September disclosed that it plans to nearly double investments in its parks and resorts segment to $60 billion over the next ten years, according to Bloomberg.
Political Manoeuvering Spooks Investors
Investors are not only concerned about the huge increase in Disney's costs, which have suppressed earnings, but also the political maneuvering that has wormed its way into the company's leadership and day-to-day executive decisions.
Disney's top leadership has undergone dramatic executive shake ups in recent years. Bob Chapek, the former CEO, was fired from his position as CEO of Disney on November 20, 2022 due to various reasons, including public relations missteps, employee dissatisfaction, poor financial performance, and allegations of financial misconduct. His dismissal came as a surprise to many, as it occurred just five months after the board had renewed his contract. The board then rehired Disney's former CEO, Bob Iger, to take over the role.
Iger is a Disney old-guard, having been with the company since his early career as an executive of ABC before its acquisition by Disney in 1996. Iger's return to the helm of Disney was largely seen as a desperate attempt to restore Disney's former glories.
During his tenure at Disney, Iger led several major acquisitions including Pixar in 2006 for $7.4 billion, Marvel Entertainment in 2009 for $4 billion, Lucasfilm in 2012 for $4.06 billion, and the entertainment assets of 21st Century Fox in 2019 for $71.3 billion. He also expanded the company's theme park resorts presence in East Asia, with the introduction of Hong Kong Disneyland Resort and Shanghai Disney Resort in 2005 and 2016, respectively. Additionally, he was also the driving force behind the reinvigoration of Walt Disney Animation Studio.
Some investors are eager for change, even if that means recycling talent like the Board did with the rehiring of Iger. Others want the changes to extend to Disney's 12-member board. These include high profile activist investors such as Nelson Peltz. Through Trian Fund Management, the billionaire activist investor is seeking several board seats at Disney after boosting his stake in the entertainment conglomerate, people with knowledge of the matter told Bloomberg in October. Activist investors like Peltz normally use their stake in a company to push for changes that they believe will increase the company's value.
Activist shareholders can be good for a company in the long-term if their proposals are sound and are implemented effectively. They, however, also introduce a great deal of uncertainty, which can weigh on a stock in the short-term.
Disney's final hurdle is convincing shareholders that it can manage the risks that come with taking politically sensitive positions in different markets. In China, for example, Disney has complied with the Communist Party's directives in the past, including failing to offer The Simpsons episode that mocks China's terrible suppression of the Tiananmen Square protests. The leadership of Disney has apologised to the Chinese authorities for making films about Tibet in the past. In the US and other western countries, Disney has repeatedly faced accusations of "wokeism." This term is often used to describe a perceived trend of corporations adopting progressive stances on various social and political issues. In Disney's case, the accusations have largely stemmed from the company's public opposition to legislation known as the "Don't Say Gay" bill in Florida, US. The bill, which bans classroom instruction on sexual orientation and gender identity for many young students, was criticised by Disney, leading to backlash from some quarters.
For many investors, the combination of falling profits, rising costs, executive shakeups, and a politically exposed brand represents a significantly high risk when considering Disney as an investment choice. This possibly explains why the stock has fallen out of favor and is currently trading at multi-year lows.
Author: Acutel
We are global investors who invest in good companies at fair valuation and speculate on all else subject to the risk exposure we can afford.
The editorial team at #DisruptionBanking has taken all precautions to ensure that no persons or organisations have been adversely affected or offered any sort of financial advice in this article. This article is most definitely not financial advice.