Businesspeople in suits with cowboy boots and hats on. Customers turning up at ATMs on horseback. This is what many might consider to be the 'norm' in North Texas. And, whilst tax breaks have increased the pace of migration from other states across the U.S. to the Lone Star State. There is a lot of technology being developed in Texas, specifically North Texas. Artificial Intelligence, semiconductors and many other technologies being developed in the state are leading onlookers to start seeing the opportunities in North Texas.
To find out more, we had a conversation with Jorge Varela, Managing Partner of AltusVista in Dallas, and until recently the Vice President of Innovation at the Dallas Regional Chamber. Jorge is an entrepreneur who made the move into the investment world a few years ago. His input into opportunities currently available in North Texas might surprise you.
Jorge found time to speak to us whilst the Queen was 'resting' at Balmoral Palace in Scotland. Speaking with Jorge was the last interview we managed to conduct before one of the greatest monarchs in British history passed away.
Jorge himself hails from a former British colony, Belize, the last British colony on the American mainland. Jorge has lived in Texas more than anywhere else in his life, but like at least 15% of the population of Texas, he migrated to the Lone Star State. In his case, he moved there from California.
Much like Charles Schwab, the large brokerage firm, Jorge made the move from the Golden State to North Texas. And he hasn't regretted a moment of it. Much like thousands of other innovators and entrepreneurs who have tied their futures with the North Texas region.
Dallas-Fort Worth Metroplex, where opportunities abound
We talked about Dallas, but not only Dallas. We also talked about Fort Worth. Together they form the Dallas-Fort Worth metroplex. Over six and half million people call the region home. And with an economy that is two thirds the size of the UK and growing much stronger than the UK. Who can blame them? Each month tens of thousands of new jobs are being created. In April alone 62,800 total jobs were created in Texas.
One of the reasons that Dallas has managed to be so successful, Jorge shared, is because they are mavericks. In fact, when the local NBA team was named Dallas Mavericks, one commentator stated how the name "represents the independent, flamboyant style of the Dallas people."
They are undoubtedly good at taking risks, however the problem with North Texas is that they are not confident in investing in technology locally. Houston also suffers from this problem to some extent, Jorge elaborated. Many of the venture capital firms in Texas tend to invest in technology being developed on the coast. A lot of the initial funding in Silicon Valley was from Texas. This has only recently started to change.
This is particularly strange, Jorge explained, "because the silicon chip started here," he emphasized. "A lot of artificial intelligence started here. For instance, Apple's facial recognition software was developed in North Texas."
North Texas is already a hub for innovation
II-VI, one of the companies which was instrumental in designing many of the features of the Apple iPhone X, has a large presence in North Texas. Apple invested $410m into the company just last year. Jorge pointed out how companies located on the coast were now investing into early-stage companies in Texas more and more. At the same time as VC funds in Texas keep sending a lot of their money to the coast. A bit of a conundrum.
As to why this trend is now changing, Jorge had a strong argument. "It's happening simply because the cost of launching a company at the coast has become so expensive. Due to globalization, you can now get talent from anywhere," he explained.
Using an artificial intelligence group that he is a member of as an example, Jorge explained how the group had over 3,000 members already. Not all of them work locally, many of them work in companies across the U.S., but attend the meeting anyway. There definitely appears to be an abundance of talented people, 3,000+ AI professionals in one place is hard to find. The question remains how to make the local investment habits change. So more of them can represent and invest in local businesses.
Investment habits in North Texas are changing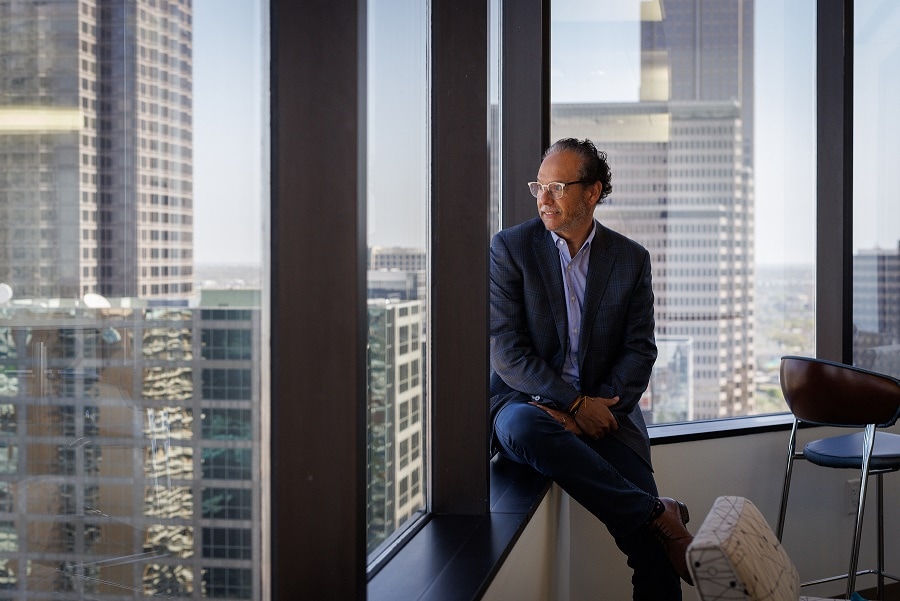 Investors from Texas have traditionally been more inclined to invest in real estate or oil and gas. This is changing as they start to believe that returns are possible in the local economy, pointed out Jorge. "We've had some big exits in North Texas. We're seeing more and more money. Good companies have no lack of funding here. The money will find them. I see it every day."
"I see here in North Texas, what Silicon Valley was like in the 80s and early 90s. This is most apparent in North Texas and the DFW metroplex," Jorge continued.
Amazon is one of the companies that have built tech hubs across Texas. Their largest hub is in Austin. Dallas comes in second, and Houston third. Jorge shared how companies like Amazon can see the potential in DFW.
There certainly are opportunities for entrepreneurs and businesses looking at the DFW metroplex. Jorge was keen to press the need for the message to reach a wider audience. Especially as so much of tech investment originating from Texas still ends up on the coast.
"I moved to Silicon Valley in 87, I left for Texas in the mid-90s. I set up three StartUps and led an IPO. And the things I saw there. They are here. The only thing missing is confidence in the local economy."
North Texas is a hub for local talent
Jorge pointed to the talent that was coming out of the many universities placed around the metroplex. The largest is the University of Texas at Arlington who provide education for over 56,000 students. 65% of their alumni live in Texas. There are many more universities across the metroplex like University of Texas at Dallas (UTD). Ross Ulbricht, the founder of the 'Silk Road' is one of their alumni
The foundations of UTD go back to the 1960s when the three founders of Texas Instruments, Eugene McDermott, Erik Jonsson and Cecil Green established the Graduate Research Center of the Southwest, which later became UTD. The reasons behind their establishment of the university were because they had been watching "promising young Texans leaving the state to pursue education." Whilst "their company, Texas Instruments, was recruiting out-of-state talent to work at their Dallas-based headquarters."
Semiconductor investments into North Texas
Outside of supporting the local educational system, one of the main sectors the firm invests in is semiconductors. Currently Texas Instruments is one of the main producers of semiconductors globally. They produce tens of billions of them annually. The firm has production facilities in Sherman and Richardson, both in Texas, and has ramped up production due to global supply chain problems recently.
Apart from Texas Instruments, leading Taiwanese semiconductor technology firm GlobalWafers has also noticed the opportunities in the North Texas region:
The Taiwanese giant is expected to develop its presence in Sherman, Texas. The US currently produces 10% to 12% of the world's microprocessor chips, down from nearly 40% in early years, according to Commerce Secretary, Gina Raimondo. Something that the U.S. government hopes will change. And North Texas will be able to take the lead in the sector. With new talent arriving daily, as well as 20+ universities and colleges in the area, Jorge is convinced that the future is bright.
Small-town feel Fort Worth embraces bitcoin
We then came back to the significance of Fort Worth within the Dallas-Fort Worth metroplex, where Jorge explained how the mayor of Fort Worth had installed bitcoin mining infrastructure in the town hall.
Not something you would have expected to hear about as a local government initiative. The big city with the small-town feel, Jorge explained, is how Fort Worth is thought of locally. What you see in Fort Worth, Jorge fondly shared, is men in suits with cowboy boots and big belts getting out of their Lamborghinis or Ferraris. And then putting their cowboy hats on. There are plenty cowboys who use horses too though. More importantly, a lot of early-stage investments come out of Fort Worth, Jorge explained.
The pedigree of the region mixed with many of the wealthiest investors in the U.S. make North Texas a perfect alternative to the stories about Austin, Miami or other up-and-coming cities in the U.S. Some of them may go a long way, but do they boast the historic wealth and, more importantly, the infrastructure within their local ecosystem to take on New York or San Francisco? Perhaps you should consider North Texas too. Others already are.
Over the next weeks we will be bringing you more stories about the DFW metroplex. This story forms part one of a series. Keep watching our site for more stories soon.
Author: Andy Samu
#NorthTexas #TexasInstruments #Opportunities #Apple #Amazon #Semiconductor #ArtificialIntelligence #Investment