Fintech Unicorn Wise has offices in locations across the globe. One of the most important offices is in Budapest, Hungary, where the company set up back in 2016. At the time companies like Prezi were a force to be reckoned with in Hungary. And Revolut was still based in Level39 in Canary Wharf, with plans to open in Lithuania. Today the fortunes of these three prestigious startups has changed.
Where Prezi is arguably the best known Hungarian startup, SEON has overtaken as the startup with the fastest growth rate today. At the same time, Wise continues to grow from strength to strength, with 16 million people and businesses now using Wise Account and Wise Business.
Lessons learnt from other non-bank suppliers of foreign currency
Just before Covid hit the global economy, foreign exchange market leader Travelex was hacked. Apart from the heavy ransom the firm had to pay, thousands of business customers as well as airport travelers' currency needs were put on hold. Today the company has managed to recover its position on the market. But many customers including large financial institutions changed to alternative providers. Wise was one of the companies that they moved to.
Importantly, many customers of Travelex were dissatisfied with how the firm handled the chaos that followed the hack in January 2020. With Wise things are different. The company believes that the less customers need to contact its employees, the better. The firm has reduced the number of times a customer needs to be in touch with it. Currently 9.6% of customers reach out for help, and the number has remained below 10% for some time.
The Wise Succeed where Marcus by Goldman Sachs failed
In a separate story, Goldman Sachs has scaled back its Marcus consumer banking business. Not only in the UK. The Wall Street Journal recently reported how Goldman Sachs may also be exiting a recent high-profile deal with Apple. The fintech landscape is extremely competitive, and the profit margins are just one of the problem areas that Goldman Sachs faced rolling out a consumer banking division.
Today, Wise are looking at the consumer finance market too. With a license to offer opportunities to grow your money, initially in Estonia, the firm is taking a big step forward in replacing traditional banking with a faster, cheaper and more convenient system. The firm already offers its product "Interest" on GBP and EUR accounts in some jurisdictions.
How Wise turns its Customers Evangelical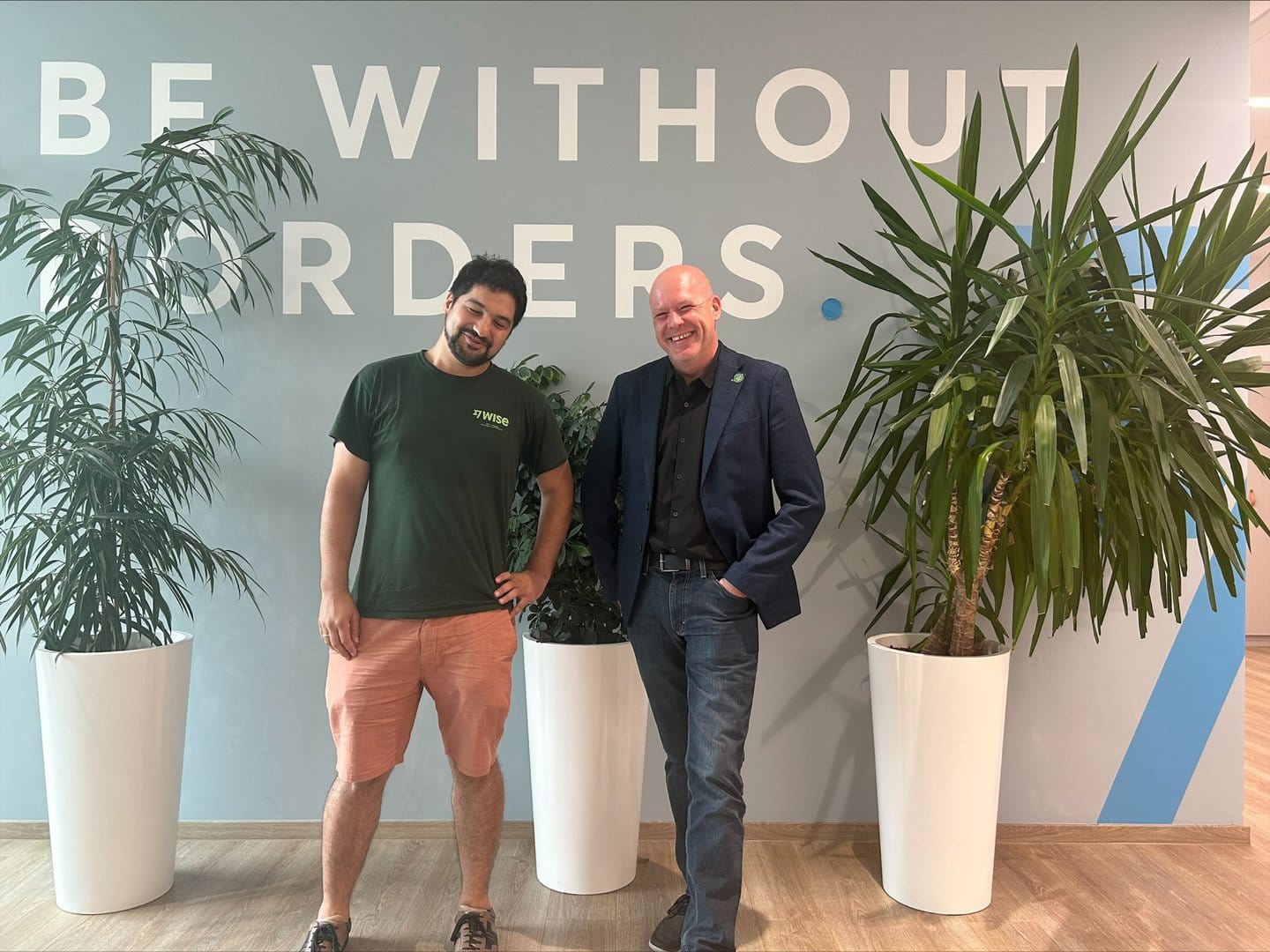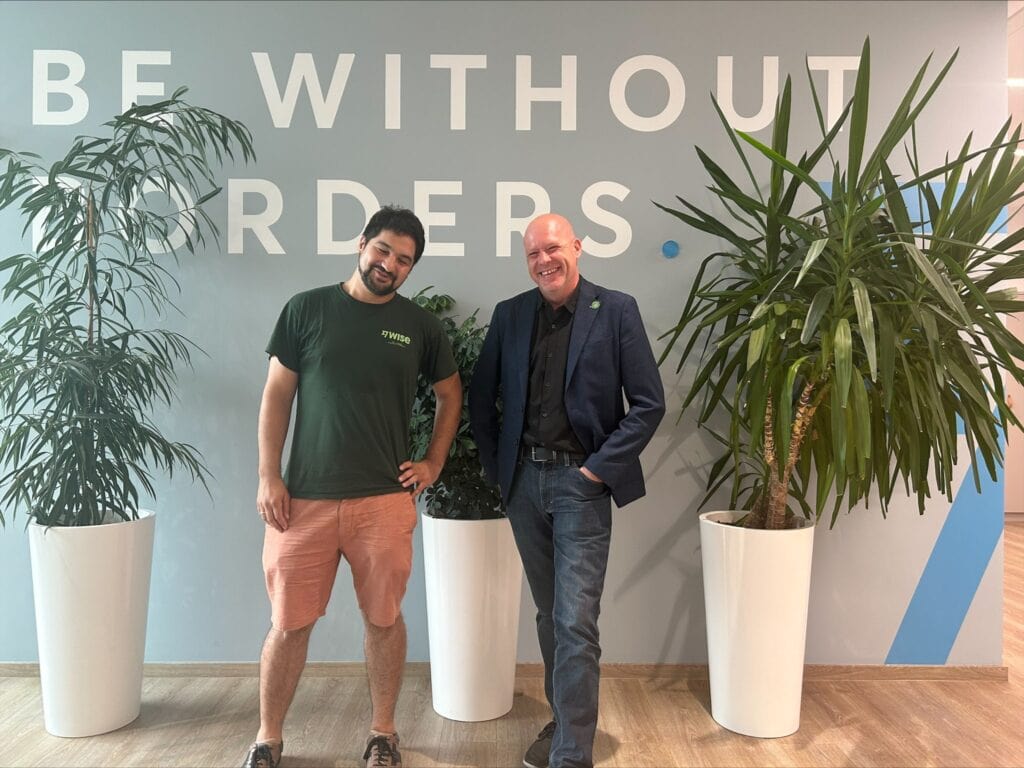 One of the people who work on products at Wise, is Gergo Horanyi, who is Product Director based out of Budapest. On the trip back from Unchain Fintech Festival in Oradea, it was an ideal opportunity to stop by the Wise offices in Budapest and meet with Gergo to talk about products, customers and culture at Wise.
The offices of Wise are located in the buzzing business district of Budapest. Filling the entire floor in one of the buildings, it is a little like walking into an alternative reality. A reality surrounded by the company's mission statements. Product teams, customer teams, tech teams all sit side by side as is the way in all Wise offices. This helps collaboration and ensures that the teams are always focused on solving customers problems.
Gergo himself was aware of Wise well before he started at the firm. After working for Prezi, Gergo joined a company where there was much more travel. This, in turn, led Gergo to discover Wise. Long before he decided to join the company.
"The way I learned about Wise was when I was working abroad," Gergo explained. "It was an obvious choice to use Wise at the time."
Why Product is Key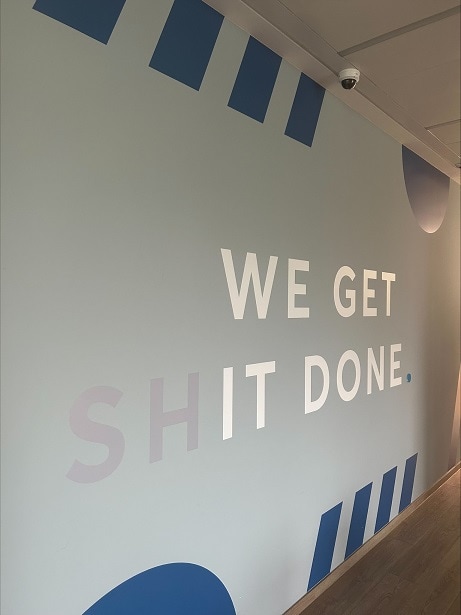 We started the discussion by asking Gergo why he moved from engineering to product. As an engineer he was always looking for the best solution. But with time he moved into a product role as he realized that he cared more about what he builds, than how he builds it.
Engineering is a very creative profession today, Gergo shared. You need to work in teams and solve problems. He still works with engineers today in his role, so he shared some more insights.
"Engineering is no longer just about coding," Gergo highlighted. "At Wise we don't hire engineers who just code. We hire people who want to solve real problems. We look for engineers who have good product skills."
This is why Gergo transitioned to product management. Because then, instead of spending time just solving the problem, he now spends his time understanding what the problem is. Then he works through all the different functions within Wise to understand what a good solution might look like.
Wise's Infrastructure is the Backbone of Everything
Gergo works with personal and business customers, but also with financial institutions like N26, big companies like Deel and others who have understood the value of Wise Platform.
Gergo shared how some time ago the team at Wise noticed a huge influx of Hungarian customers onboarding onto Wise. At the time this was a surprise, but when the team looked into it, it turned out that one of the Hungarian banks told their customers that if they want to send money internationally, they should use Wise and not the bank because it will be better for them.
"We realized that there is an opportunity here," Gergo explained. "Why would we need a bank to send their customers to Wise to register when we could actually offer the same infrastructure that we have built to banks? Banks can actually integrate with us and keep their customers instead. And that's how the story of Wise Platform started."
At Wise Gergo is part of the 'Servicing Tribe' where he runs the product team within the 'tribe'. "Our job is to understand what needs to be built," Gergo shared.
Just as its infrastructure is the backbone of everything at Wise, it is also much like a supplier to each division of Wise, and not only. External companies also work with Wise Platform which is how Gergo explained that the structure works. Gergo looks to develop products that affect all users of Wise. And, while there are differences in how consumers and businesses interact with Wise, the actual processes themselves are the same. They have one goal. To move money internationally as fast and conveniently as possible.
How the Customer is at the centre of everything at Wise
During the conversation it became very clear that not only is the customer at the heart of everything they do at Wise. But it also became clear that Wise has an extremely high opinion amongst its customers. NPS, or Net Promoter Score, is a benchmark often used on the market to gauge the loyalty of customers to a product. As an example Apple has an NPS score of 68, whilst American Express, for instance, has an NPS score of 55.
Today Wise's NPS is actually the same as Apple at 68. A very high score for a company in financial services. This easily shows how Wise's customers and their feedback guide the firm. Clearly customers believe that the firm is solving their problems. Importantly, the NPS score is on the rise. Not only that, but 66% of customers came via word of mouth in 2023. 100% of these customers stick to Wise once they join. These are really compelling numbers.
All of this customer focus is supported by cross-functional teams representing compliance, product design, and others.
"We understood that our customers love to send money through us. Because of the convenience, the speed and the cheap fees. In reality, what we saw was that our customers wanted to have their money in Wise, and not just send it through the platform," Gergo explained. Highlighting how today customers in the UK are able to leave money on their accounts and accrue up to 3.85% APR on those funds.
What about the Product?
Using the UK market as an example, Gergo shared how the local team is empowered to make decisions. As they sit in the UK market, they will be best placed to understand what is most critical. They are the ones who best understand customer feedback in their own country, Gergo shared.
Of course, if a product needs sign-off with policymakers or may take a lot of capacity from the infrastructure team, then these would need to be discussed further, Gergo explained.
Whenever a new product is developed in Wise the team developing it will eventually end up working with Gergo and his team.
Communication with customers is approached individually in each jurisdiction where Wise operates. Mission update is one of the examples of this communication.
Hiring Smart People
Easy hiring smart people? Companies like Goldman Sachs and others have struggled with creating a consumer-focused business in the UK and other markets. Gergo understands that Wise is different. And that nothing is easy.
"The key is hiring smart people who want to help solve the problem of sending money internationally," he highlighted. "You really need to hire people who believe in this mission."
"By hiring and through empowering teams we have to trust that they are building the right things." Gergo explained. "This all forms part of the mission updates which are shared quarterly."
The other reason that Wise is different is simply down to the scale and breadth of the organization. Few banks or financial institutions have the geographic footprint or the experience with payments regulators in so many countries that Wise does.
The path to Diversity at Wise
Another very impressive consideration about how they do things at Wise is the way the company approaches diversity. A few years ago a story emerged discussing the challenge about hiring a more diverse workforce at Wise.
At the start of 2020 only 20% of product managers were women. Fast forward to 2023 and Gergo proudly explained how 51% of the global team and 40% of leads across Wise are women. Something that is very important to the company. Not only that, but it is a huge lesson for any company looking to address the same problem.
Gergo is always growing his team. He is always looking for talent. For those who share the same beliefs as those who are at Wise, the opportunity to participate in solving the problem of money without borders is real.
Author: Andy Samu
See Also:
Why Money has no Borders with Wise | Disruption Banking
How Wise Platform is changing Global Money Movement | Disruption Banking
Why Wise is building a Full Stack Hub in Austin | Disruption Banking
Wise like TransferWise. Why is Wise Going Public in London? | Disruption Banking