First, the two Estonian gentlemen asked customers to trust them with their money. Now the Estonian chaps are at it again.
Wise is on a constant hunt to get transparent and low fees to customers everywhere and anywhere. The London-based unicorn wants banks and financial institutions to trust it with their infrastructure. Something that is referred to as the Wise Platform.
You may not have been aware of Wise Platform as a standalone solution, but it has been in place for some time. For instance, back in 2016 Wise joined forces with N26. If Wise can't get to customers directly, integrating its platform into those of other financial institutions (and not only), like N26, is also an option. Either way the customer gets lower fees on their money transfers while the company integrating Wise's Platform keeps their customer.
Over the years the significance of the opportunities that Wise Platform can offer to partners has increased dramatically. Today Wise lists Temenos, Thought Machine, N26, Monzo and many others amongst its partners.
In a market that is set to grow from c $150 trillion in 2017 to over $250 trillion by 2027 Wise are arguably in the right place at the right time.
Who are the people building money without borders?
Recently we interviewed Balazs Barna , Austin Site Lead & Head of U.S. Engineering at Wise, who is building a 'Full Stack Hub'. Last week we reached out to Folley Ogundele, VP Global Head of Commercial at Wise. Folley is speaking at London Tech Week, where #DisruptionBanking is a media partner this year.

On Monday the 12th June at 2.30pm, Folley will be discussing 'Banking Without Borders' as part of a panel at London Tech Week. We decided to try to get a sneak preview into what Folley is focusing on at the moment.
Folley works at Wise Platform which was recently mentioned in Wise's 2023 trading update last month.
"Wise Platform went live with numerous partners this quarter. This marks continued momentum with tech partnerships and our early progress in onboarding large banks to bring Wise-powered payments to their customers.
"This quarter we integrated with Bank Mandiri, Indonesia's second largest bank by assets and one of the top established retail banks in the country. We have also seen momentum in integrating U.S.-based business service platforms including Brex, Ramp, and BlueVine; automated global electronic broker, Interactive Brokers; and global employment platform, Globalization Partners."
It's all part of Wise's mission of building money without borders.
The data behind the mission
In January Wise made an analysis that stated that £187 billion has been lost by customers on payments globally. Only 8% of these payments were transparent. Most of the customers will have paid 2%+ in fees. Fees aren't just the fees that banks charge. They can include mark-ups within the exchange rate itself. This is in contrast to Wise, which doesn't have any mark-ups or hidden fees like other companies. This is all part of the mission.
Folley pointed to how the team at Wise are always analyzing the market. On the Wise site there is a compare exchange rates function. On 1,000 Euros sent by a customer the analysis states that you can receive over 25 Euros more when using Wise than most retail banks in the UK today. For instance, you can receive 1,146 Euros compared to 1,103 with NatWest.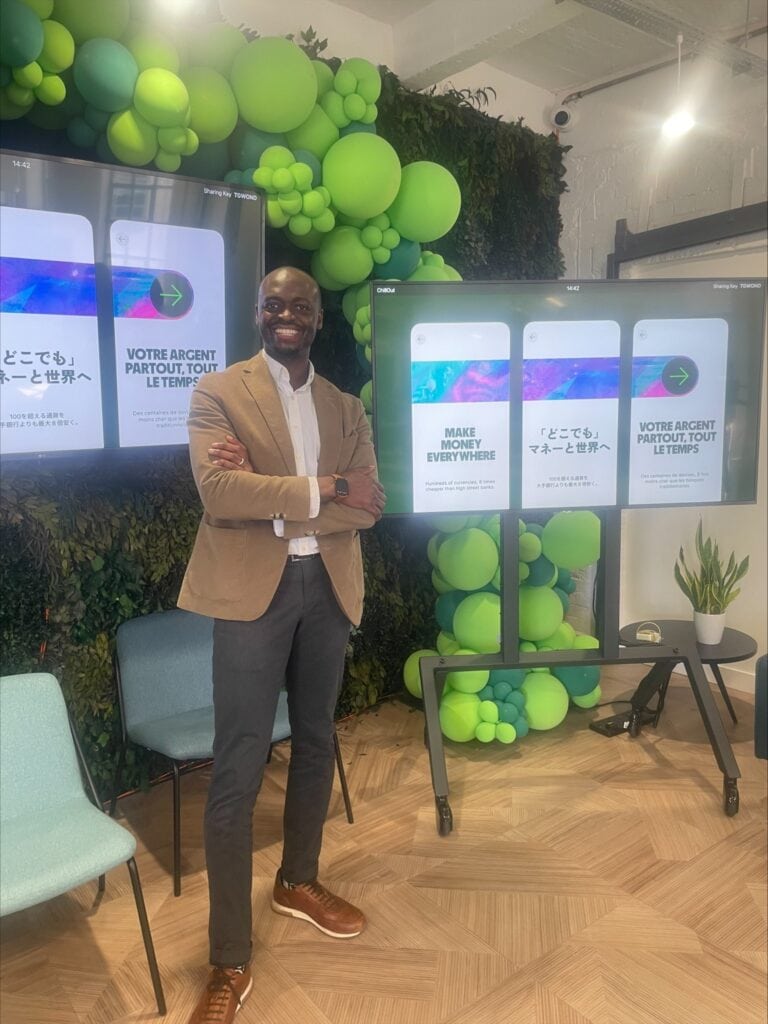 Importantly, the team at Wise believe that only 4% of customers know how bank fees work. Something that can be put down to education and better financial awareness amongst customers.
Who are Wise's partners?
The Fintech ecosystem is a special place. In fact, when Wise was engaging N26 back in 2016, Folley was just about to join Stripe. Both companies have maintained their status as important players in the payment space today.
Both players were founded by two ambitious chaps. But when Folley joined Stripe, he was actually older than either Patrick or John. At Wise, he is one of the ones who still wears a shirt and jacket to work.
At Wise, Folley specifically looks after the Wise Platform. His partners are typically banks, and financial institutions, that want to use Wise's infrastructure. Last year Wise's CTO explained the competitive advantage that Wise's infrastructure gives the firm. A competitive advantage that is important to Folley in his role.
"Our partners are Tier 1 banks, large financial institutions, large enterprises, who perhaps either don't have a cross-border solution today, or who want to enhance their customer solution by replicating everything we have built," Folley explained.
"We would love to work with more high street banks," Folley elaborated. "They can leverage our infrastructure so that they don't have to apply their fees. A lot of businesses and consumers are really pushing for this fast, convenient and eventually free service."
One of the examples that Folley used was Bank Mandiri (mentioned earlier in this story), Indonesia's second largest bank by assets. "Bank Mandiri are the first bank in Indonesia to go fully transparent on FX fees. And that is something that we actively encourage all of our partners to do.
"The pleasing thing that we've seen over the last few years we've had the platform is that more and more banks and companies are looking at Wise, especially business platforms, workforce platforms. They want to lean into that transparency and show that they are being fair and clear on what the fees are and in helping consumers make an informed decision.
"We are starting to see that shift, and how it empowers the end consumer." Folley explained.
What about Integrating with Wise's Platform?
While integrating with Wise seems like a no-brainer for many of our readers out there, questions still abound. Foremost among them being why so many companies haven't realized the value of partnering with the Wise Platform?
To help understand better, Folley explained how the Wise Platform is basically taking all of the infrastructure that was built for Wise. Then packaging that in API and providing it to the financial institution who needs it. When it comes to integrating, he shared how "the bank would just integrate Wise. They would take our documentation, our capability on the API and they will be able to have that embedded solution," just like Wise has.
Wise welcomes all financial institutions, not just those which are 'API Forward'
What if a bank or financial institution isn't what Folley calls "API forward"? The concept of API Forward is related to the level of digital readiness of financial institutions on the market. Financial institutions who may not have a team of engineers who have the capacity to take on full integration.
"It's not necessarily the case that banks and financial institutions don't want to improve international payments for their customers or don't care enough. The problem is that their infrastructure is too costly and/or cumbersome to change, and this is a problem we want to help solve at Wise Platform. We are working on solutions today that will soon allow our partners to get all the benefits of Wise, while leveraging the networks and rails they are already set up to use." Folley explained.
"Ultimately, we want to provide solutions that don't require banks to make any changes to their infrastructure at all. APIs are not the only way." Folley shared.
For those financial solutions who need more help, Folley explained that there are implementation teams available who can help with integration. Even with an API integration, financial institutions don't necessarily have to change their entire infrastructure, Folley highlighted. "We do the heavy lifting with regards to making those payments instant, convenient, and hopefully eventually free."
Legacy Infrastructure and Wise's partnership with Thought Machine
In March this year Wise posted an update about how it is working together with Thought Machine to power cross-border payments for millions more customers around the world.
The partnership is referred to as "a meeting of minds – two services looking to bring fast-paced innovation and a global outlook to banks around the world."
Folley shared a little about how the partnership works.
"They (Thought Machine) are going out to these big traditional banks whose back end infrastructure is either very complex or is built over acquisition upon acquisition. And they are then looking for a holistic solution from Thought Machine. At which point Thought Machine might want to add Wise, or anybody else in the cross-border space, and then we can plug into Thought Machine and plug into the bank.
"In an environment where there is a lot of complexity, and a lot of challenges for the bank," Folley continued. "What is the easiest path that the bank uses? For Wise, we are agnostic as to how we get there. We just want to enable them to integrate us. And if it means partnering with banks coming to us directly, or with companies like Thought Machine, the goal is the same."
Wise is scaling their teams in many places, including working with channel partners like Thought Machine. This helps Wise's channel partners improve their own value proposition. This is part of Folley's go to market strategy at Wise.
Focusing on a Global Solution
Continuing our discussions, Folley explained how one of the markets that Wise has a strong presence in is Brazil. With a large office in São Paulo, Brazil's largest city, the firm is looking to scale its presence across the whole of South America.
Folley shared how South America is part of an investment that the company wants to continue building, growing, scaling. He explained how "the best thing is the appetite from the market. From some of the banks that we're actively talking to and working with. It's exciting. They want to leverage this infrastructure with cross-border movement with some of the larger currencies. We want to be a part of it. And they want us to be a part of it."
But these weren't the only reasons that Folley joined Wise. Apart from the embedded finance solutions the company offers, Folley was excited by working with experts in the space who are leveraging the decade long infrastructure that has been built at Wise.
Today Wise goes beyond just one pillar of 'send money'. The firm also helps people to 'receive money'. Customers can even have a full treasury service where they're holding multiple balances in multiple currencies and countries. And then customers can do things like spend that money as well, through Wise's card program.
"It is really that end-to-end, anything to do with payments, money movement, cash management approach. We want to be in that space and we're building more solutions to help with this," Folley summarized. "At Wise we are experts at what we do. And we're going to be experts in many more things as well."
What are the Trends with Cross-Border Payments as a Service?
It's not just banks and financial institutions that are looking at Wise's solution today. Folley explained more about some of the other companies that the company is partnering with.
"As much as we work with banks and financial institutions. What we're seeing is a significant amount of interest in our services from business tool platforms and workforce platforms as an example," Folley shared. "Because these firms want to be able to provide their customers with a fast, convenient, frictionless, eventually free cross-border transfers and payments solution. And, for Wise, we want to partner with any company that has that as its goal.
"The key thing for these companies, and their customers, is rather than go to their traditional bank, you are already in the ecosystem of the company. And you can access Wise through their App. Companies like Brex or Ramp want you to use them within their solution rather than have to look for one somewhere."
Folley is working on ensuring that all four pillars of Wise will be made available to partners in the future. Sending, Receiving, Treasury and Platform. He believes that Wise has the global infrastructure for money movement that even the most sophisticated banks would struggle to compete with. Just consider the licensing the firm has put in place across multiple jurisdictions.
Global Remittances set to Grow
The future is bright at Wise. And Folley loves his role because everything that Wise does is about solving a problem.
Folley isn't the only one who loves what Wise are doing. With 16 million customers and 300,000 businesses now using Wise lots of people love what the company are doing too.
And the number is growing.
Digital Remittances is where Wise already has a substantial market share. The growth of both users and transaction value is forecasted to grow continuously in the future. Wise is ensuring that its solution gets to as many customers as possible. The future of how banks charge for their services is already looking better for customers.
Wise is prepared to share its know-how, the work and lessons learned since the inception of the company back in 2010. There is no bias as to which customers will benefit. In fact it's mainly customers of digital first financial institutions who are benefiting today.
Is it time you considered finding out more?
Author: Andy Samu