News broke recently that Binance, the world's largest cryptoexchange, is backing Elon Musk's potential bid to purchase Twitter. The company's CEO, Changpeng Zhao, confirmed that the company had committed $500 million to the deal. Zhao has claimed that this will help promote greater adoption of cryptocurrencies and blockchain technology. He also claims that Binance wishes to champion freedom of expression, something that Musk has made central to his bid:
Binance has, however, consistently demonstrated questionable attitudes towards free speech – particularly when it comes to the independent media.
After Forbes published the "Tai Chi" documents, outlining Binance's "elaborate scheme" to evade regulators, the company initially pursued the magazine (and two of its journalists) in the courts. When this failed, Binance then revealed a $200 million "strategic investment" in the publication and said the magazine would only remain "fairly independent." While Zhao later clarified that Binance would not be involved in the publication's editorial direction, no articles critical of the cryptoexchange have been published by Forbes since the investment was announced in February. Many commentators understandably fear that, despite Zhao's reassurances, this "strategic investment" was a cynical move to stifle a dissenting voice. Could Binance be seeking a similar influence over content posted on Twitter?
Reuters, too, recently published a story alleging that Binance has developed ties with agencies linked to the Russian intelligence services. Whistle-blowers offered evidence suggesting that Binance may have agreed to hand over client data to the authorities in Russia. Reuters alleged that this included information related to dissidents such as Alexei Navalny.
Binance's response to Reuters
Binance said the claims were "categorically false" and responded by publishing an extraordinary article on their website in which they accused the Reuters journalists of "sensationalising" material – while admitting "any government or law enforcement agency in the world can request user data from Binance as long as it is accompanied by the proper legal authority […] Russia is no different." Although adding that they "reserve the right to reject law enforcement requests should they not stand up to legal scrutiny," Binance accepted they had no grounds for a legal complaint against Reuters. In the absence of this, the cryptoexchange therefore took the step of releasing private email exchanges with Reuters' journalists – without their consent – "in the spirit of full disclosure […] to let the community decide" the truth.
Both of these examples suggest a confrontational and aggressive approach to media relations – and arguably a lack of respect for the importance of media freedom. Indeed, DisruptionBanking has also been subject to aggressive and intimidatory tactics at the hands of Binance.
Should Binance be involved in the Twitter purchase?
Earlier this year, we published an investigation that exposed flaws in Binance's recruitment processes for senior regulatory and compliance roles. An application was made for the role of "Senior Regulatory Advisor" in Binance's futures business, having drawn up a fake CV that suggested our applicant had both a Law degree and professional experience in financial services regulation. Despite not having any of the knowledge one would expect of a compliance expert, the applicant managed to pass four interviews with Binance's regulatory team and was ultimately offered the job.
Shortly after the article was published, we received a letter written by Binance's legal representatives at Slateford, a London law firm that specialises in reputational issues. In the spirit of full disclosure, we can now release this letter – raising serious questions about the conduct of Slateford, Binance and the company's apparent dedication to freedom of expression.
Binance argued that our article was defamatory and that the allegations we made were "false and untenable." They did not offer much substantiation for this claim and did not pursue the matter further when we stuck by the article. Partly, this was because Slateford claimed to be representing "Binance" but failed to specify which one of Binance's many legal entities they were actually referring to. Is it the case that this letter, sent by expensive London lawyers, was more about intimidation than initiating serious legal proceedings?
The letter also argued that I (as the author of the piece) had committed a number of criminal offences. Binance's legal representative claimed that undercover journalists posing under a fake persona – a common practice – is tantamount to "fraudulent activity." Slateford claimed that our applicant had unlawfully "misrepresented" himself to facilitate "the publishing of unsubstantiated and unsupported allegations about our client and in doing so, to advantage your organisation and expose our client to potential harm." This, they suggested, was criminal under the Fraud Act of 2006, which is punishable with a maximum sentence of ten years imprisonment. As Binance did not pursue this claim once the article was republished, were they simply using outlandish accusations of criminality as a way to scare us into removing the story?
As our applicant had pretended to have a Law degree when applying for the role at Binance, and had branded himself a "Lawyer with Corporate Law experience," Binance's solicitors also argued that the applicant had committed another criminal offence. This was apparently by "claiming to be a solicitor or barrister" when "not either admitted to the roll of solicitors or on the Barristers' Register." However, the applicant had deliberately branded himself a "lawyer," which is a non-protected term. Nevertheless, Binance's solicitors, who should be aware of this distinction, argued our applicant's conduct was "punishable by imprisonment or a substantial fine." He also threatened to report the applicant to the "relevant authorities or regulatory bodies" for his apparently unlawful behaviour. Does Binance believe journalists should be locked up for doing their job?
Binance's approach to freedom of speech
Given how threatening these claims were, is it possible that Slateford's letter breached the Malicious Communications Act? No solicitor working for Slateford could possibly have believed that our applicant had unlawfully held himself out to be a solicitor or barrister. Sending "information which is false and known or believed to be false by the sender," with an "intent to cause distress or anxiety," is a criminal offence punishable by up to two years' imprisonment and a fine. Binance's efforts "to cause distress or anxiety," done in an apparent attempt to intimidate us into removing a critical story, were so forceful that the legality of it is questionable.
There's also a question as to whether Slateford's tactics were in breach of the Solicitors' Code of Conduct, which warns solicitors against "making allegations without merit where the sole purpose is to stifle valid public discourse." When we asked Slateford to comment on this, we received no response.
Despite not formally pursuing their claims in court, a Binance spokesperson, who did not wish to be named, offered the following response to DisruptionBanking: "like many fast-growing, disruptive companies, Binance is used to and welcomes media scrutiny. However we reserve the right to defend ourselves from defamatory or misleading claims in public."
This is just the latest example of Binance using aggressive – and potentially unlawful – tactics to try and intimidate journalists publishing legitimate stories. The legal firm Slateford should ask themselves whether their solicitors should be facilitating this or whether Binance, which remains banned from undertaking regulated activities in the UK, aligns with their values.
Perhaps more importantly, the question must be asked: is Binance the kind of company we want to have a significant stake in one of the world's largest social media platforms? Does Binance's conduct align with Musk's professed priority to uphold freedom of expression? Is free speech safe in the hands of people like Changpeng Zhao? The answer, we would suggest, is "no."
Binance's letter to DisruptionBanking can be seen below: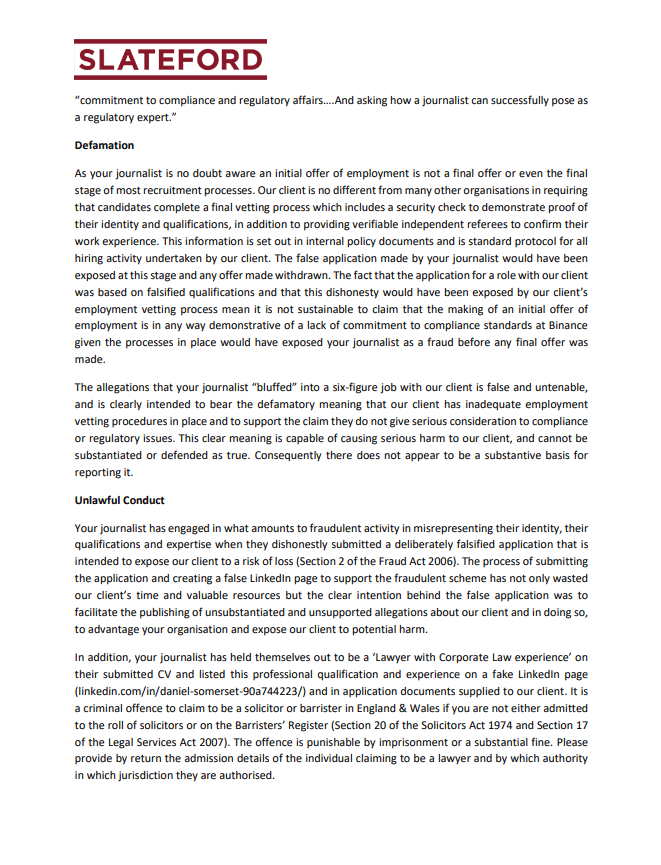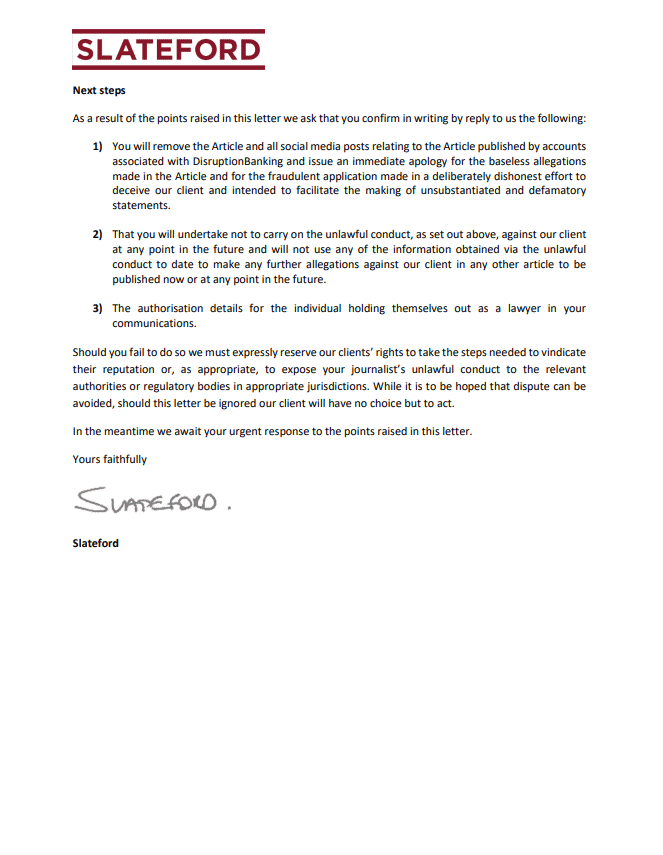 Author: Harry Clynch
#Binance #Twitter #ElonMusk #FreeSpeech #MediaFreedom