Perhaps the single biggest obstacle to success for any digital challenger bank is the need to disrupt the well-established financial behaviour of their potential clients. Arguably, consumers are instinctively inclined to commit their assets to established, often centuries-old, financial institutions. This is both because a relationship of trust has been constructed over many years, and because these are simply the banks that have always been used.
For challenger banks, it can be hard to cut through and disrupt these
associations. No matter the merits of their product and service, it is often difficult to onboard consumers because their financial habits are rooted.
Grappling with this currently is Mike Saraswat, CEO of creative agency Ekstasy. Mike and his team are working as a creative agency for Starling Bank.
Starling Bank, is a digital challenger founded by Anne Boden in 2014. They launched their first national brand awareness campaign in 2019 to target both consumers and business account holders. It helped brand awareness to increase from 22 to 38%. Ekstasy have recently launched a mass advertising summer campaign across radio, social media and Out-of-Home (OOH) platforms nationwide.
We sat down with Mike to discuss issues surrounding Fintech marketing, and how firms such as Starling are seeking to earn the nation's trust – and business – in the face of often entrenched banking behaviour.
Mike argued that marketing, and arguably particularly so in the Fintech space, has suffered from an 'overpromising problem'. Consumers are turned off by gimmicks, grand assurances and dubious promises of huge returns.
Rather than engage in aggressive salesmanship, something that is likely only to put the consumer on the defensive and therefore be a barrier to trust-building, Mike argues that it is much better to place a 'nice, human wrapper' around the service and allow 'product innovation to win'. The job of agencies such as Ekstasy is to 'remind the consumer politely that the product exists, how it works and how they can sign up' and to present the product in a 'simple, fast and beautiful' way.
'The most important driver is the product itself. To give an example, my Dad is always a bit overwhelmed and unsure when it comes to online banking and digital platforms. But I pointed out to him some of the practical uses of Starling's service. My Dad is always losing his card, if only for ten minutes at a time. And the panic is nuts.
'With Starling he can lock his card on the app for a few moments until he finds it again. Once I told him about this, he immediately downloaded the app and thought "oh, this is good." So the point is that product innovation on its own will win.
'The most important challenge we have is making people aware that this service is not a gimmick. There's so many gimmicks out there: bright blue cards, metal cards and marketing that is all about colours and targeting people's senses.
'But I think in banking especially, advertising should all be around good products; not just creating hype around something that looks beautiful and shiny. Of course adverts should always look visually high-quality, but ultimately the product needs to be great so that people try it and keep using it.'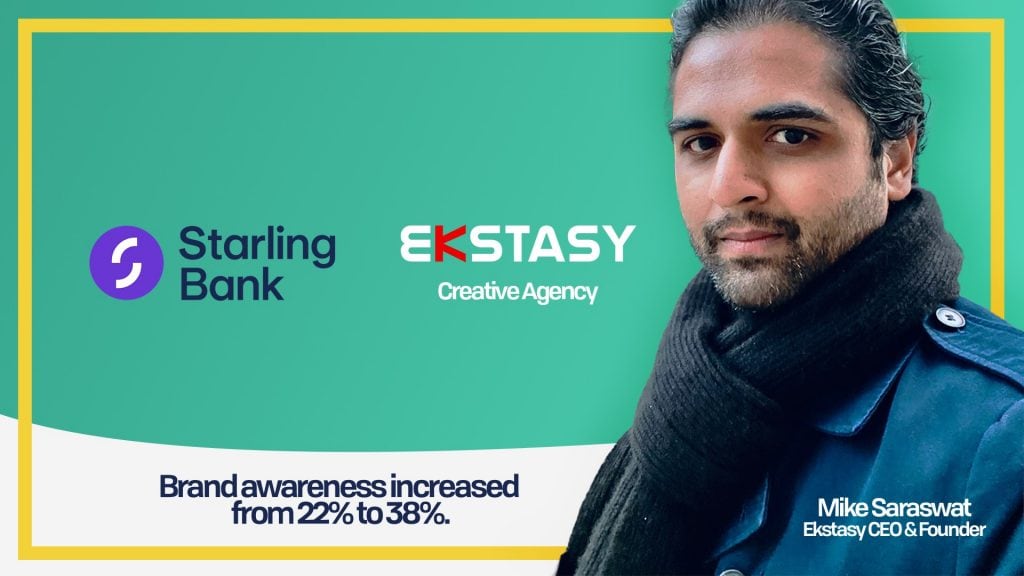 The other benefit of letting the product itself 'win', Mike believes, is that marketing does not need to target one specific demographic. Such a tactic can be commercially useful, at least in the short-term, but is ultimately limiting. Creating a good product that improves the universal banking experience will generate growth, regardless of age, gender or any other characteristic:
'Starling wants to be the bank for everyone, so it's hard to cherry pick a certain demographic that we are focusing on in particular. Whilst this might be a slower game, it is an important game to play because I genuinely think the product is so good. A product needs to solve a problem regarding banking behaviour rather than one associated with things like age group. I think that's a cool way to unlock growth, especially when you are just entering the market.'


Of course, the Covid-19 pandemic has affected marketing and financial services as it has touched every area of life.
During the various lockdowns of the last year, advertising was in many ways easier as we all spent more time in front of the television and online. Attention was there to be grabbed, and the abundance of spare time meant that consumers had the space to reflect on previous banking activity and consider alternatives. This is likely to wane as restrictions are lifted and busy lives resume.
Mike accepts that 'people are starting to go out and spend less time on digital platforms – but we'll try and catch them elsewhere, in different ways and in different channels.'
What we have certainly seen over the past twelve months is something of a cultural shift. With banks physically closed, and vast swathes of life itself shifted online, more people across demographics have begun to switch to digital platforms. There is no sign, at least not yet, that this behaviour will change back again once restrictions are fully lifted. Perhaps more broadly, the global financial challenges resulting from the pandemic may encourage wider and deeper reflection of banking behaviour amongst consumers on an individual level. This may consequently challenge established forms of activity as people seek better alternatives to their current services.
Whilst it is always difficult for digital challenger banks to compete against the nation's established corporations, the conditions may now be right for a well-marketed start-up to make significant waves in the competitive banking space.
Author: Harry Clynch
#ChallengerBank #Advertising #Starling #Ekstasy #Trust #Product #HumanWrapper