The multi-asset investment and social-trading platform, eToro, held their FIRE (Financial Independence Retire Early) event – 'The Future of Money Management' – at Level39 in Canary Wharf, London, on 30th of January, 2020.
Level39 is Europe's best-connected FinTech accelerator. Launched in 2013 it boasts Revolut – the fee free currency exchange – as one of it's alumni unicorns. Located in the heart of Canary Wharf and saddled between institutions like Citi, J.P. Morgan, HSBC and Barclays, Level39 provides a platform for 'game-changer' startups to do business with financial giants.
And money management is an important topic to give a platform to, as 39% of adults in the UK do not feel confident managing their own money and 15% of Brits have no savings at all, with 22-29 year olds being the worst demographic at the game of saving, with 53% having zero savings.
In contrast, advocates of FIRE – a lifestyle movement whose goal is financial independence and retiring early, that became particularly popular among millennials in the 2010s – seek to aggressively maximize savings by putting away more than 50% of their salary, thereby quickening the path to retirement.
Launched out of Israel in 2007 and now present in 140 countries with 12 million users, eToro is a fitting voice to bring a movement like FIRE to the masses.
The CEO and co-founder, Yoni Assia, has a keen interest in the demographics of wealth, telling The Block – "they're talking about millennials growing from a 2 trillion dollar sort of wealth to about 25 trillion dollars in wealth in 2030."
Not only looking to capitalize on this wealth growth but also equalize it, in 2018 eToro announced the launch of GoodDollar, a non-profit, open-source community project aimed to reduce global wealth inequality through universal basic income (UBI) using blockchain technology.
---
Read: Unleashing the Power of the Blockchain, by Dr Edward George – disruptive technology consultant in emerging markets.
---
Few companies encompass 'WealthTech' more aptly than eToro. As early as 2010 it created the CopyTrading feature – so that investors on the platform are able to view, follow and copy the network's top traders automatically. Later that year, eToro released its first Android app so that investors could buy and sell financial instruments via mobile devices. Ahead of the curve a full decade ago.
But it has not stopped rolling in the fintech space. Just last October, eToro released a sentiment-based crypto portfolio using AI technology to evaluate Twitter's current positive or negative impressions of digital assets.
That's charting the curve.
"We need the Old School and New School banks to come together" if London wants to stay a global fintech hub – reflected Iqbal Gandhat, Managing Director at eToro, on Brexit and the future of London's role as a financial capital at The Future of Money Management event.
People have changed their financial habits, and require new solutions. As an example, an average US citizen spent $640 on digital subscriptions in 2019. At the time of subscribing, one might possess a firm conviction that it does not cost too much. But looking at the final total bill, most would probably not say that.
"I am scared about the subscription mentality. I think companies should be responsible for unsubscribing those people who have not used an application for a while." – said Gandhat.
He has also recognized significant changes in investment habits and stated that there is a generational difference around money management as younger people are more keen to invest and think less about the long-term commitment of pensions. "They think they will never get old" – noted Gandhat with a smile. "They may not know how to invest, but they learn from others or copy each other. They are risk-takers."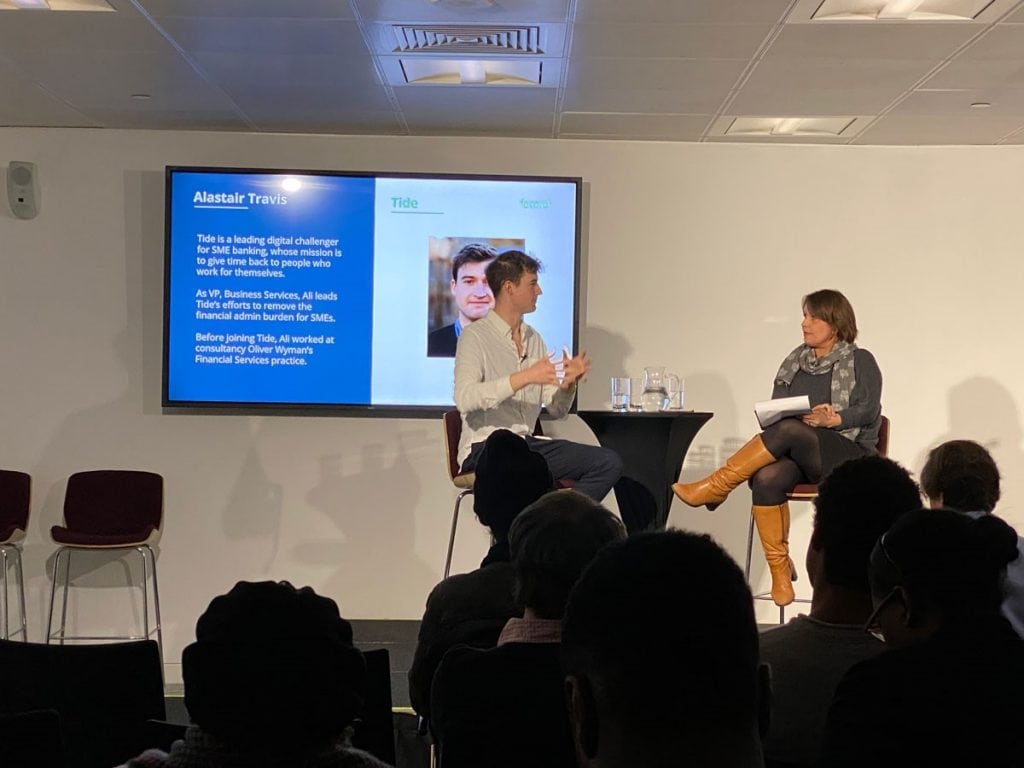 And as for risk-takers, one of the hot fintech topics of 2020 is business banking for entrepreneurs. That revolution is being led by Tide.
"In 2015, 5 banks owned 90% of market share in business banking and 4 of them 80%." – highlighted Alastair Travice, Vice President at Tide. On their platform, entrepreneurs can open a business account in mere minutes, joining the 130,000 other companies who use it.
By simplifying business banking account processes and decreasing the time spent on paperwork Tide is making waves amongst freelancers and SMEs. The Headquarters of the financial giants of Canary Wharf, situated all around us, appeared silent to this rumbling tsunami of disruption.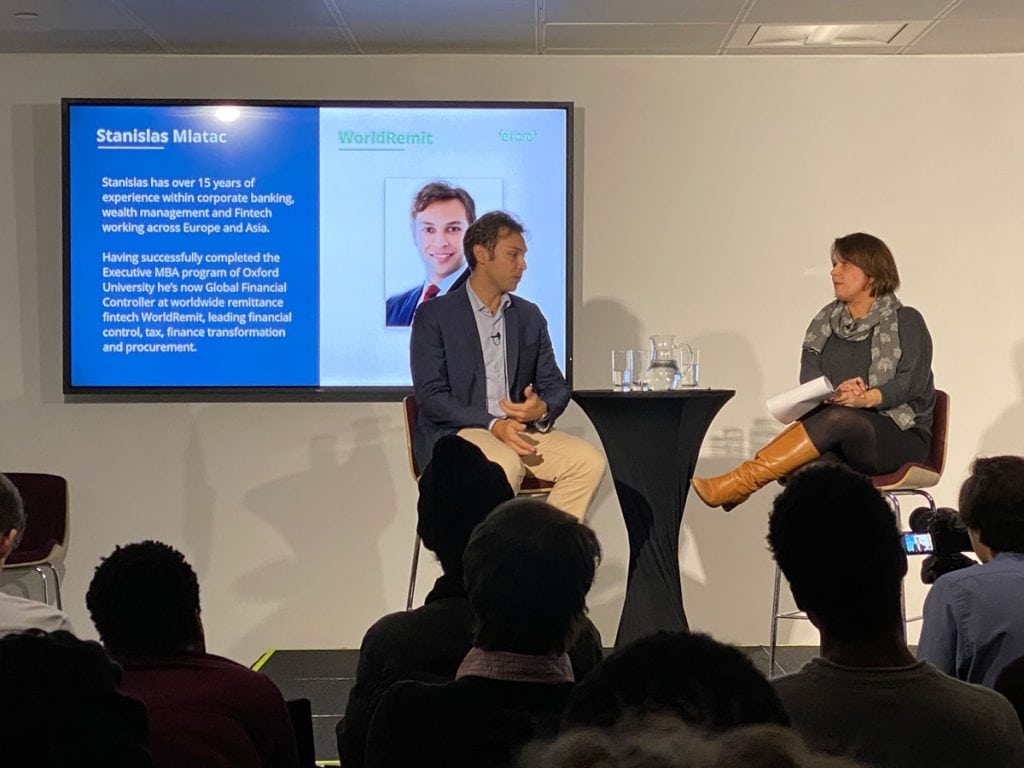 Stanislas Mlatac, Group Financial Controller at WorldRemit, also mentioned that FinTech is a huge space with "many free seats still available" as there are 1.7 billion unbanked people globally. WorldRemit is an electronic wallet service that is available in 150 countries. It enables users to store, send and receive money using their mobile phone.
For WorldRemit, seismic changes like Brexit can encourage people to move, growing their customer base naturally. Mlatac emphasized the importance of partnerships in Africa, where the banking system is still underdeveloped, and where technology can significantly reduce banking fees.
---
Read: 6 African Tech Firms to Watch and how innovation and growth has been erupting from African businesses.
---
The panel discussion was lead by Maija Palmer, Innovation Editor at Sifted. The financial experts were searching for the answers to big questions such as the most significant changes in fintech in the upcoming year.
The event had welcomed an enthusiastic group of people who were genuinely interested in the topics discussed and thus began the firing away of so many questions to the panel participants.
Cryptocurrencies were a particularly popular topic, which is not surprising considering eToro's past and present involvement in the securities. "It is risky, yes. But it is risky to leave your money in the bank too because of inflation." – answered Gandhat, eToro's MD to a question on the risk of crypto.
The speakers agreed that London has so many fintech startups that the next big fintech story in 2020 could come about through mergers or acquisitions – "I do not see a big acquisition happening this years"– countered Mlatac from WorldRemit.
The panel ventured that corporate efforts to innovate can fail as startups work extremely differently to traditional banks via 'bootstrapping' – making more value with little to no liquidity injections. Whilst the over-capitalization of financial institutions can result in initiatives quickly becoming costly and the targets unambitious.
The speeches and panel discussions were started and followed by networking hours when so many like-minded professionals could meet to grab a beer or a slice of pizza together to privately discuss the future of money management.
By Balazs Zahorecz