The move demonstrates AppGallery's commitment to providing its diverse global audience with access to a growing selection of mobile banking services, with an exclusive offer to celebrate the launch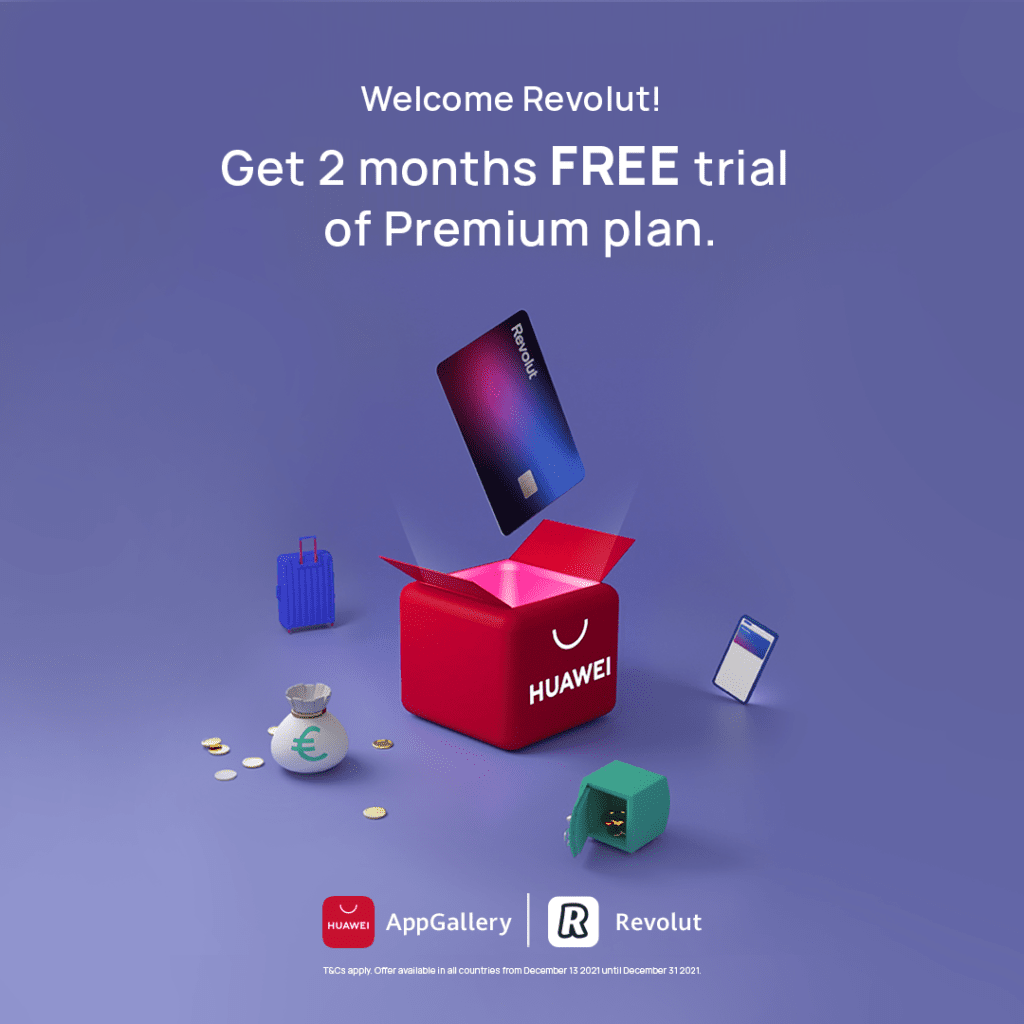 AppGallery, one of the top three app marketplaces globally, has announced that global financial superapp Revolut, one of the world's largest FinTech's, will launch on the platform. The move will bring AppGallery's diverse, global audience access to even more choice of mobile banking services, and better management of daily finances.
Providing AppGallery's 560 million monthly active users (MAUs) with access to Revolut's one-stop suite of financial services, Revolut also has an exclusive launch offer for AppGallery users. To celebrate, Revolut is offering AppGallery users' access to its Premium subscription for free for up to two months, originally worth GBP £24.99. The offer is available in 26 countries across Europe, and can be claimed from 16th December to the end of the month.
With over 16 million retail users and over 500,000 businesses on board, Revolut is one of the largest FinTech's in the world, now operating in over 35 countries worldwide since its launch in 2015. Like AppGallery, Revolut is passionate about driving global financial health, with both companies driven to helping their customers take greater control of their finances. Through its aesthetically pleasing app and seamless user experience, Revolut is committed to simplifying finances for everyone, adopting a totally user-centric approach.
Revolutionising accessible mobile banking with AppGallery
Both Huawei and Revolut are committed to driving innovation and aim to provide improved financial services to consumers and business customers. Revolut's single platform is designed with the user experience in mind, inviting customers to see and manage all their finances in one place through a simple, accessible platform. Having all-round visibility of income and expenditure, savings, and investments, Revolut enables consumers to be fully in control of their personal finances.
Revolut offers endless possibilities to its consumers, transcending multiple functionalities offered within a single app. This value proposition is seen across its multiple products such as Cards, Remittances and Multi-currency accounts, as well as its consumer-focused offerings such as Revolut Stays for global travel accommodation bookings − offering customers up to 10 % cash back.
There is also Revolut Junior, a feature specifically designed for use by young people between 6 and 17 years old. AppGallery is fast becoming the destination of choice for Gen Z and millennials to access global banking apps, unlocking fresh digital experiences. Furthermore, Revolut also has numerous paid subscription plans (Plus, Premium and Metal) that enhance the experience across its offerings, with added benefits and fewer limits.
Revolut looks to support retailers and other businesses through Revolut Business, which makes it possible for smaller merchants to offer customers an improved payment experience. AppGallery is further supporting Revolut's vision of empowering smaller merchants by driving technology that ensures no one gets left behind, including SMBs.
"We are thrilled to offer a superapp with as many exciting features as Revolut to our global AppGallery audience," said Siri G. Borsum, Global VP Finance Vertical Eco-Development & Partnerships, Business Consumer Group at Huawei. "Accessible financial platforms such as Revolut align with our goal of offering more individuals around the world access to the best choice of banking apps and services."
Consumer security remains a top priority
Consumer security is a top priority at Revolut. It's bespoke, award-winning anti-fraud and security systems are designed to keep your money safe 24/7 when using the app through AppGallery.AppGallery also has its own suite of security protocols to keep your finances safe, which its partners can leverage when launching on the platform.
Revolut has integrated with several of Huawei's innovative HMS Core Kits, including those that are primarily focused on improving security, such as the Safety Detect Kit, Awareness Kit, and Identity Kit. By choosing these tools to enhance the app further, Revolut customers can feel reassured in Huawei's secure data storage, privacy protection, and robust layer of defense against potential security threats. The Revolut team also chose to integrate with the Push Kit, Map Kit, Location Kit, ML Kit, and Nearby Services Kit to ensure an optimum experience for its customers using the app through AppGallery.
About AppGallery – One of the Top 3 App Marketplaces Globally
AppGallery is a smart and innovative ecosystem that allows developers to create unique experiences for consumers. Our unique HMS Core allows apps to be integrated across different devices, delivering more convenience and a smoother experience – a part of our wider "1+8+N" strategy at Huawei.
With AppGallery, our vision is to make an open, innovative app distribution platform that is accessible to consumers while strictly protecting users' privacy and security and providing them with a unique and smart experience. Being one of the top three app marketplaces globally, AppGallery offers a wide variety of global and local Apps across 18 categories including navigation & transport, news, social media, and more. AppGallery is available in more than 170 countries and regions with over 560 million monthly active users globally. Huawei has partnered with 5.1 million developers across the globe, with total downloads reaching 332.2 billion in the first 3 quarters of 2021. As of October 2021, over 173,000 applications have integrated with HMS Core worldwide.
About Revolut
In 2015, Revolut launched in the UK offering money transfer and exchange. Today, our customers around the world use dozens of Revolut's innovative products to make more than 100 million transactions a month.
Across our personal and business accounts, we help customers improve their financial health, give them more control, and connect people seamlessly across the world.