London, 24/08/2021: Antelop, the Paris-based start-up which offers digital payment solutions to improve customer banking experiences by helping banks tackle the challenges of the digital-first world head on, will be part of the French Tech delegation at Money 20/20 Europe on stand D60 from 21st to 23rd of September.
A unified solution for all digital card features
Antelop has reinvented digital cards and mobile issuance with a unified solution for banks and card issuing processors. Thanks to Antelop's unique offer, it is now possible to use just one single software development kit (SDK) to add all the latest digital card features to a mobile banking app.
The complexity banks face with the multiple tokenization systems associated with digitalization of payment cards is no longer an issue thanks to Antelop's unified solution. The importance of mobile banking apps for client experience is ever more crucial – to keep end users satisfied, banks must offer a directly integrated unified service via their mobile apps.
The Antelop One Digital Card
With little to no back-end development, the Antelop One Digital Card SDK lets banks replace complex integrations with one single unified and simplified digital card integration with a full range of features. This mobile-only integration works with Android & iOS with easy maintenance, protection, and security.
As a one size fits all solution, banks and card issuers can access the solution as an SDK, as a white label application or as white-label components. The only prerequisite for deploying the Antelop One Digital Card is compatibility with tokenization – and if it's not already the case, then Antelop also has a solution for that via their iTSP hub for Visa VTS, Mastercard MDES & more.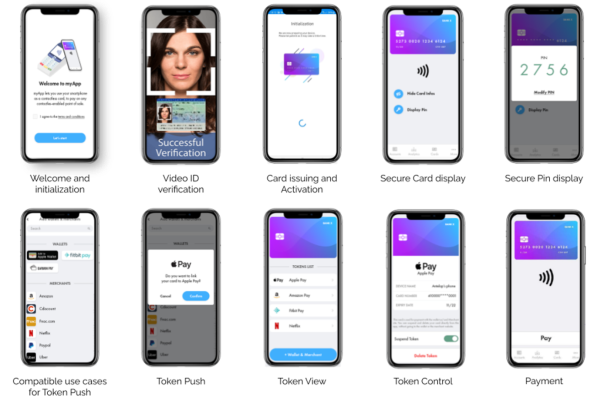 An international hit
Serving more than 40 banks in 25 countries, Antelop is certified by EMVCO, Visa VTS, Mastercard MDES, Cartes Bancaires CB & PCI DSS.
In France and worldwide, Sodexo has partnered with Antelop for Sodexo Pay. Thanks to Antelop's technology, Sodexo Pay is a Digital Card platform multi-processor, multi-scheme, and certified Mastercard MDES, Visa VTS, CB, PCI DSS which also works with Apple Pay.
"The Antelop platform is a real asset for Sodexo. It allows us to manage all card digitization processes (via iTSP) for the many countries we operate in, with different card systems and models (private label, Visa, Mastercard). It also gives us the opportunity to transform our application into a contactless payment application and Digital Card management app via the Antelop SDK", emphasizes Gabriel Rotella, Global CIO BRS.
Elsewhere, Antelop has partnered with Oslo's Opera to provide an Issuer TSP Hub to offer users a seamless digital-first experience.
Antelop is also working on several projects with Quipu, an IT solutions provider for banks and financial institutions, with operations across Europe and LATAM, including the implementation of NFC mobile payments using Antelop's SDK. The Antelop Digital Card platform was selected by Quipu as it enables both Visa and Mastercard cards for mobile payments, and is now being implemented around the world, from Kosovo to North Macedonia, to Ecuador and beyond.

About Antelop
Founded in 2014, Antelop is the Digital Card Partner of banks, certified Visa, Mastercard and Cartes Bancaires (CB), developing solutions to their digitization challenges.
We digitize cards and secure banking apps. Antelop enables banks with all Digital Cards features into their mobile applications through One single SDK (Card/PIN display, push to XPays, Token management, NFC payments, Strong Authentication…). No more complex back-end integrations, go mobile first!
Supported by large international partners, our solutions are live with 40 banks in 25+ countries with proven track-record.
Write to us at contact@antelop.fr to get in touch and follow us on LinkedIn!