It was touted as the biggest IPO of all time. It SHOULD have been the biggest IPO of all time. And if #bitcoin had shot up, then it may well have been the biggest IPO of all time. Interestingly though, Airbnb IPO'd during the pandemic in December 2020, and it still holds the number one position. Ahead of Facebook, and even Uber, both of which had a market cap of more than Coinbase, albeit not by much.
With Airbnb, the shares shot up from their original price of $68 to $144.71 on debut day. This gave the company a market cap of $86.5 billion, more than double what they have been valued at days before. Why did the same not happen in the case of Coinbase?
IPO debuts of Tech firms are often highly anticipated with the promise of generous rewards for early investors. It wasn't like this in the case of Facebook. Back in 2012 the company sought a $50 billion valuation from their IPO, but then crashed more than 50% over the next couple of months.
The IPO of Zoom in 2019 saw the software company's shares rocket to a market value of $15.9 billion on their first day. Their valuation had been nearer to $9.2 billion. Much like in the case of Airbnb, debut day was a big success for Zoom.
On the other hand, Uber is another Tech firm with a dismal IPO debut.
The firm had hoped for a valuation of above $76 billion, but actually closed their first day with a market cap of $69.7 billion.
Uber had filed with the SEC that there was a chance they'd never earn a profit. Many argued that this was one of the main reasons for the debut day flop.
With Coinbase, things are different. Brian Armstrong, the CEO of Coinbase, sold $291.8 million in shares in the company on the opening day of trading. Many of his team did the same. However, one should remember that Armstrong and his team probably hold a substantial amount of #bitcoin, so they should be able to recap any losses easily. Or so they hope.
Is Coinbase profitable?
In the case of Zoom, it was the profitability of the firm that certainly helped their IPO debut. With Facebook, many feared their mobile advertising revenue would not appear. And Uber was simply unprofitable full stop.
Airbnb is a small anomaly. The firm did make 'deep cuts' in order to hit profitability prior to their IPO. But Airbnb's business model is not a safe bet during a pandemic. Not as strong a bet as #bitcoin has recently proven to be, in any event.
With Coinbase the normal 'profitability test' needs to be amended a little.
Yes, it's important to be profitable in the traditional sense of the word. In the first quarter of 2021 the company made around $800 million in profits. In 2020 it made $1.3 billion throughout the whole year. Hardly Uber and Airbnb territory then. Or is it?
Is Coinbase a Finance or a Tech firm?
Back in 2018, Armstrong thought about this. He thought about it so much, that he actually wrote a blog to explain what he thought. Some of his thoughts included:
"On the tech side, we have an engineering and product-led culture, tech company perks (free meals, kombucha on tap, etc), and we hire from many of the best tech companies. At the same time, we share aspects of financial services. We have robust compliance and legal teams, we interact frequently with governments and regulators, and we're opening offices in the world's financial centers (New York and London)."
He went on, just in case there was any confusion:
"If we were forced to label ourselves as one of the two, we would be a tech company first.
However, his comments didn't stop there and he summarized by sharing that:
"But ultimately, we are neither one. We are something different and new: a crypto company."
Herein lies the problem. One can deduce outcomes of Tech debut IPOs, or even Finance debut IPOs. But what about the 'Crypto company' debut IPO?
Some might say that Tesla and Microstrategy are 'Crypto companies' now, following their respective investments into #bitcoin recently. Or at least, partially crypto, due to their exposure. Looking at 2021 so far, neither of them has done as well as #bitcoin has. Microstrategy is up from $442 to $634, sure, but Tesla is on roughly the same as it started the year. In the meantime #bitcoin has shot up from $29,000 to $55,000 (this morning) nearly doubling in the same period.
The conclusion appears to be that perhaps we have not yet fully understood or appreciated how a 'Crypto company' performs on its debut IPO. On that note, perhaps Coinbase will not be the only crypto company we will ever see? Rumours are that Kraken, the fourth largest crypto exchange in the world, could be next.
Coinbase is simply 'legitimizing the space' as Kraken's CEO Jesse Powell so succinctly puts it.
Has #bitcoin 'peaked'?
For a moment the #bitcoin rally came to an abrupt halt. At one point the cryptocurrency was down over 20% from its peak, which came just before Coinbase started trading last Wednesday. There are a few commentators who have actually suggested that the performance on debut day of Coinbase and #bitcoin is almost identical. It is a compelling argument.
In fact, much of the debate around the dismal IPO of Coinbase, has been about how the crypto industry has now 'matured'.
Where now for #bitcoin? It is widely accepted. A crypto exchange or 'Crypto company' has been listed. Institutional investors and central banks are increasingly adopting it. So where is the problem?
Speculation surfaced on Sunday in several online reports suggesting the U.S. Treasury may crack down on money laundering carried out through digital assets. It's not news, though, that many central bankers are still sceptical:
Overall, #bitcoin has not fluctuated as much as it has in the past. Tradingview's Timeline function calls last week's peak 'A jump of joy':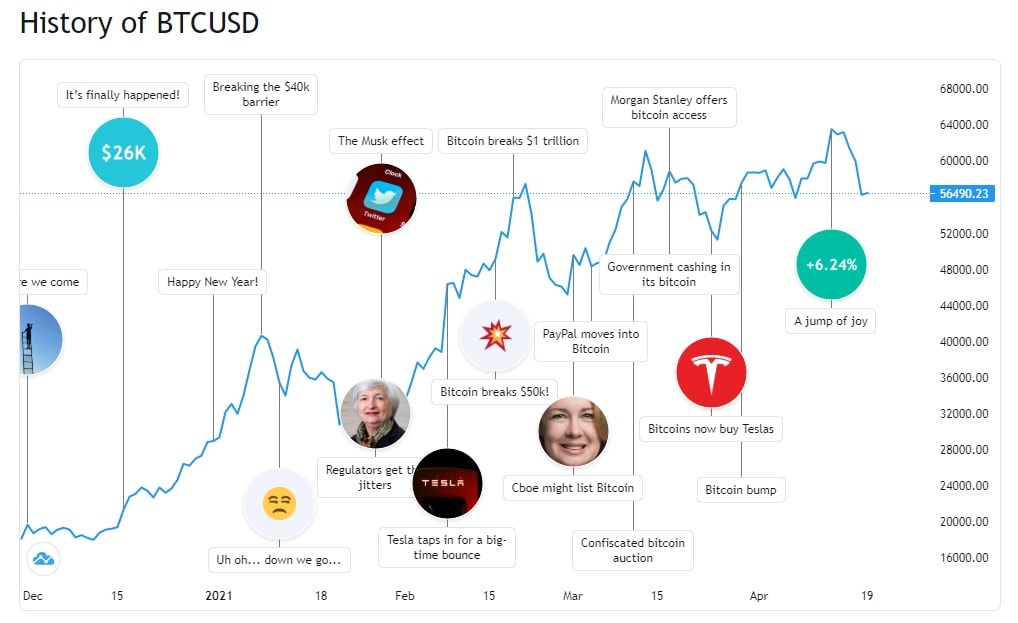 However, there is also a 'Sell' indication listed on the Technicals barometer on the site too:
#HODL, it won't always be dismal
So Coinbase is Profitable, it's a Tech firm and a 'Crypto company', it's got a good use case. Then why are Coinbase shares not performing?
Consider how Facebook had a similar start and where the Big Tech firm then landed just a few years later. Today the price has increased tenfold and more, even after 5 years the returns were in the 100s of percentage points. If #bitcoin hasn't peaked, and #bitcoin fulfils some of the potential that its touted to have. Then the market for what Coinbase is providing will continue.
Just last week, on the day of the IPO, Armstrong released a blog on the Coinbase site. In it, he summarized some of the highlights of the journey leading to the IPO:
"Through luck and skill, Coinbase succeeded where many predicted it would fail. And along the way, we made cryptocurrency easier to use, introducing millions of people to this new technology.
"Coinbase has an ambitious mission: to increase economic freedom in the world. Everyone deserves access to financial services that can help them build a better life for themselves and their families. We have a lot of work to do to make this a reality."
When you consider Coinbase's recent interest in the DeFi ecosystem through Uniswap. Armstrong has actually never stopped working on making his mission a reality.
Even when #bitcoin tumbled, Coinbase weathered the storm and has not lost 20% of its' market valuation like the cryptocurrency did. Volatility of the cryptocurrencies may not have as much an affect on the valuation of Coinbase as many have suggested.
Author: Andy Samu
#ProfitabilityTest #Bitcoin #Coinbase #Airbnb #Facebook #Uber #Zoom #CryptoCompany #TechCompany #TESLA #Mistrostrategy #Rally #Kraken #Mission