TradingView, the social charting network for investors and traders – one of the 100 most visited websites in the world thanks to the retail trading boom – has dived into its search and user data to offer unique insight as to where in the world cryptocurrencies are most popular.
The data, gleaned from 27m search enquiries from its 100m users between November and January – and covering more than 6,000 cryptocurrency pairs – has highlighted some fascinating trends.
Understandably, the US has the most total cryptocurrency enquiries due to the sheer volume of cryptocurrency traders, followed by Germany, Turkey, UK, and France to make up the top five.
But when the data is analysed as a percentage of all enquiries made in that country (i.e. the number of cryptocurrency enquiries relative to stocks, shares, forex and other tradable assets) a different picture emerges.
Cuba is the only country in the world where over half of all inquiries (50.4%) were made about cryptocurrency assets, an increase of 12.2% on last year. Countries which rank lower on The Human Freedom Index, or which are politically turbulent for other reasons, feature frequently in the top 10.
Libya (42.2%), Ukraine (41.9%), and Palestinian Territory (38.7%) all feature in the top five, while the Syrian Arab Republic (36.9%) is tenth, suggesting that countries with high levels of instability are proportionally more interested in digital assets than more developed nations.
TOP 10 CRYPTOCURRENCIES AS % OF TOTAL ENQUIRIES
| | |
| --- | --- |
| Cuba | 50.4% |
| Finland | 46.0% |
| Libya | 42.4% |
| Ukraine | 41.9% |
| Palestinian Territory | 38.7% |
| Slovenia | 38.4% |
| Faroe Islands | 38.3% |
| South Korea | 37.9% |
| Georgia | 37.5% |
| Syria | 36.9% |
BOTTOM 10 CRYPTOCURRENCIES AS % OF TOTAL ENQUIRIES
| | |
| --- | --- |
| Tanzania | 10.2% |
| Lesotho | 10.2% |
| Swaziland | 9.8% |
| South Sudan | 9.8% |
| Botswana | 9.7% |
| Malawi | 9.7% |
| Malaysia | 9.6% |
| Macao | 8.9% |
| Djibouti | 8.0% |
| India | 6.7% |
Special note on India
India is the outlier in all of our research – while it is one of the most active countries to use TradingView, with millions of active users, and indeed, millions of crypto enquiries, its interest in cryptocurrencies as a proportion of the total enquiries made is muted. This is most likely due to proposed laws, due to be debated any day now, which ban cryptocurrencies while creating a framework for an official digital currency to be issued by its central bank.
James Maddison, Head of UK at TradingView, said:
"Bitcoin in particular has always had its critics, but you can't ignore the fact that this data suggests countries experiencing hardship right now seem to be the ones most interested in cryptocurrency."
"If everyday people in those countries are getting a real world use from cryptocurrency, and they're using our platform to actively gather more information about them as a result, we think that's great – more power to them."
"What we shouldn't do is overlook or pooh-pooh cryptocurrency just because it's still an unknown quantity to many still. Everything was new once upon a time."
TradingView is the world's biggest charting and research platform for traders
Data gleaned from 100m users uncovers which countries made most enquiries into cryptocurrency boom
Strong correlation between 'troubled' countries and crypto enquiries – over half of all searches in Cuba relate to crypto
More about Bitcoin
TradingView has also recently launched its Timelines feature for Bitcoin which can be embedded into any upcoming articles you may be writing, serving as a pictorial reference.
It's a visual way of communicating essential information about the company for traders and investors to understand ahead of making any financial decisions – see below: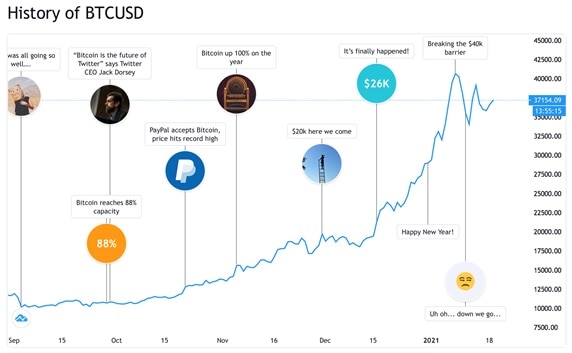 Screenshot of the Bitcoin Timelines feature. [TradingView]
The TradingView editorial team takes the entire history of a public company, identifies the moments that mattered and then maps them to the company's share price.
The feature is part of the company's 'look first, then leap' mission and the result for users is a greater contextualised understanding about how a company's stock price has been impacted by past events. TradingView plans to roll out Timelines to major public companies over the next year.
About TradingView
TradingView is the world's most popular network of traders and investors – powered by real-time data and market-leading analysis software. Use its platform to follow global assets, find trading ideas, chat with others, spot trends, and place trades directly with brokers. Have a look by visiting www.tradingview.com or downloading the free TradingView mobile apps for iOS and Android. For your website or business, visit www.tradingview.com/widgets.
If you want to know more about what TradingView are doing in the UK, then #DisruptionBanking covered a story with them in December:
The story was prepared and submitted to #DisruptionBanking by TradingView
#Crypto #HumanFreedomIndex #Syria #Libya #Palestine #TradingView #Bitcoin #Timelines