A story appeared on Twitter just over two years ago about how Snoop Dogg, who turned into 'Smoooth Dogg', became an investor in Swedish payment provider Klarna. This week, the FCA published a review and the news might not be good for one of the biggest FinTechs in Europe.
Klarna has grown into one of the most powerful FinTech Unicorns in Europe. Valued at more than the likes of Revolut and Monzo, it has also grown into a major player in the U.S. over the last year or so.
Backed by Sequoia since 2010 where the FinTech is described as: 'Klarna separates buying from paying'. And as we have mentioned several times here at #DisruptionBanking, Sequoia's Saplings like Klarna and Robinhood are often top of most news feeds for those of us interested in FinTech.
Their Buy-Now-Pay-Later (BNPL) business model is a different way of working with young consumers, something that their Founders are adamant is giving value to society.
They have had one eye on disrupting Credit Cards. Their CEO, Sebastian Siemiatkowski, recently shared with CNBC that he believed 70% of millennials in the U.S. didn't use Credit Cards. So Klarna offers an alternative, whilst often arranging bulk discounts with global brands like Nike and Adidas.
Klarna has grown substantially since they launched their Open Banking Platform, back in 2019. In fact, we have been covering stories about the Swedish FinTech giant since as early as June 2018, when the 2nd issue of our Magazine was published.
In the meantime, they have also become a registered Bank, and are booming in the UK and the U.S.
A Bank with a sense of humour by the looks of one of their recent billboard campaigns: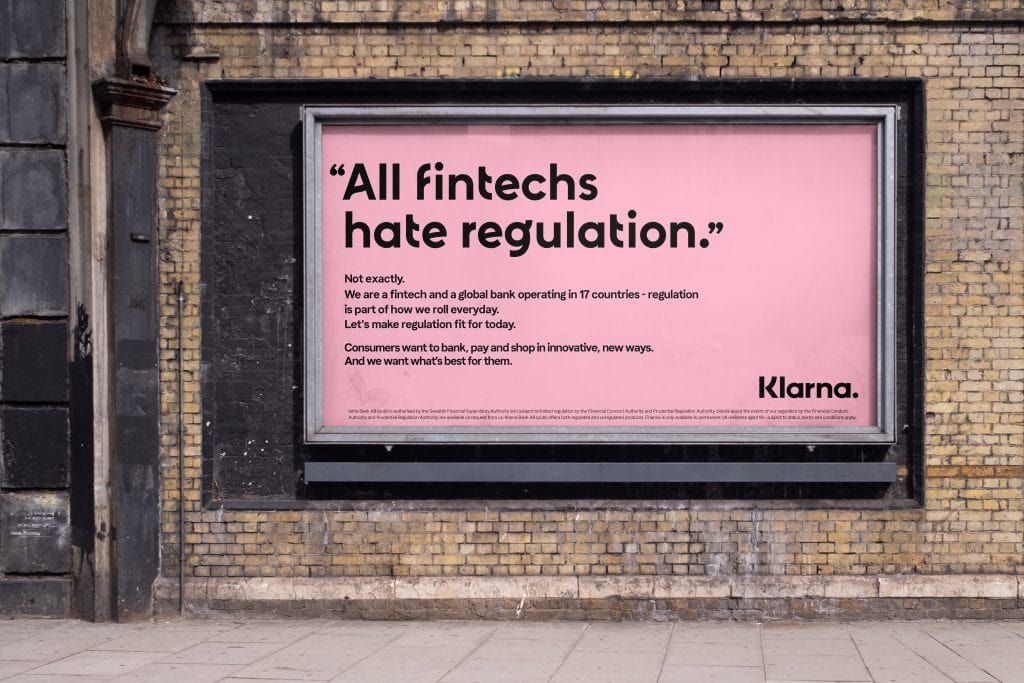 Today, the billboard message came back like a boomerang, for Klarna, Clearpay and other influential players with a BNPL business model.
If you want to know a little more about how the model is doing in the U.S, we recommend Mrs Dow Jones on YouTube who has a rather critical view on what companies like Klarna are doing.
She makes some compelling arguments about how BNPL still creates bad habits.
Klarna's Twitter feed makes a lot of compelling counter-arguments.
The Woolard Review
The Woolard Review was published today. In it, Christopher Woolard, Chair of the Review commissioned by the FCA Board said:
"Most of us will use credit at some point in our lives. So, it's vital that we have a fair market that works for everyone. New ways of borrowing and the impact of the pandemic are changing the market, with billions of pounds now in unregulated transactions and millions of consumers at greater risk of financial difficulty.
"Changes are urgently needed: to bring BNPL into regulation to protect consumers; to ensure that there is secure provision of debt advice to help all those who may need it; and to maintain a sustained regulatory response to the pandemic.
"Alongside these urgent issues the Review sets out a series of recommendations for how the FCA, working with partners, can build a better market in future."
The Press Release included some rather sobering facts, one of the more alarming facts related clearly to the boom in home shopping that we have seen during our various lockdowns:
'The use of BNPL products nearly quadrupled in 2020 and is now £2.7 billion, with 5 million people using these products since the beginning of the coronavirus pandemic.' With the majority of the UK public currently still sitting in the middle of a lockdown that will probably last months yet, this can be alarming for both the regulator and wider society.
Klarna's Response to the Review
Klarna was quick in responding and posted an update to their Twitter feed stating:
'Klarna supports the regulation of Buy Now Pay Later in the UK. Current regulation is nearly 50 years old, it has not kept pace with newer products and changing consumer needs. It's time for modernisation so it is fit for purpose':
They go on within their statement to confirm that they believe regulation is key to raising standards across the industry.
PwC's Statement
Earlier today, PwC shared their statement about this morning's publication of the FCA review of the unsecured credit market, which will see the FCA regulate interest-free BNPL agreements.
David Kenmir, PwC Partner, commented:
"While all of the recommendations made by Chris Woolard seem sensible and will contribute to improving outcomes for consumers with unsecured credit, the FCA and Treasury will need to prioritise their actions. It's clear that regulation of Buy Now Pay Later (BNPL) is the top priority and will be acted on imminently.
"From a fair competition and consumer protection angle, bringing all BNPL products within scope is a logical move for HM Treasury and the FCA. It will level up the playing field between BNPL and more traditional types of credit though the FCA must balance the need to protect consumers with the need to enable them to access simple, accessible and affordable credit.
"Aspects of the rules that relate to revolving credit products may usefully be applied to BNPL products, such as facilitating a smooth process at the point of sale, but without tempting customers to take every purchase on credit.
"The emphasis on improving the way the market works for the less well off in society; the potential detriment that arises from repeat lending; the importance of new market entrants into this sector; the potential benefits from a more consistent approach to forbearance and attempts to improve the quality of data provided to, and as a result by, Credit Reference Agencies are all welcome.
"To help ensure customers remain fully informed and empowered to make their own borrowing decisions, work is needed across the board to update the FCA's approach in a digital age. Not only should disclosures be considered, but the policy framework relating to the end product lifecycle would benefit from more digital alignment.
"The FCA's approach to supervision needs to be adapted to a world of straight through processing and online self-service solutions for consumers that do not generate the traditional paper trails that the financial services market is used to.
"The world in which advertising has focused on speed of decision as opposed to any other elements of the product – or indeed the consumer's ability to repay the loan – in order to increase the attractiveness of products to consumers, will also need to change."
With the next generation of consumers being born digital, it seems that the Review is both calling for urgent protection of many consumers, whilst also looking for wider co-operation between Regulators and agile FinTech companies.
BNPL is definitely not the same category as Pay-Day-Loans perhaps, but younger consumers still need protection from the inundation of so many advertising and that next piece of bling that Smoooth Dogg just promoted on Instagram.
Author: Andy Samu
#BNPL #Klarna #Fintech #FCA #PwC #WoolardReview #SmooothDogg #Sequoia