We suggest you try an Akon Top Hits Compilation in the background for full effect whilst reading today's piece, try starting with the Lonely song for full effect. Not only for his visionary thoughts on his crypto currency Akoin, but also because he has released a song featuring Eminem, Lady Gaga and a Lamborghini Gallardo, no mean feat. Akon has plans for Africa, and those plans revolve around enabling the 'unbanked', building a new City in Senegal, bringing Lighting to Africa and a few other projects as well.
Akon is one of the speakers at this years' Singapore Fintech Festival. Just last week he announced to CNN Africa that he plans to build a $6 billion development in Senegal called Akon City, he believes the City will be comparable to modern cities like Singapore and Dubai. It won't happen for a few years yet, but the compliment is not lost on the organiser's of this year's Festival.
The Festival will run 24 hours a day and is happening in just a few weeks with Akon talking about the Future of Africa on December 9th on BlockShow in a Fireside Chat. There is a Digital Finance in Africa panel as well, on the same day, moderated by the President of the Africa FinTech Network (AFN) Dr. Segun Aina.
A few weeks ago Dr. Aina spoke to The Fintech Times where he spoke of the challenges of entrepreneurs in Africa including Regulation and Funding. These are some of the challenges that Akon is looking at too, perhaps the gentlemen should team up?
It is encouraging to hear news coming out of Africa, and this is not the first time that Africa might have surprised us recently. One of Akon's friends, Micky Watkins of the World Mobile Chain, recently tweeted: "To unbank the banked is costly. It requires education. Anything that requires education requires time. Time is money. 4bn unconnected and 3bn unbanked. Connect the unconnected and bank the unbanked. That is the future of finance. #massinclusion". Sentiments very much shared by Akon himself, especially if one imagines that the 'unbanking' of the banked means moving people to a new virtual currency.
The Akoin site lists a few strong pieces about how one can imagine that Akon thinks of the situation in Africa. In one piece the concept of "Addressing the Unaddressed" is raised and Akoin's partnership with UNL is suggested as a solution:
"UNL is a universal addressing and naming platform that gives anyone and anywhere a unique, universal address. Made to connect the unconnected and unlock the economic potential of locations." UNL
UNL will help create a constantly increasing customer base for products on the Akoin platform. This in turn will stimulate trade and demand, meaning that the system becomes self-fulfilling, especially as the Akoin eco-system is going to offer so many benefits and services:
BitMinutes bringing the first prepaid airline token (BMT) to provide low-cost financial services to the world's two billion unbanked consumers
The DApp Marketplace helping users have their accounts instantly verifiable with no lag time for money transfers of any amount. With the patent-pending Atomic Swap technology, users will be able to trade in and out of cryptocurrencies, prepaid cell phone minutes, and fiat currencies in an instant (bit like Revolut and Vodafone sharing some services)
The goal of the Akoin Platform is to financially reward entrepreneurs for meeting educational or social impact goals. The goal is to assist 2 million entrepreneurs in creating 30 million jobs by 2030
Micro Lending, Crowdfunding, Sense Chat, Jeev Healthcare, Mwale and a few more services are also listed on the Akoin site
The Akoin Ecosystem: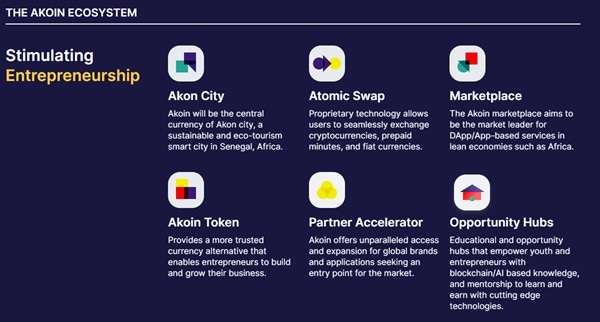 Addresses are one of the cheapest ways to lift people out of poverty, aiding access to credit, voting rights, and worldwide markets. The team at Akoin may be right and if the project were to gain some momentum there is every chance we will be hearing more about Akoin in the future.
Just last week Akon talked to "Bitboy Crypto", not a name we normally cover here at #DisruptionBanking, about Akoin and its' listing exclusively on Bittrex Global (who are based in Liechtenstein):
Akoin might have been bubbling away in the press for a while now, and there have been stories about Akon's dabbling in the ICO area as well. But at 11.11 PST on the 11th of November 2020 people could finally partake in Akon's dream.
If Akon City really is going to be up there with Singapore and Dubai in many years, then our readers should be aware of some important considerations:
The Mwale Medical and Technology City (MMTC) is almost complete, a $2 billion sustainable metropolis in the Republic of Kenya. Work started in 2014 and some of the features include a 35-acre Disney-style water park, the world's largest convention centre, a 36-hole Golf Course (the largest in Africa). And if you weren't convinced yet, MMTC has more SOLAR street lights than any City in the world as of November 2020.
Julius Mawler, the founder of MMTC, is now supporting Akon City, with Akoin being the currency of choice in MMTC since the 11th of November, last week.
This film, the most current one listed on the MMTC site, is an inspirational story of how Julius Mawler is helping the community in Kenya:
Akon City will be run exclusively through using Akoin and this should happen by 2030. This could mean that buying an Akoin today looking at a 10 – 15 year exit might actually be something to consider, the Dubai of Africa could be a hot new destination for the post-Covid era.
The City will benefit from tax breaks as the President of Senegal has earmarked Akon City as a special tax zone
It will be 'Leader in Energy and Environmental Design' (LEED)-certified, the second such city in Africa with this certification after MMTC in Kenya.
#Akoin #SingaporeFintechFestival #massinclusion #Wakanda #AtomicSwap #AkoinEcosystem #DAppMarketplace #Mawler #MMTC
Author: Andy Samu