On May 12th Pavel Durov, the 35-year-old founder and majority owner of Telegram sometimes referred to as the Russian Mark Zuckerberg, announced on his channel on Telegram that TON was being shut down. He wrote on his channel:
"I want to conclude this post by wishing luck to all those striving for decentralization, balance and equality in the world. You are fighting the right battle. This battle may well be the most important battle of our generation. We hope that you succeed where we have failed."
So what led to this story that so drives at the heart of fans of Blockchain and the concept of decentralization that so many followers of Satoshi have dreamt of?
A small story was bubbling away in 2016 involving Elizabeth Warren, who ran against Joe Biden to be the Presidential Candidate for the Democrats until March 2020, interviewing a particular John Stumpf in a Senate Banking Committee Hearing:
Elizabeth famously told John Stumpf that "You should resign" in the Hearing.
Fast forward to February 2020 and some things have turned out how Elizabeth wanted, if not her Presidential campaign. Wells Fargo, one of America's largest banks, was hit with a $3 billion fine in February by federal authorities. The settlement was made with the Justice Department and the Securities and Exchange Commission (SEC) and it took since before the Video above from 2016 to 2020 to resolve Wells Fargo's criminal and civil liabilities for the fake-accounts scandal.
In January 2020, John Stumpf, the previous CEO of Wells Fargo agreed to a lifetime ban from working in the banking industry and a $17.5 million fine for his role in the scandals. It is unclear how much he made exactly from his share-holding over the period he was in a senior role at Wells Fargo, but either way it is a huge step forward for the SEC to press for a punishment of this level amongst Wall Street's elite.
This is not the only high profile case that we have seen the SEC involved with in recent times. Last July, Facebook was put under the microscope for making misleading disclosures regarding the risk of misuse of Facebook user data. This was related to the story behind Cambridge Analytica using Facebook user data from 2015. Facebook, allegedly, knew all about this but only did something to change the arrangement after March 2018.
"Public companies must accurately describe the material risks to their business," said Stephanie Avakian, Co-Director of the SEC's Enforcement Division. "As alleged in our complaint, Facebook presented the risk of misuse of user data as hypothetical when they knew user data had in fact been misused."
Facebook paid a $100 million penalty but chose not to admit or deny the SEC's allegations.
And while all these stories about Facebook and Wells Fargo were taking shape at the SEC, Telegram was becoming more and more visible on a global stage and not just for their unique messaging App.
Telegram was launched in August 2013, and since then the company has grown to 400 million users up to April 2020, a huge number. The Telegram website has an excellent infographic explaining their history, and one can only assume they are competing with WhatsApp and maybe more from the amount of innovation showcased on their site.
At #DisruptionBanking we don't tend to write about Messenger Apps, so what has some novel type of WhatsApp got to do with banking, I hear our readers ask.
Maybe it is a surprise to you that Telegram's involvement in the payments sector seems to have started as far back as May 2017 when they introduced 'Bot payments'. Telegram acts as a messenger between the paying user, the bot developer and their chosen payment system, but Telegram is itself only doing "what every sheriff has to do with strangers passing through their turf: shoot the bad bots and award the good ones with a badge".
A year later in May 2018 news started to gain momentum about Telegram building its' own future blockchain platform "TON" (Telegram Open Network) with $1.7 billion worth of private investment behind the project. Two months later Telegram itself released information which sounds a little bit like what one could imagine is a Blockchain platform without calling it one, have they not heard of Long Blockchain Corp? Telegram themselves called this first stage the 'Telegram Passport' which is: "a unified authorization method for services that require personal identification. Upload your documents once, then instantly share your data with services that require real-world ID (finance, ICOs, etc.)"
During all these innovations there was an Initial Coin Offering going on at Telegram too, or some said there was, and what some call a 'misunderstanding' is a big part of the story. The Securities and Exchange Commission (SEC) did not waste time in checking out this latest ICO proposal of Telegram and started investigating the matter in 2018.
Having already taken action against token sales in the cases of BitConnect, Munchee, REcoin and DRC World, it is reported that the SEC is a little cautious about getting too involved in the Crypto / Token market. In the case of REcoin and DRC World tokens, Maksim Zaslavskiy was alleged to have fraudulently marketed the tokens to the public, and duly received an 18 month prison sentence for conspiring to commit securities fraud. The SEC certainly smelt a proverbial rat in the case of Maksim, but sometimes the motives behind an ICO can be for the good of greater society, or so it appeared in the case with Telegram's TON project.
What really is going on with this ICO of Telegram then, where tokens were called "Grams" and the world saw such promise of the future on a "decentralized cloud". Well, it's simple really. The SEC alleged that Telegram had raised capital through the sale of 2.9 billion 'Grams' ($1.2 billion) to finance its business.
The US District Court for the Southern District of New York agreed with the SEC that the 'Grams' might be considered to be securities. And as a result Telegram announced that it had ceased its' development of TON, on Telegram, of course: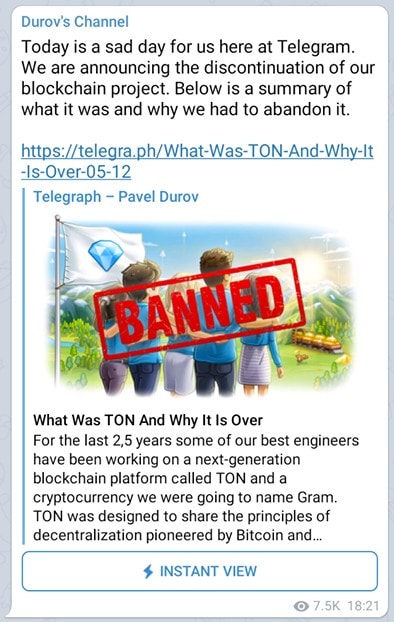 Pavel Durov went on with another Post on his Telegram Channel from the 25th June: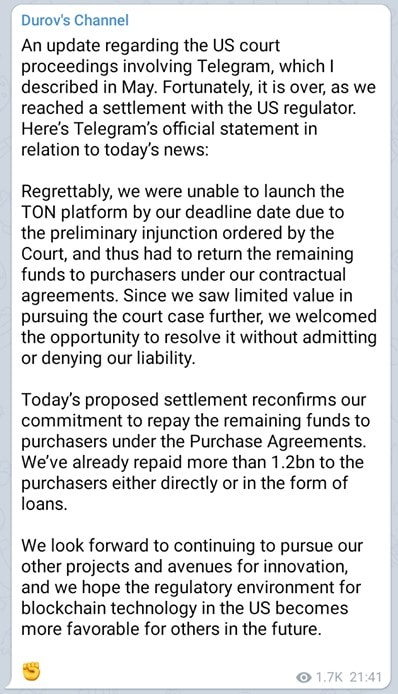 The SEC was not slow in replying, on the 26th June this appeared on their site: "New and innovative businesses are welcome to participate in our capital markets but they cannot do so in violation of the registration requirements of the federal securities laws," said Kristina Littman, chief of the SEC Enforcement Division's Cyber Unit, in a statement. "This settlement requires Telegram to return funds to investors, imposes a significant penalty, and requires Telegram to give notice of future digital offerings."
Could Telegram have tried harder to register properly? Would they have lost so much more of their ICO to costs related to ensuring compliance?
There are other stories that have affected the success story that is Telegram. There are the users of Telegram and not just the investors that need to be considered, which leads to the question that has already been raised by many spectators, 'who benefits from all of this decentralization'?
In early 2018 the Russian telco watchdog Roskomnadzor, blocked at least 16 million IP addresses having obtained a court order to ban Telegram. The authorities also went against Google and Amazon's cloud platforms that Telegram uses. Even Edward Snowden waded in on this story!
Things have since smoothed out and Pavel Durov a few weeks ago posted on his Telegram Channel that Telegram's user base in Russia had actually "doubled" since 2018. He continues by telling channel viewers: "In May 2020, out of 400 million monthly active users of Telegram, at least 30 million were from Russia. To put it simply, the ban didn't work. And in June 2020 Roskomnadzor announced that Telegram is no longer blocked in Russia." There is a lot more on the Channel, but you need to get the Telegram App to see it.
Sometime before May 2018 suggestions started to be made that many users of Dark Web marketplaces were moving across to join channels on Telegram while keeping their identities hidden. It's suggested by researchers at Check Point that some people tried to use these channels to gain information that could be sold, or used to conduct a cyberattack from inside a company, and a lot more besides.
By June 2019, Telegram was back in the news again, this time the stage was Hong Kong and the protests that have been hitting the headlines over the last year. The New Tork Times reported that a network of computers in China bombarded Telegram disrupting the service. Pavel Durov said the attack was something Telegram had seen before.
Telegram was not intimidated by China, and stood firm to protect the identity of protesters, at least for now.
There are other stories like the rather unsavoury tale of Cho Joo Bin and God God in South Korea from May 2020, again a story related to someone who uses Telegram in order to hide their identity and not necessarily for the good of others.
With the plusses and minuses clearly visible of there being an App like Telegram, the question shouldn't be about whether they are in a battle with the SEC or not. The question should be about whether or not the SEC could have done anything else. Nobody should be above regulation is the SEC's standpoint. And, in the case of Telegram, hypothetically, some of the transactions on the TON platform may have been breaching other federal laws especially if you consider the story from South Korea mentioned above.
If, and it's a big 'If', Grams had taken off and become a substantial crypto-currency for over 400 million users globally, a large proportion of them would eventually be exposed to some kind of 'Grams' related advertising or incentive plan. Doesn't that sound a little similar to the case of Facebook and Libra, or even JPMorgan and the JPM Coin? Perhaps we shouldn't be so quick to accept a new global currency, even if the future is painted as brightly as the TON project.
To summarize, it is hard to argue that the SEC treated Telegram differently to any other Company interacting with US Capital Markets. It is enough to look at the fines that were handed out to Facebook and then Wells Fargo, the sums involved were much higher than in the case of Telegram.
Telegram have a role to play in creating a balance in global social media usage away from the dominance of Facebook. Their actions in Hong Kong are surely benefitting some of those protesters that deservedly need to remain protected, but the darker side of the channels on Telegram remain one of the biggest obstacles in the acceptance of a decentralized future.
Author: Andy Samu
#decentralization #Telegram #TON #blockchain #wellsfargo #SEC #regulator #digitalofferings #investors #innovative #capitalmarkets #federalsecuritieslaw #penalty