As part of their efforts to boost the generation of new fintech ideas and solutions, Hungary's MKB Fintechlab hosted a hackathon to bring together teams from across the country's strong tech talent base to focus their minds on addressing four banking challenges.
Fintechlab's János Pereczes and Mary Alcantara recall their experiences of organizing the event and highlight the positive outcomes that resulted from two days of intense activity
Established in 1950, MKB Bank is among the most forward-thinking Hungarian institutions with regard to digitization – as seen with its Mobilbank app and recent partnership with Oracle. The bank's innovation lab and startup investor – MKB Fintechlab, which has a staff of 10 – has been managed since its 2017 launch by Deputy Managing Director Mary Alcantara and Managing Director, János Pereczes.
Fintechlab believes in open innovation and that corporates should embrace working together with startups, governments, academia and their own customers to create better services. To drive the digital transformation of industries, they invest in and build startup companies and bring innovations to market through human-centred design and open innovation.
In search of a high-impact initiative that would instigate new thinking, last November they hosted a hackathon – the sprint-like communal event which
sees teams compete to generate ideas and solutions, or to put the security of systems to the test. Such events are part of a growing trend that has seen an average of nearly 11,000 hackathons across 75 countries over each two-year period since 2015.
"There was no doubt that, when brainstorming, János and I were inspired by the boisterous US hackathon events and their lasting impact on product generation," says Alcantara.
"We knew that Hungary's strong tech pool would relish the opportunity to participate in one, but needed to balance the scenario against our own expectations. Although fun, a weekend-long project fuelled by energy drinks and pizza would require large numbers, which we couldn't necessarily guarantee. It also wasn't what we, as a fintech incubator, were most interested in achieving."
"We viewed the hackathon as an opportunity to unite great minds from Hungary and neighbouring states, to create a bridge of familiarity between tech talent and a career in financial services, and to encourage innovation."
Defining the Mission
Hackathons come in different types and sizes: internal, external, online, offline, and application-based, which focuses on specific platforms for development – such as mobile and desktop operating systems, or videogame development. "Our search for a purposeful mission sparked the idea for a hybrid hackathon model," explains Alcantara. "Rather than fixing or breaking into systems, we imagined teams working on developing prototypes addressing concrete challenges and incorporating specific application programming interfaces (APIs) – MKB's own, to be precise. We also were fortunate to team up with Oracle and offer a special Pro-Challenge for later-stage companies."
"Finding the right challenges and setting appropriate expectations was critical"
MKB Fintechlab's first hackathon, on 30 November 2018, was a two-day affair at an off-site venue in downtown Budapest. Contestants were asked to team up into twos or threes and experiment on one of four API challenges: 1) Open banking and financial consciousness, solutions to incentivize financial self-care in the open data world; 2) Artificial Intelligence-based security solutions, improving security without sacrificing convenience; 3) Solutions that harness the speed and convenience of instant payments to improve a financial service (anticipating domestic go-live in July 2019); and 4) Smart Eco-homes, an open banking concept that pushed contestants to create systems that could best manage electricity usage, protect natural resources or improve air quality. Oracle's Pro-Challenge involved building solutions on top of their APIs for financial services, which number more than 1,500.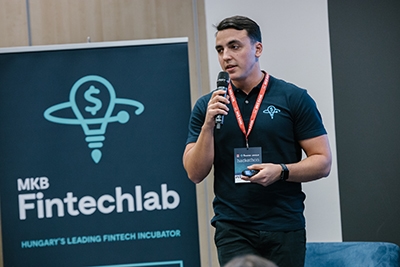 "Finding the right challenges and setting appropriate expectations was critical", explains Pereczes.
"We know from company culture studies at the likes of Shutterstock and Google that forcing a group of people to focus on innovation for a short period of time can produce incredible results, but what can be achieved in 36 or 48 hours amongst strangers is often much less than the average corporate sponsor expects.
"As a result, we were adamant about not pressuring contestants to submit polished products, but focus on the customer journey, underlining the activity as 'experimental' instead."
Setting Criteria
"A backbone priority was strong communications and support," continues Pereczes. "It was important to set crystal-clear criteria for the submissions in plain English – what the evaluation criteria was, whether tech or design would be more important etc – as well as communication lines throughout the live event via Slack, Devpost and on-hand staff. Making sure everyone is well informed about the timing and expectations for each programme element is key to their having a good time.
"Regarding operations, one of the big mistakes we tried to avoid was overscheduling the weekend. The feedback we got from seasoned hackathon participants was to not overdo it with supporting programmes like yoga or games, and to keep the workshops and mentoring to an ad-hoc basis," says Alcantara.
Fintechlab's vision was to help teams incorporate human-centred design while building an actual prototype onto MKB's technology platform. The main evaluation criteria at the end were business viability and customer needs – rather than technology innovation. The jury consisted of the CEOs of Hungary's biggest companies, in addition to executives of MKB Bank. Even though technology was not in focus at evaluation, an esteemed mentor network with a strong technological background was involved to make sure that the teams started their development in the right way.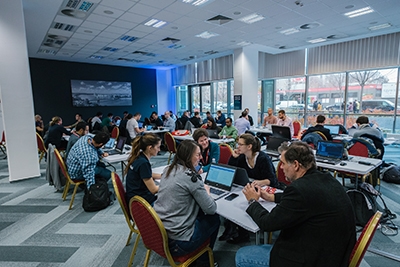 Weighing Pros and Cons
The option of hiring a third-party organizer to assist with the event was considered, but ultimately rejected, by MKB. Specialist hackathon organizers with a recurring event series or established brand are good at driving up the number of participants and helping with marketing and smooth logistics. However, as Alcantara explains, these pros need to be weighed against the cons, such as high fees or requirements to cover the travel cost of the organizers and participants. "After careful consideration, we estimated that delivering a customized experience tailored to a local market would be best managed in house, using our own staff and hiring extra people to cover registration and overnight shifts."
With an on-site team of 20 people, MKB Fintechlab hosted nearly 100 participants from 13 countries, who submitted 12 proposals.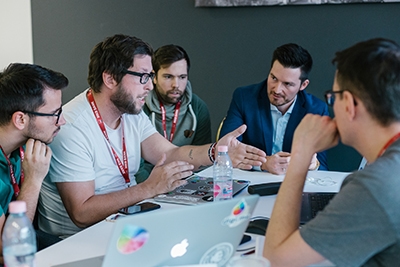 "At least three new companies have been formed, based on ideas generated during our hackathon"
The winning project – which pocketed the grand prize of a fast-track admission into the MKB Fintechlab startup programme, plus €25,000 in equity investment – was MKB. me. Built by the Digi.me team, the prototype was a centralized platform combining financial, social and personal data and helping users to map out spending patterns, chart financial data against social and health information, and suggest tailored financial products when needed.
The two runners-up were Hobbiz, an app that calculated the viability of turning hobbies into businesses, and Leaf, an open banking web app that helps its users to track environmental impact. Seven teams also presented solutions for the Pro- Challenge, sponsored by Oracle.
Assessing the Benefits
Tailoring an intensive event such as a hackathon to a small incubator requires equal measures of vision and tact, or as Alcantara puts it: "with every step, you have to be ready to let things go and allow new ideas to crop up."

When comparing their expectations to the results, MKB Fintechlab found that, while a hackathon for a small accelerator wasn't optimal for everything, it was an excellent vehicle for creating a pipeline and establishing partnerships. For example, MKB sponsored two of the four challenges, with GIRO and BOS Bank sponsoring the remaining pair. Two of the three winning teams are in the current accelerator programme run by Fintechlab, which launched in March.

"The community aspect from a corporate and individual level was an instant success, but we wanted a real effect on fintech innovations for MKB and the local community," concludes Pereczes. "A few months down the line, we were pleased to discover that innovation can be fostered. Three new companies have been formed, based on ideas generated during our hackathon.

"It seems that our efforts have had an immediate payoff, and we are positive that the connections made through the hackathon will continue to bear fruit in the medium and long terms."