For all its challenges, 2020 was a great year for Investment Banking. JP Morgan kept top spot, while Goldman Sachs and Credit Suisse both continued to do exceptionally in equities markets, according to a report in the Financial Times last week.
Investment Banks have had to support a variety of initial public offerings around the world in 2020, accounting for a large percentage of their fees.
After welcoming over 300 IPOs in 2020, the most in 10 years, Nasdaq released a statement on December 17th:
"In a year where access to the capital markets was more crucial than ever, we are proud to be the U.S. exchange leader in IPO capital raised for the second consecutive year," said Nelson Griggs, President, Nasdaq Stock Exchange.
Interestingly, 21 companies switched their corporate listings from the NYSE to join Nasdaq. The market value of companies joining Nasdaq from NYSE since 2005 has exceeded $1.88 trillion.
Airbnb isn't the only story that has raised the profile of America's second exchange. Apple, Tesla and Zoom make up some of the other top performers of 2020, with Tesla joining the S&P 500 just a few weeks ago.
Nasdaq's meteoric rise, which we covered in June, isn't the only thing that the NYSE needs to think about either.
CHINA
Dominated by the failed IPO of Ant Group since November, it's easy to overlook the huge success story that are the Chinese Equities markets. Shanghai, Hong Kong and Shenzhen are reported to make up 3 of the 7 largest global exchanges.
China's exchanges might be a bit behind Nasdaq and NYSE for now, but with time they have huge potential to grow:
There were 369 IPOs launched in China in 2020, 80% more than were listed in 2019, the majority of them private firms:
We reported how Citigroup were granted a domestic fund custody license in September. You might think that this gives Citigroup an unfair advantage ahead of its' closest competitors in the equities markets, especially with the size and potential of the Chinese exchanges.
With further turmoil on the NYSE, it's going to take a while to see how Biden's approach to China will change the face of the 'trade war'. Beijing was reported to be threatening retaliation, bringing back memories of the 'unreliable entity list', but this should blow over:
INVESTMENT BANK SCORECARD
2020 was still great for investment banks, and neither the Pandemic nor the 'trade war' seem to have been able to undermine that.
According to the FT, companies have raised almost $300bn through flotations in 2020, the highest in any year since 2007.
Together the largest US banks – JP Morgan Chase, Goldman Sachs, Bank of America, Morgan Stanley and Citigroup – generated just under $37bn of investment banking revenues.
European rivals, accounted for less than a quarter of investment banking fees in 2020, their lower proportion since at least 2000.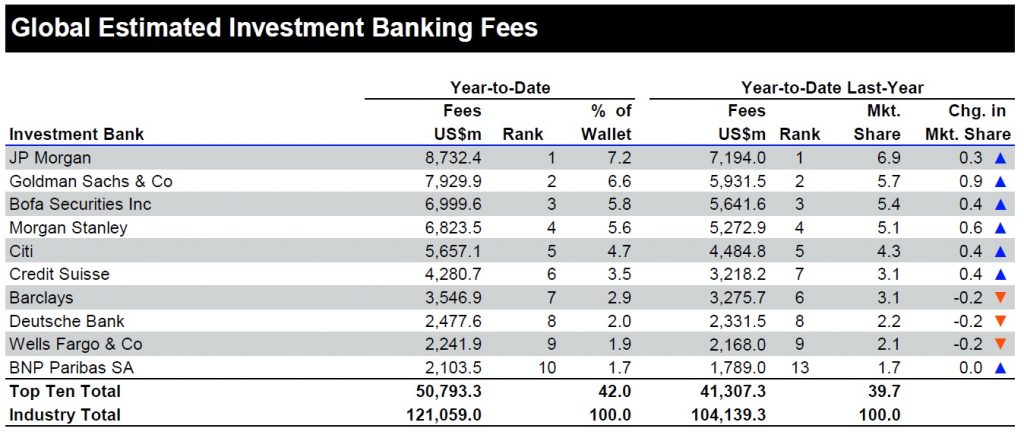 Citigroup have shown significant ambition in a memo this week. The bank has appointed Lucy Baldwin from Credit Suisse to become global head of its independent research business from April. Baldwin was the global head of equity sales at Credit Suisse up till now, and the move shows real appetite from Citigroup to strengthen their investment banking arm.
Citigroup are definitely challenging the other banks:
FINTECH IPOs in 2021
All the Investment Banks will be closely monitoring the most promising IPOs in 2021, hoping that this year will bring the next Google, Tesla or Zoom.
With the looming IPOs of Unicorns such as Coinbase and Robinhood, there is no hidden trick to how the Nasdaq exchange is doing so well.
Having just sponsored the Singapore Fintech Festival, Nasdaq has been pinning its' fortunes to Tech firms for decades now. The Analysts at Nasdaq are not shy either, they all see how many of the biggest IPOs in the future will come out of the fintech ecosystem, much like Ant Group.
IG.com reports that the Robinhood IPO could take place as early as the first quarter of 2021. However, the company has not yet publicly confirmed its timeline or presented a public filing. Given the number of issues the company has faced recently – power outages and fraud investigations – Robinhood could choose not to list yet.
The report goes on to highlight how Robinhood faces a civil fraud investigation over its failure to disclose its Payment for Order Flow practice. If Robinhood choose to settle with the Securities and Exchange Commission, it may have to pay a fine exceeding $10 million.
The share price will definitely be one to watch and should show a good return for early investors.
IG.com reported this Tuesday about Coinbase's IPO, where they shared how Coinbase submitted a draft registration document with the US Securities and Exchange Commission on 17 December, 2020. With the noise surrounding Bitcoin over the last few weeks, Coinbase is starting to become a household name amongst many.
The really interesting thing about Coinbase, is their support of the DeFi platform, and more specifically the DAI Coin.
Nearly anyone with a Coinbase account can start earning fees against their DAI Coins immediately. The concept is not far away from how a savings account works, except that it actually does work even after 5pm and the interest you can earn is also higher than most traditional savings accounts (2% APR).
THE FOCUS FOR 2021
Last January, Larry Fink, the Chairman and Chief Executive of BlackRock, sent a now famous letter to CEOs of companies working with the custodian. In it he highlighted how: "Every government, company, and shareholder must confront climate change."
2021 will produce more ESG-focused investment, both in listed companies as well as private companies, which we covered in a story a few weeks ago. As yet though, there hasn't been a statement comparable to the one that Finks sent out last year yet.
So, normally, we would look to the World Economic Forum in Davos for some direction on where global policy in capital markets might be heading, but this year:
For now, the most significant days in January are the Results that JPMorgan and Goldman Sachs will be announcing for 2020 on the 15th and the 19th respectively.
And there was another story that broke out yesterday that will surely influence sentiment for 2021.
STIMULUS CHEQUES ROUND 2
We covered our first story about Robinhood back in August. Did the CARES Act payments have any impact on stock prices in April 2020? The debate about the next Stimulus Cheque has been heating up over the last few weeks, and the two payments have a lot in common.
Of course, Bitcoin wasn't hitting record highs in April last year, so investors (or stimulus cheque beneficiaries) may have chosen to get into Crypto this time. Tesla stocks are also doing well, and there are 2 juicy IPOs on the horizon too.
Lots for investors to consider.
CBS News covered the story about the Stimulus cheques this week. Trump tried to last minute change the amount of the stimulus cheque payment, but ultimately the cheques have now been going out at the lower amount of $600.
In a twist, Joe Biden gave a speech on Monday saying that if Democratic candidates in Georgia are voted to the Senate, then he would come back to the topic of $2,000 cheques. Both his candidates were confirmed as winners yesterday, so let's see if Biden holds true to his word.
What we do know is that the current cheques are half the amount of the $1,200 checks sent out in 2020. Many of them have already been paid out over the last week or so.
WASHINGTON IN TURMOIL
You would think that global stocks would have felt some turbulence after the scenes many of us witnessed on our TV screens yesterday. A story on Bloomberg late last night, covered the disruption. And, it seems like markets showed little sign of concern at the turmoil.
Citi CEO Michael Corbat has released the following statement on today's events in Washington, D.C.:
"I am disgusted by the actions of those who have stormed the U.S. Capitol in an effort to disrupt the certification of the Electoral College, a process mandated by our Constitution as part of our practice of peaceful transitions of power between Presidents. As one of America's oldest companies, we have seen our country experience other trying events. While these scenes are very difficult to watch, I have faith in our democratic process and know that the important work of Congress will continue and that people will be held accountable for their actions. I pray this situation can be resolved without further bloodshed."
Bring on January 20th and let's hope Joe Biden's first days are better than Trump's last days.
Author: Andy Samu
#JPMorgan #Refinitiv #Nasdaq #Coinbase #Robinhood #Tesla #Bitcoin #TradeWar #Scorecard #StimulusCheque #SEC #Citigroup