Back in 2017 there was a strange phrase trending on Twitter – the phrase #Covfefe which Trump introduced us to in his first year as President. I thought I would just mention that at the start of this note to make sure we were on the same page.
See, #Covfefe came up again in November 2019. Just as the Virus started to appear in Wuhan, we were reminded of one of Trump's famous Tweets when a race-horse named Covfefe started winning race after race causing a stir on her own:
One can argue that all nations need a leader the calibre of Churchill to pull them through a Crisis or War, with any semblance of what can be called success. The times have supplied us with Trump to see us through these times, and this is probably not the first time you have heard the saying: "When America Sneezes, the World Catches Cold". Trump might want to shove the blame on to China for the Virus, but ultimately it is New York and the wider US who have felt the Cold the most and by ricochet the World will ultimately have to plan the future based on how the US bounces back from the Virus.
Back in 2017 when Trump started, his relationship with leaders of the Dow Jones Industrial Average Companies (DJIA) was heavily scrutinized. Companies from that list like Ford were threatening to move part of their production to Mexico and felt the full wrath of the President for even suggesting this idea whilst Trump continued his Make America Great Again rhetoric:
Trump has since been to visit the Apple MacBook plant in Texas, meeting employees and the CEO, then within a few months blasted Apple all over Twitter for privacy issues. Of course, he has a strong relationship with ExxonMobil – another company from this list, having appointed an ex-CEO as a Secretary of State – Rex Tillerson. Then there is his relationship with Bill Gates, Microsoft being another company from the DJIA. Bill Gates is possibly not one of Trump's favourite people, but all in all most of the leaders of the DJIA companies have some sort of relationship with Trump, be that good or bad.
One thing remains undisputed, when Trump took over his Presidency on the 20th January 2017 the DJIA was on 19827 and at it's highest point it hit 29348, something that Trump would love to take the credit for as the previous few years were definitely not as glamorous for the DJIA. But is the 24290 it sits on today a realistic figure? The numbers were nearer 13820 just before the Financial Crisis of 2008 and we are supposedly about to go through the worst crisis since the 1930s…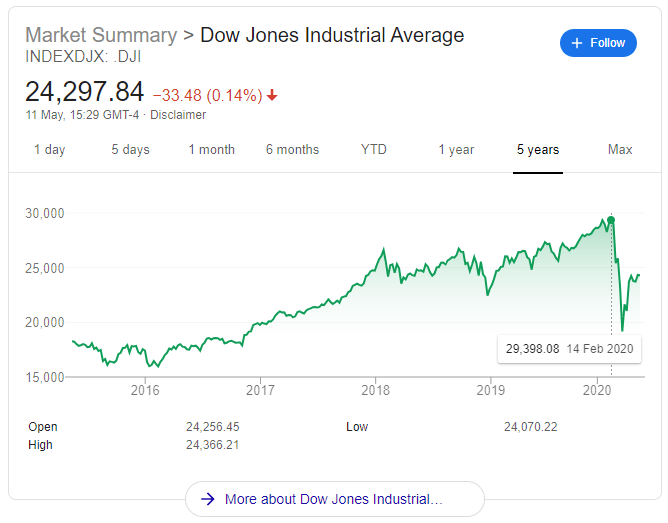 Of course, a lot of this has partially depended on Donald Trump's tweets, and I believe that yesterday alone over 100 tweets went out from POTUS' account, welcome to the era of the Social Media Influencer.
According to Brandwatch, Donald Trump is only 9th on the most followed list of those who Tweet, with ladies like Ellen DeGeneres and Lady Gaga both sitting just above him. Justin Bieber has over 110 million followers, but Barack Obama has the biggest Twitter following of all public figures, and we know how much Trump likes him. Let's be honest though, Katy Perry in 3rd with 108.5 million followers probably won't have much impact on the DJIA companies, maybe NIKE or J&J but that's about it. Trump, on the other hand makes more impact on these companies.
Bloomberg recently wrote about analysts at JP Morgan Chase & Co. who created The Volfefe Index, named after Trump's #Covfefe tweet. The analysts looked at 14,000 tweets and were able to establish that they did, in fact, affect not only the New York Stock Exchange, but markets all over the world depending on what time they appeared.
In 2016 Trump called out Lockheed Martin for charging too much for their F-35 jet aircraft. Trump's tweet cost Lockheed Martin (LMT) a dip of over 5% of their share price. And this is not a one-off story.
Bank of America once told its' clients in a note that the stock market tends to fall slightly on the days Trump tweets a lot more. Going on from this, and since 2016, apparently, if Trump tweets 35+ times then the stock market falls, if he tweets less then it goes up.
Bloomberg has recorded recently that two things prompt them to link Trump's tweets to the Dow Jones Industrial Average, rather than other indexes. Mainly because Trump refers to them so much when he addresses the public.
Trump's big problem right now is China…
China has something that the DJIA companies have already been aware of for a while now. And Trump has a Catch22 of his own to consider here, because he is not so enamoured by China as the Top 30 US companies..
According to Glassdoor, 15 of the 30 companies in the DJIA (IBM, Wal-Mart, P&G, Cisco, Microsoft, Apple, Intel, McDonald's, NIKE, The Home Depot, Merck, Disney, Pfizer, 3M, ExxonMobil) have invested in Shenzhen in China. Silicon Valley's biggest competition in the World that is attracting Foreign Direct Investment from all over the globe as well as being only 15 minutes on the train from Hong Kong.
Even Warren Buffett is investing into China's BYD, one of the world's biggest EV battery makers, located in … Shenzhen. The writing appears to be on the wall.
A stone's throw from Hong Kong, amazing infrastructure and with some of the sharpest hardware engineers in the world, has Trump given up on the US Hardware market too early and is this Shenzhen and China's moment to shine?
Watch the Tweets… I am…
Author: Andy Samu