Over the weekend some pretty shocking stats rocked investors. First there was Goldman Sachs that announced on Saturday the U.S. economy would see a contraction of 25% over Q2. Morgan Stanley raised the stakes to 30%.
Then Fed of St. Louis President James Bullard put forth his sunny Sunday thoughts and everyone folded; that the U.S. unemployment rate may hit 30% in Q2, with an unprecedented 50% drop in GDP.
To put this into perspective, there was a contraction of 25% of GDP by 1933 in the Great Depression. That took years.
The COVID-19-induced recession is one quarter in and already set to beat! People, there is no data for the outcome of this economic disruption.
Which is why when the Fed launched 'QE infinity' yesterday – aka unlimited financial stimulus – its last and biggest fiscal bazooka it can possibly shoot after Trillions in aid and a cut to the 0% rate, it failed. The stock market popped up and was deflated minutes later.
The largest economy in the world took out its biggest gun and it was a dud.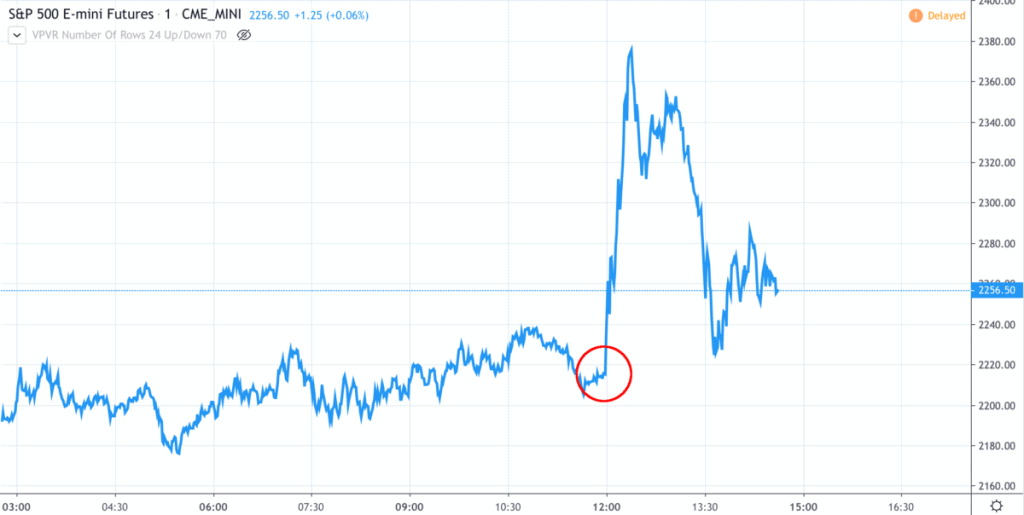 The actual economic data coming out today is in no better state. UK Service PMI plunged to a record low, UK Factory Orders fall sharply in march, German Service Sector Output falls most on record, and it goes on and on with seemingly no end in sight.
Even Fintech Influencers are having a harder time getting on stage after the postponing of Money2020, alongside the Olympics.
As they've postponed the Euro football and Olympics for a year, @money2020 Europe had to move. It's now 22-24 September for all those thinking #coronavirus would be over by June …

— Chris Skinner (@Chris_Skinner) March 24, 2020
However, as we noted earlier today, fintech and other technology advances are likely to gear up complexity economics to jumpstart the economy (government policies permitting).
Economist W. Brian Arthur: "Some people claim that this economics is a special case of equilibrium economics, but actually the reverse is true. Equilibrium economics is a special case of nonequilibrium and hence of complexity economics." https://t.co/aF6hPA6cyW

— Evonomics (@EvonomicsMag) February 9, 2019
This faster movement of information and its impact on micro-decision making will mean that the millions of self-employed people who are not covered by a government's scheme can look and find alternatives much faster.
Last week the UK Chancellor announced measures to help pay full-time employed workers.

But what about the 5m self-employed individuals?🤔

Thanks to the teams at @getfronted and @creditkudos, this is the story of how Covid Credit was created in 48 hours ➡️https://t.co/9fsulR5vDV pic.twitter.com/nRMVzudkVW

— 11:FS (@11FS) March 24, 2020
But that's tomorrow.
Today the fog of uncertainty grows as people seek government advice that rapidly changes by the hour, debate conspiracy theories and worry about their wealth and health.
.@NYGovCuomo on President Trump's comments about the economy: "If you ask the American people to choose between public health and the economy then it's no contest. No American is going to say, 'accelerate the economy at the cost of human life.'" pic.twitter.com/LWdCTffcX8

— CSPAN (@cspan) March 24, 2020
Another issue is that all of this disruption is happening at the same time as the China-US trade war. Any hands for those that want to go back to worrying about that 2018 fallout?
There have been recent reports that Wuhan, the beginning of the COVID-19 pandemic outbreak, has begun to lift the lockdown on its citizens (CNN).
Which may have prompted President Trump to declare "America will again and soon be open for business. Very soon. A lot sooner than three or four months that somebody was suggesting. A lot sooner. We cannot let the cure be worse than the problem itself.", perhaps feeling China may be opportunistically gaining trade in a vacuum.
Meanwhile, Multi-National Conglomerates draw down their credit lines totally in preparation for a spike in short-term financing interest rates (credit crunch), the repocalypse continues and ratings agencies pop on Twitter to downgrade the economy.
Analyst Lisa Goldstein quoted in @TheBondBuyer on revising the 2020 NFP #hospital and #healthcare sector outlook to negative as the #Coronavirus accentuates cash-flow constraints #COVID19 https://t.co/WOfVcx9l4E

— Moody's US Public Finance (@MoodysUSPubFin) March 24, 2020
Stay healthy, stay sane and be as hygienically mindful of others (especially if your in the non-vulnerable bracket).
---
Looking to manage macro finance risks? Check out BTRM.
---
Looking to learn how to code? Check out HTML.net to learn HTML, CSS, PHP and JavaScript for free.