On a cold day on December 18th 2019 at half past five, an audience had gathered to witness the latest fintech startups pitch their sharpest technologies – in just 3 minutes flat. It is not easy to impress people with technology in a place like Warsaw, where the wider Central Eastern Europe region has the highest STEM graduates per capita than anywhere else in the world.
Every six months or so Fintech Trends Poland organize a pitch competition for fintechs. No different this winter, the Fintech Dragons Day was set to take place at Franklin Templeton's Warsaw Office. Anna Maj of PwC, Nir Manor of Sanpei Ventures and Borno Janekovic, CEO of Templeton Investments in Poland, kindly agreed to wear the 'dragon' mask on the day – to grill startups on their business model and plans.
Competition was set to be fierce with three contestants representing startups that are in acceleration programmes and therefore well-trained at pitching. At stake were dozens of hours of legal advice and bragging rights.
Let the games begin.
Wandlee
Igor Sawczuk from Wandlee came into the picture with some bold claims about the future of the AI revolution. Delivering automated messenger and web communication via AI-driven chatbots, Wandlee can automate sales, marketing, recruitment and customer service with machine learning.
"There are no mechanisms for everybody to participate in the new digital revolution" was a statement that made many in the room sit up.
He proposed to tackle this with a digital contract based on a "co-ownership of the AI model", with a % of revenue shared out on a daily basis. The codename for Wandlee's newest solution – 'AIdoubler' is certainly an innovative step in an unchartered direction.
The competition landscape of capital risked models was compared between the stock exchange, crowdfunded organizations via tokenization, simple company co-ownership and the AIdoubler. Wandlee claims to have been developing a technology that is open to individual investors, a structure that measures returns based on daily performance with dividends also paid out daily.
By building and maintain partnerships with large technology companies such as Facebook and Microsoft, Wandlee hopes to leverage them to reach the global market.
Parcela Já
Miguel Quintas jumped in with Parcela Já, a startup that aims to take on the pains in retail finance with the concept of "buy now – pay later".
The company is focused on installment payments through credit cards, at no cost whatsoever for end customers. The developed software allows end customers to pay their purchased products or services over the store counter from 2 to 12 times with their credit card, without any interest or charges and without any bureaucracies or waiting time for credit approval. Parcela Já's intention is to continuously develop payment solutions for the global industry. Based out of Lisbon, this Portuguese fintech has a significant track record.
Whilst the competition in the space is dominated by companies like Stripe and Klarna, Parcela Já looks to carve out a niche in the offline and paperless place against the heavyweights which occupy the online and paperless space.
It is no secret that the retail sector of economies is struggling, with a "33% customer abandonment" rate and plagued by bureaucracy and queues. Parcela Já is already providing their service to an impressive 350 retail stores in Portugal and aims to "build a frictionless payment standard across retail".
They probably deserve their awards and recognitions from Google, Accenture and Fintech Portugal owing to the fact that those 350 stores are now "upselling by 30% and with a vastly increased approval rate" with "no need for employee training or compliance" when the technology is used by a business.
Data Invision
The widely shared "data is more valuable than oil" stories have begun to cement in consumer's minds the equation that data=commodity.
Tomasz Knap, highlighted not just how important data is in today's business world – but also how it is used. Using machine learning, Data Invision seeks to leverage vast data sets to aid lenders and businesses.
By doing this they are able to; lower the probability of default by better identifying good customers, deliver the perfect balance of credit limits, reduce identity and insurance fraud, lower costs via warehouse inventory management and increase the return on investment by ramping up customer loyalty.
Lending companies receive a considerable amount of bad press, but perhaps a company like Data Invision could minimize the bad actors worst impulses and provide the debtor and indebted a solution that is win-win. Crippling interest rates to those that should never have been given loans in the first place is an area Artificial Intelligence can, and should, sink it's teeth into – to prevent such issues arising.
Tomasz outlined that the benefits of partnering with Data Invision mean that processes can be "counted in hours versus months" by the full automation of certain business units where employees are performing highly repetitive tasks. This would be doubly beneficial to any organization as it frees up such employees to more creative tasks and core business challenges.
With more than 18,000 lending companies across the EU to service – the potential for Data Invision to scale quickly is vast.
Asset
Then came Rafal Chrabol with Asset … a project that seeks to give financial advice by aggregating all investments into the same channel with the mantra of 'All Assets – One Place'. He stated that "21% of clients know nothing about their financial costs but would like to know more."
Asset is a fintech product in the 'financial aggregators' category. Financial aggregators are service providers that gives you access to all your financial products (bank accounts, cards, etc.) in one place, even if the products are contracted with different banks.
But the difference with Asset is that it takes that innovation one step further by adding analysis into the mix. Value-adding on aggregated products is the very definition of innovation. DisruptionBanking thinks Asset and the minds behind it are a space in the ecosystem to watch.
The solution would be to first combine all of the different user interfaces into one channel and interface, obviously. Doing so would then enable a user to create a number of 'layers' in financial identity to then switch between private, business and communal profiles.
This solution would aim to provide 30, ready to use interactive reports on the spot. Additionally, the platform would be able to have a "cash pool slider" that would measure and respond to shortages and surpluses.
Their project launch date is set for Q1 to Q2 in 2020.
Workbee
Przemyslaw Budnicki, CEO, was there to drive the fact that the "future of work is remote". Workbee is looking to capitalize on the market evolution in a continually changing office and work environment.
From the business side of things, the issues are numerous, with a "lack of employees in the market, rising cost of trainings, loyalty issues and a long adaptation to corporate culture". All of these trends, when taken together, can weigh heavily on balance sheets.
From the changes that are being demanded by workers, "remote and mobility requirements, being project orientated and development requirements". To combat this, Workbee are looking to establish an 'elastic market fit' that uses data points and quick surveys to understand how workers respond to changes.
With the "remote-jobs-to-be-done part of the economy valued at more than $10 Billion", Workbee might have the right idea. Being able to do a high-volume of remote and repeatable tasks such as customer care surveys, lead generation and data customization. Workbee singled out special mention of their training being aided through the use of Artificial Intelligence and Machine Learning.
He singled out the Komfort case study where Workbee was able to conduct a business function 3x times faster, and 30% cheaper. We're on board!
Ninja Lender
Yaroslav Dubov, CEO of Ninja Lender, came in with his startup, a "marketplace that gives a 2nd chance for rejected loans". The importance of this market cannot be overstated, with a whopping 87% of loan applications being rejected. Talk about a gap in the market.
Claiming to give verified leads to banks and lending companies whilst increasing customer loyalty at the same time, through a simple API that discerns loan types – Ninja Lender could be a force to be reckoned with.
Yaroslav took the audience through the journey of his Fintech startup. A new player, the startup began Beta testing in Ukraine in September of 2018 and has since gone through funding rounds by accelerators Wise Guys and Huge Thing and hopes to launch Q1 in Poland.
DisruptionBanking found the startup intriguing, and you can read our in-depth interview here.
We asked Piotr Serwin, Founder of Fintech Trends Poland and the host of the event about the present and future of fintech in the country.
First of all, Polish fintech is driven by regulations, so we see waves of projects trying to address the new legal status quo. Today we had Data Invision that lowers the cost of running a lending company. Ninja Lender facilitates trade in loan applications between lenders with differing risk appetites. Both addressing a new regulatory environment for lending companies.
We also had the project by Asset which is taking advantage of PSD2 – 'open banking'. Secondly, data analytics, or whatever name you want to call it by – artificial intelligence, machine learning or simply analytics – seems to be democratized by tools such as those offered by Wandlee and Data Invision, but also Synerise or Nethone.
I am observing an explosion in analytics tools for businesses, as well as alternative data so that literally every business can plug into the 'data superhighway' without the need for a separate data science department. This is especially vital in finance where you need to know and 'score' your customer, or evaluate whether a customer should be buying a product to avoid mis-selling accusations.
These trends are not even halfway through making a serious impact on consumer behaviour and yet we are also now awaiting the introduction of 5G. Just imagine how much new data will come from that direction. The term 'alternative data' literally lost its meaning.
I also see a blurring of lines between industries and this is taking place in financial services. For example, no one can say conclusively where credit scoring ends and marketing analytics starts – banks are using the same data and tools to price marketing campaigns and evaluate prospective clients.
Allow me to give you an example. Via the Huge Thing acceleration programme I recently mentored a MarTech startup, Peekd.ai, which provides third-party shopping data that is very valuable to brand owners but can also be used to get a peek into sales data for mono-product companies using online sales channel. Fintech or not?
Since the delivery of digital products are virtually free, Polish fintechs might eventually specialize in delivering solutions to the financial services sector in more developed parts of the world, a model that Nethone and some others have achieved.
Judgment is Passed
The judges had just ten minutes to evaluate the winners of the bloodless gladiator-like Polish fintech pitching arena. For us mere mortals, it felt like an eternity. But for these quick thinking veterans ten minutes was nine minutes and thirty seconds too long, probably.
By doing a complicated set of calculations that used stochastic process to account for the random hurdles that would have been placed in front of the pitchers from the moment of the inception of their startup idea to that very second in the room, careful psychoanalysis consideration of the contestants' grit and much gazing into their respective fintech crystal balls – the dragons had the answer. They called the audience to attention.
Data Invision and Wandlee, co-winners!
---
The Aftermath
Piotr Serwin briefly interviewed the two winners about their experience at the Fintech Dragons Day, their hopes and dreams, and what advice they might lend to other upcoming startups.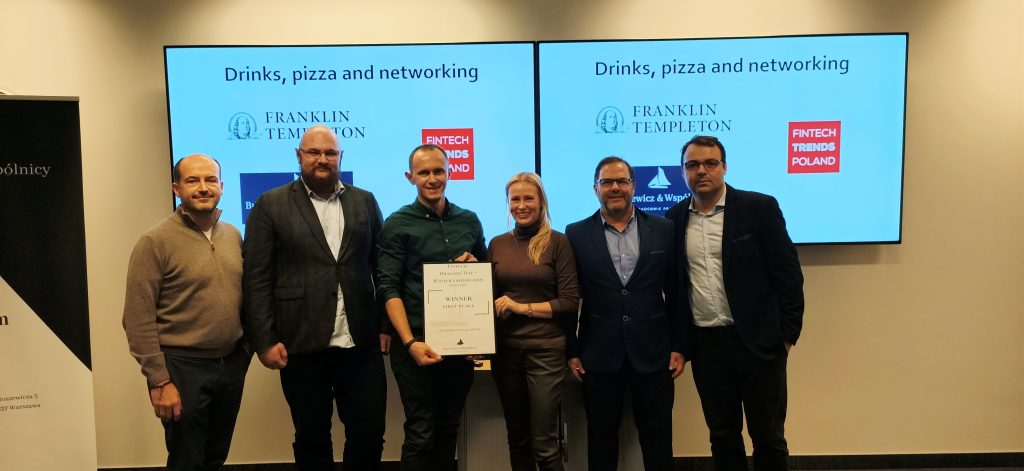 Tomasz Knap (Data Invision)
Why do you think you won?
Firstly, I would like to stress that there are many amazing teams and great start-ups we see and interact at day to day basis and we always tray to learn and grow having open mind and not being afraid of their opinion. From my point of view we won because our partners, friends, mentors allowed us to communicate our goals, achievements and business in clear way. We are solving real life problem and thanks to our community and events like this we get better in telling people about us as a Company. Receiving such a recognition makes us very grateful for the partners we have and future partners who will help us grow.
What are you plans for the next 12 months?
Selling even more, expanding, getting more partners, giving back to the community which gives us so much and enjoying building our Company
What do you want to say to aspiring CEE fintech start-ups?
I don't know if that is inspiring by it definitely inspiration for me – Let's talk – I understand that working with amazing solutions and sophisticated technology have one thing in common – brilliant people behind it (their story, their business, accomplishments and future they all planning for). Getting to know those stories improves our solutions and business we run.
Igor Sawczuk (Wandlee)
Why do you think you won?
I believe a key success factor is having a clear goal and solving real life problems. There were a lot of good startups and good ideas, but every idea should also have a good storytelling.
It's hard to present the whole idea in 3 minutes, that would be understandable to others.
What are your plans for the next 12 months?
We will focus on scaling our SaaS sales and expanding to other segments in Poland.
What do you want to say to aspiring CEE fintech startups?
Do the homework – find a problem worth solving. Find a cofounder in fintech or have some fintech experience. And focus on the MVP (Minimal Viable Product).