Hungary is starting to see a resurgence of innovation in the country, with most startups based in and around Budapest. Although there remain certain hurdles to overcome internally, a great number of companies and investors have been eyeing the market for a more favourable turn. The following report is based on a more than one-month long monitoring of the Fintech and economic environment in Hungary by DisruptionBanking.
This report cites sources, data and analysis from; ERGOMANIA, Budapest Business Journal, Deloitte, National Bank of Hungary, Thomson Reuters, McKinsey, portfolio.hu, TRAXN, TradingEconomics and DisruptionBanking.
---
According to TRAXN, the Hungarian Market is dominated by 51 fintech startups and during a ten year span this sector has received approximately 9 million EUR investment. This is out of an Ernest and Young study that notes 21 billion EUR as the overall amount in the EU. The Hungarian start-up investment transactions are on a huge increase (doubling since last year with 132 closed deals). A prior DisruptionBanking article claims approximately 500 start-ups in the vicinity of the capital, Budapest. Hungary's government is supporting of innovation as they already have a working regulatory sandbox in the MNB (Hungarian National Bank).
The percentage of conventional and digital financial penetration in a given country may give us a good (although, not in-depth) view about how tech savvy its citizens are and overall how developed the ecosystem is in the banking sector.
This sector has approximately 200 million conventional bank (customers) and 150 million digital ones. According to portfolio.hu's article this latter 150 million-digit customers mainly consist of Russians at 78 million. According eu-startups.com, from the job-market position, the demand for digitally skilled workforce in the EU will keep on rising, hitting 700,000 during next year.
Specifically looking at the Hungarian market we can see that approximately 20 percent of the population is interested in fintech solutions and almost a million citizens already have some knowledge or even use something which can be described as a fintech solution.
There is already a layer of customers in the Hungarian market who are well-aware – and willing to adopt – Fintech solutions. In overall, this amount would be between 15-20% of the existing customer base, which would result in approximately 1 million citizens. However, if we divide it into demographical brackets the bigger picture shows a more fragmented picture. Almost one quarter of the asked people – between 18-22 – would only use a digital application for all their banking/financial – related duties. On the other hand, the age bracket which contains citizens above 65+ shows a completely different mentality. Almost 35% of them would never use smartphones or mobile banking solutions.
On the other hand, Hungarians still do not trust robot and AI advisor solutions and additionally have concerns about GDPR and personal, sensitive data handling. Hungary was actually the first country which implemented a working regulatory sandbox. The main reason for being the first one is that they are still considerably bureaucratic and like to have a legal ground for everything. It is extremely important to reconsider existing regulations. Regulatory hubs and international forums have to be set up in order to start co-operation and implement useful and working techniques and legal ways into the forming Fintech era.
This attitude is clearly shown in numbers as although 79.4% of the adult population in Hungary has a bank account, only 10% of them had actually tried any form of a fintech solution.
According to the National Bank of Hungary a huge boom is expected in 2020 mainly owing to the full implementation of PSD2 and instant payment services. The POS (Point of Sale) terminal availability is also constantly increasing across the nation, the number of touch-payment enabled POS terminals was at a whopping 145,000 at the end of 2018. Due to this fact the number of touch-payments had hugely increased. According to Fintechzone, this number was 86% (out of all the payment points at physical vendors). This should give a stable ground for mobile-touch payments, Apple pay and other fintech related products.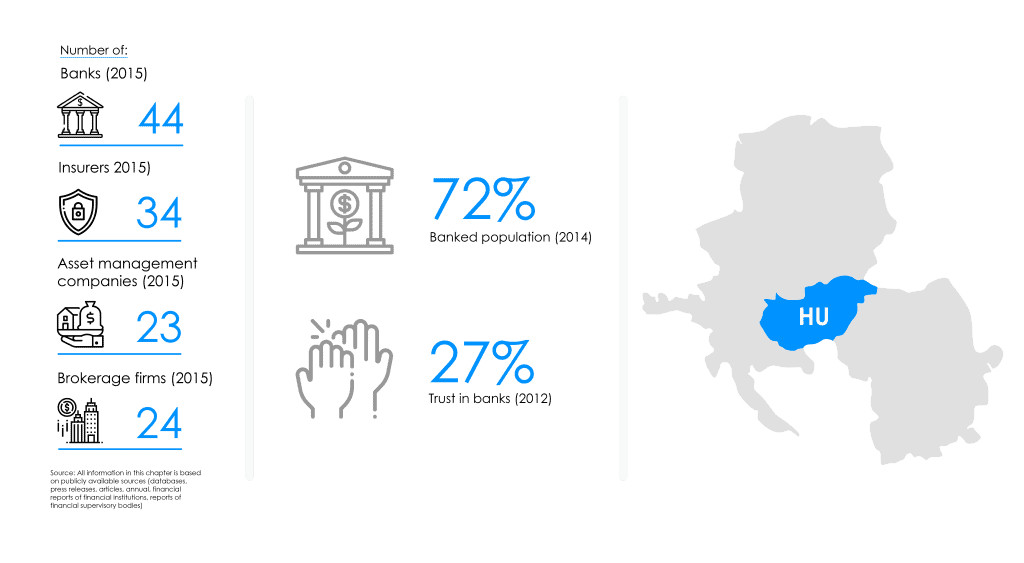 Additional information about the most influential, important and interesting Hungarian fintech companies can be found at Tracxn, which mentions that the most influential Hungarian fintech person was Zaboji Péter, that the most well-known start-ups would be Prezi, Logmein and NNG GO, but newer ones (especially in the IT sector) are on the rise. For example, CodeCool (they are organizing 12+6 months long courses to train programmers, without any prior experience) have managed to raise 3.5 million EUR in a Series B funding – the need is there. NNG go, the navigational app is already the market leader software solution in their segment.
While it is clear that London, Berlin and other huge financial hubs have always been the to-go spots for entrepreneurs and investors, according to previous in-depth analyses which had been conducted in the EU, Budapest has become the most emerged out of 80 key areas in Europe – according to Forbes. The city itself is filled with highly-skilled (full of lexical knowledge, and a more Central European mindset than a Western one) workforce, who are always eager to learn more or to adapt to certain situations.
According to McKinsey's 'Digital Challengers' study – "For Hungary, the potential economic and developmental benefits of digitization can reach up to €9 billion in additional gross domestic product (GDP) by 2025. This would lead to increased global competitiveness and prosperity for the country's 10 million people and allow Hungary to join the most digitally advanced economies in Europe."
To make the situation better for investors, these mainly fresh graduates and investors are not going to cost that much as other employees with similar skills in the Western part of the continent. One of the reasons for the huge number of start-ups is the number of hackathons, start-up meetings and get-togethers for these great minds, international companies are backing up certain competitions to highlight (and support) promising, innovative ideas. The Hungarian government helps by offering a 9% corporate tax option, certainly one of the lowest in the EU, plus they have an 'early stage' status, which may lower this amount even further.
Even though confidence in investment is getting better and better, "the brokerage segment is suffering from a crisis of confidence, due to the default of two large players (Buda-Cash and Quaestor), allegedly the result of frauds" said Deloitte in 2016, Asset Management and Capital Markets department.
Moving on from the existing and successful start-ups in the region, we would like to point out the current salaries in the region in the relevant sectors. By having a quick look at a recent HAYS report, one may have a general idea about how well-paying IT, finance, fintech related jobs can be in the country. 900,000 HUF gross per month is still not that much (2,700 EUR) for a typical techie. Even if we take into consideration the cost of living in another capital, the numbers in the long-run would indicate that moving abroad with such certificates is still a better choice.
For instance, Budapest has a population of approximately 1,756,000 as of 2018, with Warsaw at 1,765,000. To compare the cost of living in these capitals:

However, you would need approx. 720,000 HUF gross in order to have the same quality of life in the Hungarian capital. One also has to take into account a huge factor when candidates are choosing their place of operation, the cost of housing.
Even though prices in Warsaw (Kraków, Gdansk, Wroclaw and other IT/Finance outsourcing hotspots) are constantly rising, the situation in the Hungarian capital is becoming sort of ridiculous. It had already become the symbol of prices way above the roof. To be fair, rent and real estate prices have increased the most in Hungary.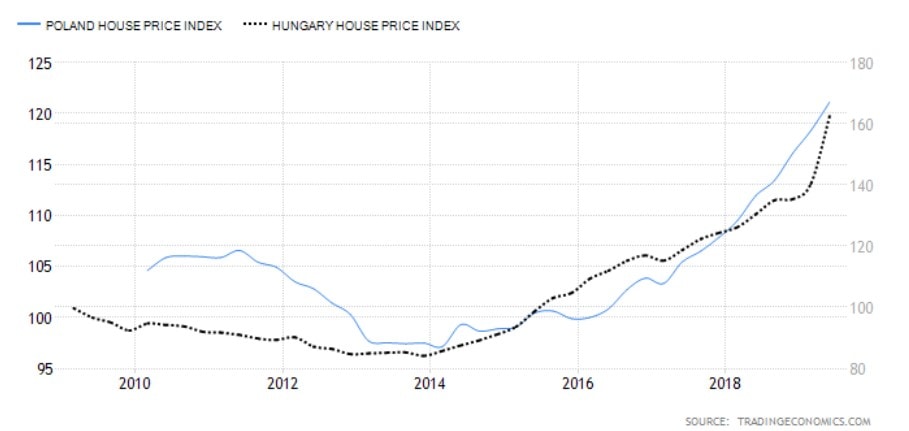 As a conclusion we can clearly state that, even though housing and real estate prices are still lower than in the capitol of Warsaw, the trend shows that it won't be the situation for too long. Other services, such as health care, education, fine-dining and other luxurious products are way higher in the Hungarian capital (and the quality of them simply cannot be compared to the offered ones in Warsaw). It is important to point out that Hungary is still extremely centralized.
There is the capital and 'everything else', which means that expats have to face severe hardships in case of relocation or choosing a company outside of the Budapest's boundaries. Public transportation is top-notch within cities, but problems may occur when one decides to leave the capital.
Another big problem is the language barrier. The Hungarian language is not connected to any other EU language, which makes it hard to learn, understand and relate to it. To make things even worse, this country has the least number of English-speakers in the European Union. Citizens and usually those of the younger generation have no problems understanding and/or speaking English and German, especially in Budapest.
As a former Soviet member-state, Hungarian officials and the older generation who stuck in their upper management positions are hard to understand and get on well. Only 15% of the asked citizens said that conventional banking may disappear in the following 20 years. We have to take into consideration an important (and sadly similar) factor, which is extremely important for expats and citizens too, the level and hardships of bureaucracy.
Let's take Poland as a comparison again. Both countries are extremely bureaucratic, which makes any kind of legal procedure harsh and non-transparent. This makes accommodation, real estate, investment, marriage and other questions turn into a vicious circle, when due to language/cultural/ethnic background, one cannot proceed as he/she would like to.
This legal system is one of the main reasons why start-ups – even though there are plenty of them – are not striving and have to register their offices abroad or ask for funds from somewhere else, but not from inside the country itself. The liquidity is there to invest, but the hurdles it must pass through makes investments in Hungary untenable. This tendency had been going on for long. The talent is unequivocally there; compared to the number of citizens, Hungary has the highest ratio of Nobel prize winners but none of them made their ground-breaking experiments within the borders of the country. Nor did they receive national funds for their research and studies.
The Hungarian FinTech market is still being developed. Given that the use of cash in Hungary is high, the biggest threats for banks are posed by payment solutions. While several mobile payment solutions exist, none of them have as yet reached critical mass.
It needs to be noted that NFC-capable (near field communication-capable) phones are widespread in Hungary and provide the necessary infrastructure to introduce disruptive payment solutions. Hungarian society is open to digitization, exemplified by high social media usage and a high rate of Internet penetration. Furthermore, some people purchase iPhones and other smartphones that are beyond their purchasing power simply for the sake of status. It is consequently safe to assume that the Hungarians are ready to accommodate more innovative solutions. However, the market is not big enough for Hungarian companies to allocate vast funds to innovation.
We therefore believe that new solutions will come from international players with a validated business model in place who also benefit from economies of scale and are therefore less exposed to risk. As for the FinTech lending market, we believe such solutions will not enter the Hungarian market anytime soon since the right to lend is exclusively reserved for financial institutions. Now that the Hungarian government has acquired stakes in banks, this regulation will stay in place for the foreseeable future as well. The insurance sector will not thrive with its current business model, as the industry has been particularly slow to react to new digital trends. InsurTech solutions that extend sales channels or help simplify insurance products will have significant potential to succeed on the Hungarian market. They would be able to enter the market either with or without the support of incumbent businesses. Finally, the brokerage and wealth management segments are suffering most from Hungary's small economies of scale, because disposable incomes and the propensity to save are low in Hungary. Moreover, people are neither aware nor well educated about their long-term saving options. As a result, the best FinTech opportunities involve digitalizing solutions in the area of personal finance advice and, in future, cash management.
Citing an article from Thomson Reuter's Practical Law site – "According to a recent survey made by the Hungarian National Bank, the current focus on digitalisation covers the development of online and mobile banking platforms. Several banks already use some mobile payment solutions, and personal finance management (PFM) is also a popular product. Banks are also prepared for the introduction of Directive (EU) 2015/2366 on payment services in the internal market (PSD2), and the establishment and development of account information and payment initiation services. Digital currencies and crowdfunding are less prevalent in forthcoming plans."
Although Hungary is a leading country in start-ups (EU region) and new investments, it still lacks the required lexical knowledge and that layer of acknowledged teams. In order to be successful on the Fintech market, one has to be able to stand his/her ground in Finance, IT, legal and sales as well. The level of digitalization in Hungary – currently – shows a significant amount of 'lag' behind leading EU countries.
According to MNB the following specific tendency is the latest one in the Hungarian market; domestic infusion of 20-500 million HUF and 3-6 employees as experts in the required fields. More than 40% of the existing companies are thinking about Fintech solutions and innovations. Out of those; 40% will have its own Fintech strategy, 27% already has its own Fintech strategy, 20% will adapt the mother company's Fintech strategy and for 13% the guidelines for a Fintech strategy will be created in the near future.
Due to Hungary's legal and political arrangement, we tend to think that the ways of conventional banking will remain for another 15-20 more years. Thankfully Fintech groups are already in connection with certain banks, because it is important for them to gather and implement the existing customer and financial data. It is vital in the Hungarian market to establish a sustainable partnership between Fintech groups and banks. The need for innovation is priority, but the stable financial background – and also an established brand awareness- is a key factor in order to develop a technology enabled banking sphere in the Hungarian market. The situation in the Hungarian market is still behind the standards of the European Union.
The numbers from Fintech market participants are as follows; 50% state that they are planning and willing to be part of the conventional banking system, 18% of them are planning to serve a specific sector, 14% thinks that they (Fintech companies) may be the main link between the customer and the banks, however the basic service remain in the hands of banks, 18% thinks that they may overtake the whole market from conventional banks (while forcing them out of it). However, the current legal system is not -fully- prepared for PSD2 (nor it is prepared for new and innovative digital solutions).
News from the National Bank of Hungary says that "In order to be able to offer a working, digital solution for banking it must have a working API (Application Programming Interface) provided and enabled. It means that all the necessary user data is accessible for the application.
"To make sure that the user experience is seamless and no transaction is lost or duplicated, there has to be a backup mechanics implemented as well. As of today, the MNB (National Bank of Hungary) admitted that this may be another huge cost factor for the banks – because they are the ones who have to provide it – so there is chance from being exempt from it. However, banks may ask for this exemption WITHOUT proving that the created API works flawlessly for three consecutive months (and the research has to be conducted by a third-party as well).
"It means that banks may state that the created interface works smoothly and if something bad happens then all the blame and financial consequences have to be dealt by the Fintech companies., which may be critical for these – usually – start-up companies who just want to step into the digital marketplace."
According to Deloitte's research – "39% of surveyed global respondents believe that the technology's potential is judged too positively. In the United States, 44% think that blockchain is overrated, up from 34% in 2016. In the CEE region, more than half consider the technologies overrated, but 45% think not using such solutions will mean their business falls behind the competition.
"Blockchain in the CEE region is still in its infancy, and the majority of those surveyed have not invested in the technology thus far. According to the results of the survey, blockchain is not a priority. Introduction of it is being slowed by the lack of professional workforce, and regulatory questions as well. Only 1% of the respondents think that there are no obstacles hindering investing in the technology."
An example which may show the future of financial technology in Hungary is the MikroCredit Start-up, which have managed to setup their non-real-time costumer identification to enable their product – MiniKölcsön/MiniLoan – can be easily accessed via a digital signature. Their IT partner (TechTeamer) had managed to build their facial recognition software into FaceKom VideoChat. This enables users to have real-time authorization via SingleShot MultiBox detector.
The company is thus an example of a fully prepared organization for the instant payment system, which means that after the application had been registered in the system, the user may receive the requested amount of loan by 8 am the next morning. This kind of technological combination is what is needed at the moment to bring technology closer to existing customers.
"The instant money transfer system will make it possible to settle financial transactions any day within a maximum of five seconds, and clients will also be able to use other forms of identification (phone number, e-mail) instead of long account numbers, mnb.hu reported." – Budapest Business Journal, 2019
ERGOMANIA took a look at the OTP Smart and K&H Mobile banks – "Based on the Google Play Toplist, the 2 most popular Hungarian mobile banks are OTP Smart Bank (Google Play: 500,000+ downloads) and K&H (Google Play: 100,000+ downloads). While onboarding, when the customer registers and gets acquainted with the interface, Hungarian banks offer an innovative solution compared to the average EU's and can be classified as digital champions at this phase of the customer journey.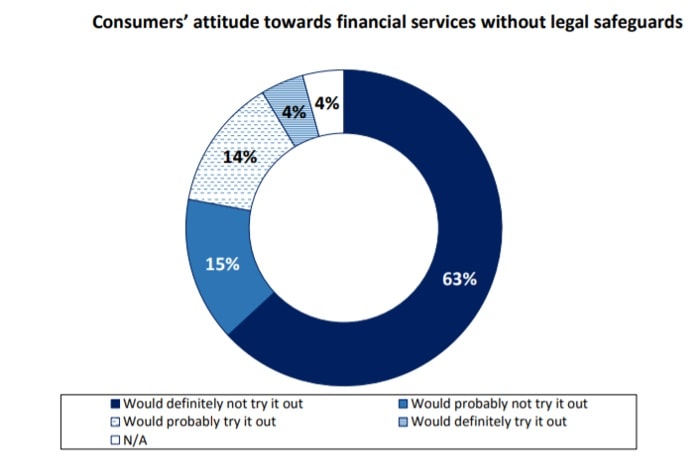 "There are 2 ways to log in to OTP and K&H after registration: face recognition or fingerprint (if the mobile device is capable). Both applications can be easily accessed in a short time. Setting up biometric identification during registration is explained simply and with a clearly visible customer path. In both applications, QR code is used to connect to e-bank and the approval of the transaction, which simplifies the banking process from the users' point of view. For K&H, NFC-based payment is also available, so users can pay by their phone when touching the card reader."
However, we have to take into consideration that the existing infrastructure (and the already mentioned legal and social background) is still far behind, even in the CEE Region. Currently 13 Hungarian banks have mobile applications with great difference in quality. It is worth to know thorough international research to see the Hungarian market. Deloitte has investigated 248 banks in the EMEA (Europe, Middle East, and Africa) region in terms of digital maturity."
To conclude we may see that the road is bumpy, the lack of existing infrastructure and knowledge is a significant problem, but the knowledge and willingness is already there to recreate the existing financial and IT scene, the FinTech scene.
---
Researcher: David Stuller
Editor: Ignatius Bowskill-Dutkiewicz